Despite having to contend with a market that's increasingly crowded by competitors, AgileBits' $40 1Password is still my go-to repository for every last bit of information that I want to keep safe and secure, like my passwords, software licenses, and banking data.
Luckily, the folks behind 1Password aren't slacking off. Now that even Apple is baking password management right into its operating systems, they are responding by releasing a new version of their popular app that includes more goodies than ever.
Better and the same
Let's start with the basics. Despite sporting dozens of new features and having received a new coat of paint, 1Password 4 feels much like its predecessors, which makes the transition very easy to manage for existing users. Considering how often I pull the app up during a typical workday, this seems like a very smart move—particularly when you consider that the app's user interface was very slick to start with.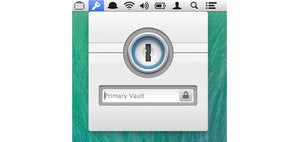 In addition to its traditional full-size window interface, the app now also includes a convenient "mini" version that sits in your menu bar and keeps your passwords and other private information ready at hand, without your having to launch the full app. In a nice touch, you can even "pin" an item so that it always remains on top of other windows; this allows you to copy and paste multiple pieces of information without having to open the menu item all the time.
A number of other refinements round out the user interface, including support for favorites, the ability to open and maintain multiple vaults, new filtering options, and even a complete set of professionally designed icons for the kinds of items you are most likely to store in your vault.
Browser integration
Browser support is probably the one area of the app that benefits the most from the latest update. Like before, 1Password comes with extensions for all three major browsers (Safari, Chrome, and Firefox); without fail, their interfaces have been redesigned to make using them significantly easier.
For example, when you come across a webpage that requires authentication, 1Password now opens a dialog box asking you if you want to use a stored password (or if you want to create a new one), whereas the previous version slid in a new panel right in the browser's chrome.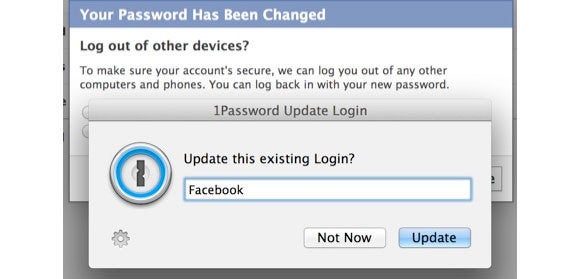 This may seem like a minor change, but it has the effect of reminding you that 1Password is always at your fingertips. As a result, you'll likely use the app more often, ending up with a larger database of more-secure passwords that you need to type in less often. When I first came across this feature, I thought that I was going to annoyed by it, but, perhaps counterintuitively, it has made my life much easier.
Security
The emphasis that AgileBits has traditionally placed on security has also been carried over to the new version of the app; all data is encrypted using the 256-bit AES standard, and a new special digital signature helps prevent tampering. More importantly, the user interface strikes an excellent balance between security and convenience: The default timeouts are calibrated so that you don't have to input your master password too often, but they still taking effect soon enough that your data doesn't remain accessible for too long.
Also new in version 4 is the Security Audit, a feature that causes 1Password to scour your entire password database looking for potential security issues, such as weak passwords or logins that you haven't used or changed in a long while. If you happen to be a longtime user of the app, chances are that you'll benefit from this functionality—though I tend to be fairly cautious with my credentials, I still ended up changing about half a dozen long-forgotten logins after going through an audit.
As good as ever
The new 1Password is every bit as good as its predecessors and represents exactly the kind of update that I was hoping for from the folks at AgileBits. The app is unobtrusive (unless it needs your attention, in which case it's not timid about asking for it) and feels both lightweight and responsive. In my brief testing, it has also been very stable on both OS X Mountain Lion and even on the latest Mavericks betas, performing without any glitches or crashes.