Pivvot bills itself as a "game of strategic avoidance." In Pivvot, the player controls a ball tethered to a winding track by tapping the sides of the screen, maneuvering around various obstacles that could shatter the ball.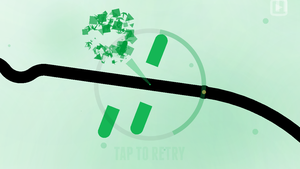 The game features smooth minimalist graphics with a groovy sound that helps you stay engaged. The soundtrack is a definite strong point of the game; the tunes keep rhythm with the levels and you might even find yourself bobbing your head and twirling the tether around to the beat.
Pivvot calls on your sense of spatial awareness and tests your reflexes and reaction time (as well as your patience) with unexpected obstacles that suddenly pop up just around the corner.
Voyage and Endless modes are the two options available when you first begin. Voyage features distinct levels, each with a particular obstacle, essentially teaching you the variety of challenges that can come your way. Endless dares you to last 100 seconds as the winding track speeds up. While lasting the full 100 seconds is difficult, the game gets fairly repetitive here because the obstacles are in the same order every time.
Completing the first two levels unlocks the corresponding expert levels. After you manage to conquer Expert Voyage and Expert Endless, your final test is Berserk, which is extremely challenging (to put it lightly).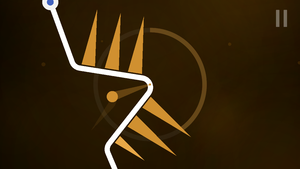 Once you get the hang of the controls in Pivvot, the difficulty can be addictive. The sensitivity levels of the controls can be changed, so if you seem to be having a lot of trouble with them, don't hesitate to adjust them accordingly.
Pivvot is a smart, well designed and challenging game which balances on that perfect sweet spot between frustration and triumph. With its good looks and excellent soundtrack, Pivvot makes for a exasperatingly addictive good time.