Apple's iCloud service has had its share of outages and issues, but the latest problem, while apparently limited to a subset of accounts, just might be the most frustrating yet for those affected.
Starting on or around September 18, some iCloud customers found that apps that use iCloud to sync data between devices could no longer do so—they either no longer sync or appear to have lost their data completely. The apps otherwise function normally, but simply don't show any saved information or cannot update or sync existing info.
The issue doesn't just affect third-party iOS apps—it also affects Apple's own software, including some OS X apps. For example, some users are reporting that OS X apps that store documents in the cloud, such as TextEdit, Pages, and Preview, currently show no documents available when you choose File > Open and switch to iCloud view; similarly, iCloud-saved documents no longer appear in the File > Open Recent menu.
Apple's online iWork for iCloud apps have also fallen victim to this issue. If your account is affected, you can log in to your account on iCloud.com, but clicking the Pages, Numbers, or Keynote icon to use one of the Web-app versions immediately logs you out of your account and returns you to the iCloud.com login screen. (Developers who have been bitten by the bug get a similar behavior when trying to view data on Apple's developer iCloud site, developer.icloud.com: Clicking the Documents icon—which should let you test and troubleshoot iCloud storage—dumps you back to the login screen.)
Apple's System Status webpage has yet to indicate any iCloud issues.
What's made the issue so frustrating for affected users is that other iCloud-hosted services, such as email, contacts, and calendars, continue to function normally, and even allow third-party apps to sync with them. (Behind the scenes, that's because these services, though also part of iCloud, use a different system than Documents & Data syncing.) In fact, if you don't use more than one or two iOS apps that sync data using iCloud, it's easy enough to assume that the app is at fault. For example, I first noticed the issue when I discovered that my movie list in TodoMovies was blank. As the problem started soon after I updated my iPhone to iOS 7, I assumed it was a bug with the app and iOS 7, so I contacted the developer, who couldn't reproduce the problem (and apparently hadn't yet received enough reports of problems to realize that we were seeing an iCloud issue).
Users discover details
While the issue clearly isn't affecting all iCloud users—or even most, it appears—it's generated a number of lengthy discussions on Apple's Support Communities forums. User Grant Grueninger has provided perhaps the best summary, including some more details about what's going on behind the scenes.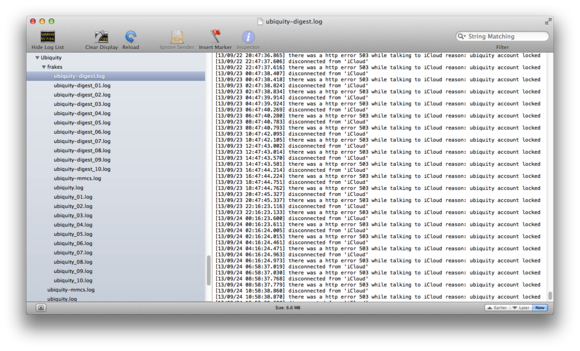 As explained in that forum post, if you're having issues with iCloud data syncing, you'll want to check a particular log file in your user folder on your Mac to see if your sync issues are due to this problem. (The following assumes your Mac is logged in to the same iCloud account as the Macs and iOS devices having iCloud-data-sync issues.):
Open the Console utility (in /Applications/Utilities).
In the file list on the left, find ~/Library/Logs; click the arrow next to it to view the list of log files.
Scroll down to locate a folder called Ubiquity; click the arrow next to it to view its contents.
Under Ubiquity, find your username; click its arrow to view its files.
Under your username, locate the file named ubiquity-digest.log (with no number after digest); click it to view its contents in the main Console window.
Scroll to the bottom of the text.
If you see the following two lines, over and over (with different timestamps, of course), your account is likely among those affected:
[13/09/25 10:04:32.146] there was a http error 503 while talking to iCloud reason: ubiquity account locked

[13/09/25 12:04:32.509] disconnected from 'iCloud'
If you scroll up and locate the first instance of this error, you can determine exactly when the problem started for you. (Mine started at 11:51pm on 9/18/2013, and my log file currently shows roughly 4,000 such errors.)
If you don't sync any app data with iCloud on your Mac, you can instead check your iCloud account on your iOS device, though you won't see the same level of specificity:
Open the Settings app.
Tap the iCloud item.
Scroll down and tap Storage & Backup.
Tap Manage Storage.
Scroll down to the bottom of the screen.
Normally, any apps that use iCloud to store or sync data are listed here, along with how much space their data is currently using. However, affected users will see only device backups and Mail.
Developers respond
While this issue has been frustrating for users, it's also been challenging for developers who rely on iCloud for storing and syncing their users' data. Because the issue happened so close to the release of iOS 7 and new iPhone models; because there's no easy way for a developer to determine if a particular user's iCloud account simply isn't syncing; and because many users aren't having problems, it's been difficult for developers to troubleshoot user reports—or even to realize that this is a wider, iCloud problem, rather than random sync issues.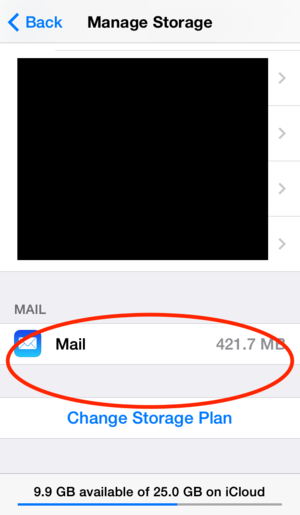 And even now that the cause of the problems is clear, developers can't do much more than advise users to wait. For example, after a week of troubleshooting, Realmac Software, developer of the Clear to-do-list apps for iOS and Mac, today published a support article stating, "It appears that iCloud is currently having problems with the Documents and Data feature that Clear (and all other iOS apps) use to store your data…We've filed this bug with Apple (#15048686) and are awaiting further advice."
Unfortunately, before discovering that the issue was being caused by a larger iCloud issue, some developers recommended standard app-troubleshooting procedures, including deleting apps and reinstalling them, and even asking users to create new data and attempt to sync with iCloud to "jump start" a sync. In theory, the original data is still in iCloud and will be restored to these apps once Apple fixes the issue, but there's always a chance that new data created for troubleshooting reasons will overwrite what's in iCloud, depending on how each app handles sync and that app's sync status at the time the problem started.
What can you do if you've been afflicted with this issue? Other than contacting Apple Support to let them know that yours is one of the problematic accounts, not much other than to wait for the eventual fix.
Fixes in progress
Speaking of which, Apple support personnel have indicated—in phone, chat, and email exchanges with affected users—that Apple is aware of the problem and is working on a solution (though Apple's System Status webpage still doesn't indicate any iCloud issues). On Apple's support forums, many users have reposted messages they've received from various support personnel.
For example, user "KLasc" received an email from iWork support stating, "Please note that Apple is aware of the issue and we are investigating this at the moment." And user "Kathryn Jensen" received a call from Apple Corporate Executive Relations and was told that (in her words), "Executives at Apple are aware of the iCloud ubiquity account locked issue, and that the system status page isn't reporting any issues."
Indeed, some users on Apple's Support Communities forums have reported that their accounts are again working normally, though at the moment, for every such report, many more new complaints are appearing.
At the time of publication, Apple had not yet responded to a Macworld request for comment. We'll update this article with any such response.
Update: Late in the day on 9/26/2013, and continuing through 9/27/2013, many affected users reported that iCloud syncing began to work properly, and iCloud-hosted data was again accessible. By Saturday, 9/28/2013, most accounts appeared to be back to normal. Apple's support representatives indicated that for most users, the problem should go away without any further action; for others, Apple has suggested that updating iOS devices from iOS 7.0 or 7.0.1 to 7.0.2 should fix the problem.
Updated to note that the problem has apparently been fixed.