I remember back in the summer of 2007 when I got the original iPhone, I was thrilled that it also played music so that I no longer needed to carry both a cell phone and an iPod. While the iPod app (now called simply Music) has always worked OK, that's really not much of a glowing endorsement. Over the years, developers have come up with their own twists on alternative music player apps for iOS, each offering various enhancements over the built-in Music app.
A particularly interesting category is audio enhancement—apps that not only provide some additional features, but also attempt to increase the quality of the sound you get out of your device. Two of these apps I've been using recently are Audyssey Media Player 1.2.7 by Audyssey Laboratories and McDSP's LouderLogic 2.0.5. Each of these apps provide enhanced audio in very different packages.
Audyssey Media Player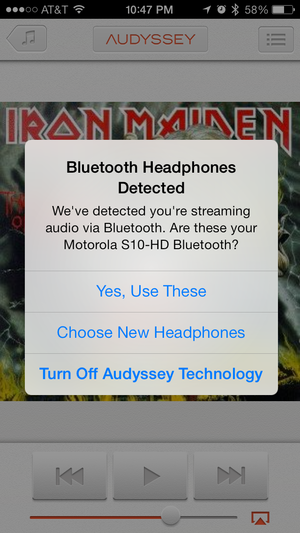 Audyssey is, by far, the simpler of the two apps. Its music player functions are fairly spartan, even in comparison to the built-in Music app. The user interface sports a lighter and "flatter" appearance à la iOS 7, so it fits right into this more modern design approach, even on older devices running iOS 6 and earlier. (The version reviewed requires a minimum of iOS 5.0.) It offers the standard album, song, playlist, and genre lists, provides a view of album art, and lets you listen to music in sequential, repeat, or shuffle order. Nothing we haven't seen before.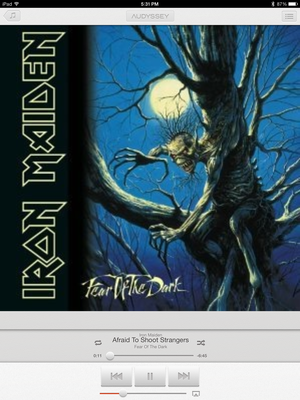 However, its difference is apparent once you connect a set of headphones. Upon opening the app the first time, you're prompted to select your model of headphones from Audyssey's database of around 250 different headphone models. If you alternate among different headsets, as I do, then you can add other models later. (The app remembers all these so that you can move back and forth among them easily.) Audyssey then optimizes the sound of your music to fit the unique features of your selected headphones. If you want to tweak the sound somewhat, the app offers two very simple options for increasing or decreasing the treble and bass levels. The app is a universal app, however, since its interface is so simple, it doesn't really make efficient use of of the iPad's extra display space.
LouderLogic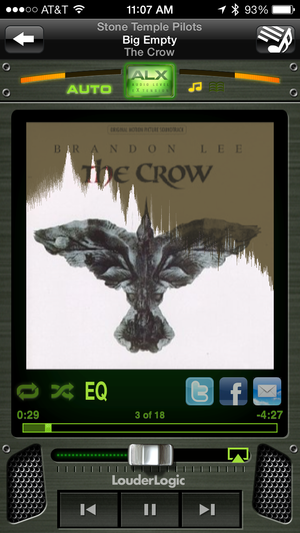 LouderLogic offers somewhat similar features in a far different package. If Audyssey is an example of modern "flat" design trends, then LouderLogic is a throwback to the good old days of skeuomorphic design using chisled and shadowed buttons, displaying fake speakers that serve no purpose while bathing everything in a green glow reminiscent of an old CRT monitor.
At the top of the player screen is a button labeled ALX that toggles the audio enhancement function. On one hand, it works to equalize volume levels by increasing the volume of quieter spots and backing off the volume where it starts to spike. While this setting is turned on, it also enables an EQ button that gives you more precise control over the bass, midrange and treble mix.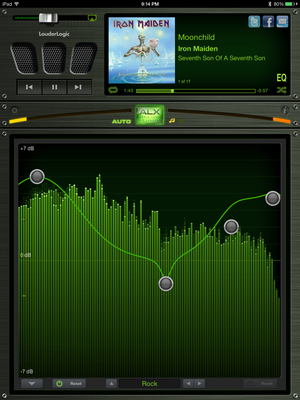 The app overlays a graphic equalizer graph on top of the album art and you can adjust these settings by either tapping the EQ button on the iPad or by turning your iPhone or iPod touch onto its side. Here you'll now get a more traditional EQ graph with the familiar pulsing bars along the audio spectrum. There are a handful of preset EQ settings that you can select, ranging from Rock, Classical, Spoken Word and Acoustic, for example. You can also tweak the relative volume of the bass, midrange or treble by dragging little sliders around on the EQ screen.
In addition to its music enhancement function, LouderLogic also provides its own way of creating on-the-fly playlists to which you can add cross-fade effects as you progress among the tracks, a nice addition for the aspiring wedding DJ.
Bottom line
I would be remiss if I didn't mention that the built-in iOS Music app also provides some basic sound enhancement options via the EQ settings in its preferences screen, offering a handful of simple audio-enhancement profiles like Rock, Electronic, Dance, and so on.
So, how do these apps fair against one another? I'm no audiophile, but I do know what sounds good to me, and both Audyssey and LouderLogic sound much better than the built-in Music app—without EQ. However, with EQ enabled in the stock Music app, either of these apps still offer some improvements, but the differences are less dramatic. (Of course, your mileage will vary depending on the type of music you listen to and your personal taste.)
If you simply want a better audio experience and you're a set-it-and-forget-it kind of person like me, then at only $1, Audyssey is definitely the app to choose—provided your headphones are in its headphone database, that is. But if you're the type of person who likes to fiddle with lots of settings until you get things just perfect, then you'll probably want to go whole hog and spend $4 on the universal version of LouderLogic with its more fine-grained controls and enhanced iPad display. (Note: There's an ad-supported, iPhone-only version of LouderLogic available for free if you'd like to try before you buy. There's also an iPhone-only version of LouderLogic without ads available for $2.)
However, here's an important thing to keep in mind. If you still have some DRM-protected music in your library, neither Audyssey nor LouderLogic can apply any of their enhancements to those tracks. Additionally, if you rely on iCloud to stream content to your device, neither of those apps can play those tracks at all. So, if either of those describe your iTunes library, then you should save your money and stick with the built-in Music app and its basic EQ options.