Flickr added a new automatic upload feature to its to its iOS app on Wednesday, the service's latest effort to woo—and woo back—users in the ultra-competitive online photo-sharing arena.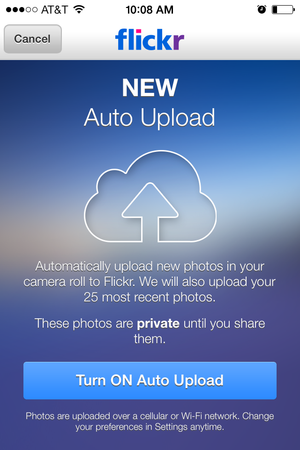 The optional feature will upload the 25 most recent pictures on your iPhone; after that all new photos will be automatically added to the service—all photos are uploaded on a private basis and made public only if the user chooses to edit and share a picture. The app can be set to do the uploads over cellular networks, or only when the phone has access to a Wi-Fi connection. (The app prompts users to turn on the automatic upload after it has been updated; users will have to go into the app's settings to toggle the upload parameters.)
It's the latest effort by the Yahoo-owned Flickr to recover its ground in the photo-sharing and photo-storage market. In May, the company overhauled its service, giving every user 1TB of free photo storage.
But Flickr isn't the first service to offer automatic uploads of photos: its stiffest competition may be from iOS's built-in Photo Stream, but Dropbox has also long offered the feature, as have services Everpix and Loom. Which means that Flickr, once the grandaddy of photo-storage sites, is playing catch-up in this space.
Wednesday's update adds another new feature to the Flickr app; auto straightening. The company describes it as "a tool that works like magic when your photo is just a little bit off." Flick also says that users should find previous problems with Google sign-on have been eliminated in the latest version of the app.
Flickr is free, and is compatible with iPhones using iOS 6 or later.