Reader Nancy Solomon is not the first person I've heard complain about the size of iOS 7's text or the way the Calendar app is put together. She writes:
I have an iPad mini and have upgraded to iOS 7. I have a question about the Calendar app. When I select an event in Day view, the background color darkens and the type turns to white, which makes it hard to read the event's title. I have light colors for all my calendars, and this makes me crazy. Would it be easier to read if I make the print bigger? Or do I need to make the calendar colors darker?
Honestly, neither is much of an option. Allow me to explain why.
When you choose Settings > General > Text Size or Settings > General > Accessibility > Larger type, you see these words: "Apps that support Dynamic Type will adjust to you preferred reading size below."
This sounds great, but many of iOS 7's interface elements are glued in place—they don't support Dynamic Type. In your case you can make type elephantine on your iPad but the title text that appears on a selected event will get no larger (nor can you change that text's color). However, the details text to the right of the event will get larger. My guess is that Apple considers this a perfectly fine compromise. Just tap the event you want to view and readable details become visible from across the room. The fact that some people can't really tell which event is which without a fair bit of squinting is something I hope Apple addresses in a future update.
Similarly, the white text on a light background does very little to improve legibility, particularly with background colors that tend to be fairly light on their own. You're welcome to try assigning a different color to your calendar, but you're limited to just seven colors. Unlike with OS X's Calendar application, you're not allowed to create a custom color in Calendar for iOS. And no, when you create a custom color in OS X's Calendar, that color doesn't transfer to your iPad's calendar.
For the time being I'd suggest that you navigate to the week or month in which you wish to view events and then tap the Search icon near the top-right of the Calendar app's screen. This will provide you with a list of events, starting with the week or month you've selected.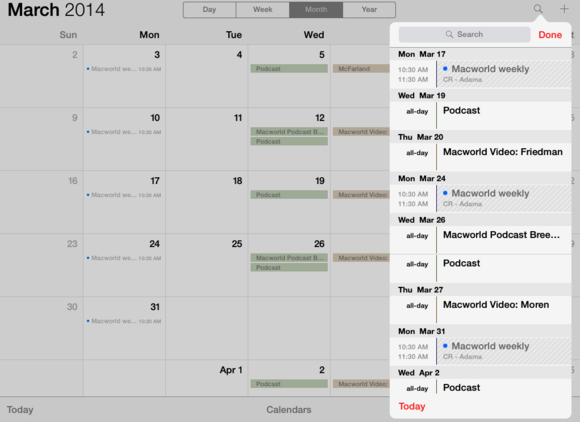 I'm well aware that this is hardly an ideal solution, but that's the way it is until such time that Apple relents a bit on the severity of iOS 7's design (and I think that time is coming).
If you find that unacceptable you can always jump ship. I'm fond of Flexibits' $5 Fantastical. Although its design lends itself best to an iPhone or iPod touch, I find it quite serviceable on an iPad mini. Like Calendar it syncs with iCloud, Google calendar, and Exchange. It presents a completely readable Week and Month view, it supports invitations, and regardless of which view you choose you can see a list of events at the bottom of the screen. Currently it doesn't have the "iOS 7 sheen," but given your complaints that may not be such a bad thing.