In my head-to-head review of VMware Fusion 5 and Parallels Desktop 8 last year, I said that "the two programs have evolved into near twins of each other." Both were highly capable virtualization programs that shared many similar or identical features—and this year's release of Fusion 6 and Parallels 9 does little to change that phenomenon.
To evaluate this year's versions, I installed both programs on my mid-2011 Core i7 iMac and my late-2010 Core i7 MacBook Pro, both running OS X 10.8.5. My iMac, which is my main work machine, powers three displays and has 16GB of RAM; the MacBook Pro has 4GB of RAM and a 750GB solid-state drive in lieu of a hard drive.
Installation
In the past, I've chided VMware for making it difficult to download and use the trial version of Fusion. With Fusion 6, however, downloading the trial is a simple two-click operation—and you don't need an account to install or use the trial version. Downloading Parallels takes a few more clicks, and you can't use the trial version unless you create an account with Parallels.

Both programs use their own in-app installers that put the required bits where they need to go when you run the program. The only thing users see is an app that asks for their admin password the first time they use it. Most users will find this approach a welcome change of pace from the usual complexity of a stand-alone installation program; power users, however, may dislike being kept in the dark about what's really going on.
Creating virtual machines
Both Fusion and Parallels make creating new virtual machines very easy, though finding and/or buying the virtual machines you'd like to create is simpler with Parallels. The Parallels Wizard screen lets you use a DVD or image file to install an OS, or (alternatively) migrate from a real PC. It includes links for downloading and installing the Windows 8.1 preview, Chrome OS, Ubuntu, and Android operating systems, and for using the recovery partition to install OS X.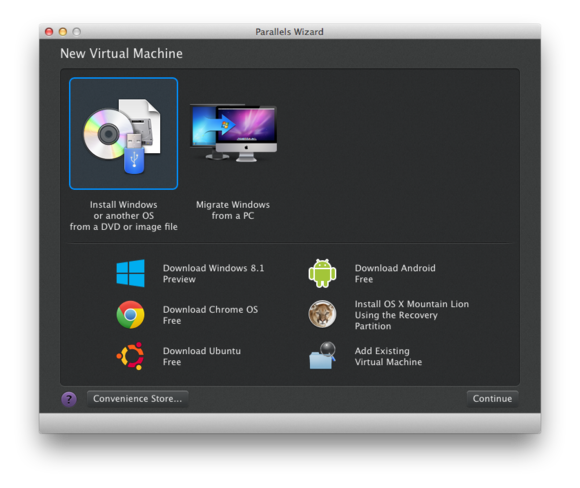 Fusion can do all of these things, too, but its wizard is less granular. The main screen shows only two options (install from disc image, and import a real PC); a More Options button includes the ability to install from the OS X recovery partition, along with some other options. But there are no direct links for downloading and installing virtual machines; it's up to the user to find appropriate sources.
Parallels does an odd thing when it first launches: It scans your drive for other virtual machines, and lists them in its virtual-machine library window. The resulting list includes any files that Parallels deems to be potentially usable virtual machines. In my case, the list included anything with a .vmc extension—the scan turned up three Vue 9 macro files on my iMac and labeled them virtual machines. This is mildly annoying because you then have to manually delete the spurious virtual machines from the list.
On each of my Macs, I created three virtual machines for both Parallels and Fusion: Ubuntu (a Linux variant) 12.04 LTS, Windows 8.1 public preview, and OS X 10.8.5. To ensure that I was making fair comparisons, I matched the CPU and memory count of each virtual machine in each virtualization app: two CPUs for all, 1GB of RAM for Ubuntu, 2GB of RAM for OS X, and 4GB of RAM for Windows (due to some game-testing requirements).
Both apps make creating the virtual machines a breeze; unless you have special requirements, you don't need to modify the default settings. All three OSs have easy-install options in both apps, so you don't need to babysit the installers as they do their work.
Opening and closing
In last year's review, I noted that Parallels offered a significant speed advantage over Fusion when launching, sleeping/waking, and shutting down virtual machines. This time around, the results were much closer. On my iMac, I hand-timed (twice, and then averaged) launching, suspending, waking, and shutting down each virtual machine. Overall, the times don't vary by much between Parallels and Fusion.

The figures in the accompanying chart are for my Mac testing, but even allowing for variances in my timing, Fusion's figures have improved greatly since last year. The only exception involved a long delay in shutting down an OS X virtual machine in Fusion when I used Fusion's Virtual Machine > Shut Down menu. In my testing, this approach took 24 seconds—a long time for a shutdown. When I used the OS X virtual machine's own Shut Down menu item, though, the virtual machine shut down in just 4 seconds, making Fusion faster than Parallels in this test. I pointed out the problem to VMware, which is investigating the situation. For now, if you want to shut down your Fusion OS X virtual machine, do so from within the virtual machine itself.
Virtualizing Windows
I used the public preview of Windows 8.1 for all of my Windows-related testing. As I expected, both apps handled traditional Windows applications quite well. If your needs extend beyond the mainstream, though, you should test your specific app(s) with each virtualizer. In the area of the "new" metro-style (Start) apps, things work well as long as you use Windows 8.1 in each app's windowed mode. But as with last year's releases, running metro apps in the 'integrated' mode of either program (Unity for Fusion; Coherence for Parallels) isn't ideal.
I didn't experience any crashes when using apps in the integrated modes, but I was never sure what would happen to a given full-screen metro app when I switched between OS X and Windows applications. Sometimes they remained visible, sometimes they vanished, and sometimes I couldn't get them to come forward. This variable behavior happened with both Parallels and Fusion, and neither program handled the job better than the other. If you must use metro-style apps, I strongly recommend using them in windowed mode.
For gaming, Parallels still holds a sizable advantage: It was faster than Fusion in most of the games I tried, and it supports DirectX 10, while Fusion is limited to DirectX 9.0c. Realistically, anyone who is serious about PC gaming will be rebooting via Boot Camp, not trying to play in a virtualizer. But if you must play in your virtual OS, Parallels does a better job of it.
Parallels has improved its support for multiple displays in Windows. All attached displays now appear as separate monitors, just as they do in Fusion. (In Ubuntu, Parallels continues to show all displays as one large display, while Fusion identifies them separately. Neither program supports multiple displays in virtual OS X installations.)
Parallels has one interesting feature in its Windows virtual machines that doesn't exist in Fusion: You can use OS X's triple-finger-tap gesture to look up words in Windows applications, just as you can in OS X. When it works, it's very impressive, as the pop-up looks much like the one in OS X.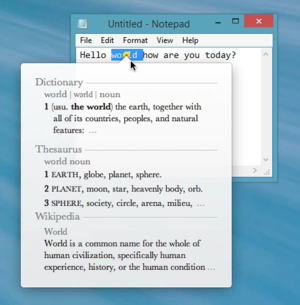 However, I had mixed results with this feature. It didn't work in Internet Explorer, but it worked fine (using the same set of sample sites) in Firefox; it also worked very well with Notepad.
In short, both Parallels and Fusion run Windows extremely well. If your needs lean toward games (specifically, older-but-still-fun titles), you'll probably prefer Parallels. Beyond that, the choice will boil down to which app's interface and features you prefer, and/or which one handles your esoteric hardware and software better.
Virtualizing Linux
Parallels makes experimenting with Linux incredibly easy. A button on the virtual-machine setup screen lets you download and install Ubuntu with just a couple of clicks. With Fusion, you must find and download Ubuntu, and then use that download to create a new virtual machine.
Once I finished installing Ubuntu, I found no real performance differences between Parallels and Fusion when I browsed the file system or used standard Linux apps, such as LibreOffice. Even the RythmBox Music Player worked well in both Parallels and Fusion. Both apps support OpenGL acceleration in Linux—though as with DirectX in Windows, you won't get near-native speeds. Still, both apps handled SuperTux with ease.
Virtualizing OS X
As noted in last year's review, virtualizing OS X can be useful for any number of things, including installing software that you don't want on your "real" Mac and testing esoteric user settings. Creating an OS X virtual machine is easy in both Parallels and Fusion; Fusion this year gains the ability to install from the recovery partition, and Parallels has been able to since last year. (Both can also install from the actual Install Mac OS X application.)
Once installed, though, OS X remains a second-class virtual citizen. You can't use multiple displays, you can't use Coherence or Unity view modes, and you can't do anything with accelerated graphics. Fusion does let you drag and drop files to and from the virtual machine—a handy way to copy files between your real and virtual environments. Parallels can do this with Windows, but not with OS X.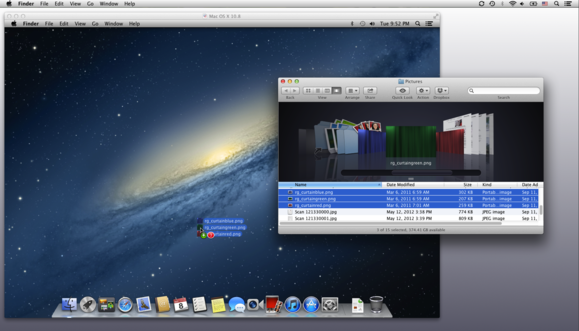 Both programs allow you to copy and paste the clipboard into and out of the virtual machine, but Parallels goes a step farther and lets you copy graphics, too; so you can copy a screenshot to the clipboard in your virtual OS X, switch to real OS X, and paste it into a document. In my testing, however, this operation failed to capture the alpha transparency layer in full-window screenshots, resulting in a huge black shadow around any copied image. You're better off capturing within the virtual machine, and saving the image to a shared folder.
Mavericks and other things
I tested both Fusion and Parallels in Mavericks, and all of my virtual machines worked just fine in it. Full-screen mode, which is much improved in Mavericks, worked well with virtual machines in both Parallels and Fusion.
Fusion even includes the ability to use Mavericks' Dictation feature through Windows apps. I tried this, and it worked as described; it seemed almost magical to talk to OS X and yet see my words show up in my Windows browser window.
Parallels has one major new feature that Fusion lacks, and it will come in handy if you work with lots of external storage media. Parallels now treats Thunderbolt and FireWire equipment just as it does USB peripherals: You get a pop-up dialog box asking if you'd like the connected device to show up in the virtual machine or in the host Mac. So instead of getting at files on external drives via a share from the host, you can access them directly in the virtual machine. I tested this feature with a FireWire drive, and it worked very nicely.
I did have one painful Parallels issue after I'd finished my testing in Mavericks: when I booted back into 10.8.5, I found that none of my virtual machines were usable, and all had to be recreated from scratch. According to Parallels, this is a known bug and they're working on a fix. The good news, if you can call it that, is that this will only affect those who use one virtual machine from two different installations of Parallels Desktop. However, it's obviously a huge issue if you are one of the affected users; yet another reason to keep a good backup!
Pricing and other anomalies
Both Fusion and Parallels are exceptionally good programs that make using additional operating systems on your Mac simple and fun. Even with my aging MacBook Pro, performance was very good in all the virtual machines I set up, and I was impressed with both programs' stability and feature sets.
If you're new to virtualization, buying either of these apps is a no-brainer. But if you're an existing customer, it's a tougher decision. When I look at Fusion's What's New section and at the What's New tab on the Parallels page, I don't see many gotta-have-it features (except, perhaps, the FireWire/Thunderbolt feature in Parallels). In addition, each program's list of changes is relatively short; so to me, they feel like 0.5 upgrades, not 1.0 upgrades.
On the pricing front, Fusion enjoys a big advantage, especially if you use multiple Macs. For new users, Fusion costs $60, and its license allows installation on as many Macs as you personally use. Parallels costs $80, and you must buy a license for each Mac that you plan to use Parallels on. So if you have a desktop and laptop, Fusion will cost $60 versus $160 for Parallels. That's a big difference.
If you're currently using last year's releases, should you upgrade?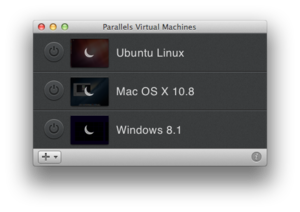 Based on feature sets alone, I find it hard to justify investing the $50 that each company is charging for this year's edition. The battle for virtualization supremacy has brought us great apps with great features, but it also seems to have brought us an annual upgrade cycle in which the merits of upgrading aren't necessarily clear-cut. If my $50 were at stake, I would test-drive the trial versions to see how they compared to my existing app before committing to buy. If you're happy with what you have now, you can probably save your money for next year's new releases without missing out on too much in the interim.
The caveat here relates to Mavericks: Its release may force users to upgrade, as changes in the OS may introduce problems for previous versions of the two programs. For the time being, however, neither company has a statement on its website about Mavericks compatibility with older versions of its programs.
Bottom line
Both Fusion and Parallels do an amazing job of turning your Mac into a multi-OS powerhouse. Reaching a decision about which one is better is nearly impossible, as they share many features, perform similarly, and generally do the same things. My advice from last year holds: Download both programs' free trials, test them with your hardware and software, and pick the one that works better for you. You really can't go wrong either way.