These days, I work on a 13-inch MacBook Air. On workdays, I connect it to a second display—a 17-inch ViewSonic monitor. My laptop serves as the primary screen, with my Dock at the bottom, and windows arranged somewhat haphazardly: Almost all apps live on the right (laptop) display, with extra Safari windows offloaded to the second monitor.
This approach is totally normal to me. But I've come to realize that while maybe no man is an island, almost every Mac is: Everyone uses a different desktop setup. And it's interesting to learn how other folks use their Macs, because it might influence how you do things.
If there's in one thing I learned in talking to several fascinating people about how they use their Macs, it's this: A lot of people—including me—don't use Spaces, Mission Control, or Full Screen apps. But what do they use?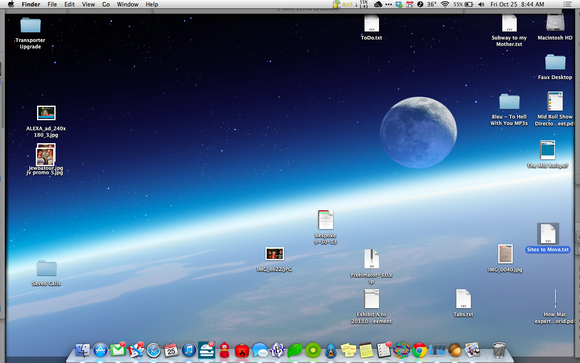 Marco Arment
Marco Arment, who created Instapaper and The Magazine, uses his Mac for everything he does—programming, writing, podcasting, photography, communication, and more. Marco uses a single 30-inch display for his Mac.
Like me, Marco leaves his Dock on-screen at all times—but his sits along the left side of his Mac. A compelling argument can be made for putting the Dock on the side: Apple's displays are all widescreen, so making your Dock encroach on width instead of the comparatively smaller height makes sense. But every time I try switching to a side Dock, I get frustrated and wind up restoring it to the same (stupid) bottom position where it started.
Various apps have taken up permanent residence in Marco's Dock: Apple's Mail, Safari, Messages, Calendar, iTunes, Terminal, and Xcode; MacroMates' $55 TextMate; open-source Colloquy; Acqualia's $12 Soulver; Bogdan Popescu's free Dash; Webin's $7 ReadKit; and Oleg Andreev's free GitBox. The only apps in my own Dock are ones that I leave running all day long; if I don't run an app all day every day, I punt it from the Dock with prejudice.
I asked Marco if he employs any interesting strategies for keeping his apps, windows, and the like organized. "Nope, I'm a mess," Marco told me. "You should see my Desktop." He makes frequent use of the F11 keyboard shortcut to show the Desktop, for easy dragging and dropping of files. I use a Hot Corner instead—I slam my mouse to the bottom right corner of my screen for quick Desktop access.
Marco doesn't use the unholy trio of Spaces, Mission Control, and Full Screen apps.
Jim Dalrymple
Jim Dalrymple runs The Loop. He uses a MacBook Pro for all of his work—including "all writing and posting for The Loop, preparation and publishing for The Loop Magazine, image adjustments—basically everything." He also uses a Mac Pro to record music.
With the MacBook Pro, Jim relies exclusively on the built-in display, "but I use two displays with the Mac Pro, so I can have one screen for editing audio and the other screen dedicated to the mixer."
Like me, Jim leaves his Dock at the bottom of the screen. "It's a bit smaller than the default, but not much," he noted. Jim's Dock includes Apple's iTunes, App Store, Safari, Mail, Calendar, Notes, iPhoto, System Preferences, and Messages, plus Google's free Chrome, Metaclassy's $10 Byword, Twitter's free Twitter for Mac, YourHead Software's $10 Kiwi, Red Sweater Software's $40 MarsEdit, and the Pixelmator Team's $30 Pixelmator.
Jim doesn't worry about organizing his apps, windows, or files. "I use Spotlight a lot, so any strategy that I may have had years ago isn't needed anymore. A simple search will find anything I need very quickly."
Jim doesn't use Spaces, Mission Control, or Full Screen apps, either.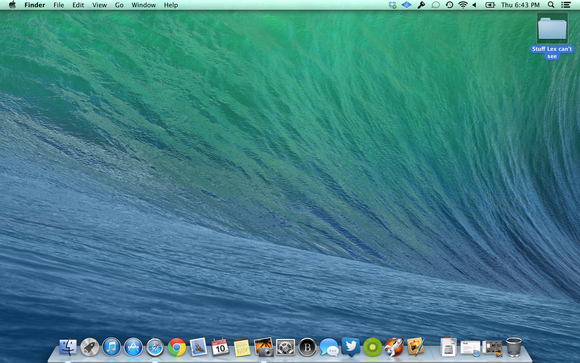 Faith Korpi
Faith Korpi hosts the IRL Talk podcast. I'm willing to bet her strategy for Dock app organization differs from yours.
"I sort the apps in my Dock by color, because my brain remembers where things are by where they fall on the color spectrum." She sticks with colors because other Dock organization methods (app type, for example, or frequency of use) "inevitably leave me scanning the whole Dock." Her Dock groups blue icons (Twitter, iTunes, Rdio, Mail) at left, green ones (Spotify [pricing varies] and the free Evernote) in the middle, and so on.
Faith's Dock sits where my Dock does: at the bottom center.
She uses no external displays, but she does have one unique methodological quirk: She actually uses Mission Control. In her words, she uses "the crap out of" it.
Adam Engst
Senior Macworld contributor Adam Engst heads up TidBits and the Take Control ebook series. He uses his Mac for "nearly every aspect of producing an Internet publication and series of electronic books, along with the ongoing operations of running a publishing company."
Adam uses two displays, "and I have since I added a video card to an SE/30 in 1990. To do anything else would be illogical, Captain."
He tucks the Dock on the right side of his screen. "The only correct way to organize two monitors is to have the menu bar on the right-hand monitor, which then suggests that the Dock should be out of the content display area of any app; hence the right side. This bastion of rightness disappeared with Mavericks, causing a shock of potentially seismic proportions to the core of my being."
Adam, like me, limits his Dock to apps that he runs all the time. When I asked him about his Dock, he quickly spotted a few inactive apps there: "I've now removed them—thanks for the reminder," he said.
Unlike everyone else I spoke to, Adam has very strict rules for where his windows go. "I assign every app a specific window position on one of the monitors, and I very seldom move those windows unless I need to work in two apps that would otherwise occupy the same place. Whenever I see someone with windows strewn higgledy-piggledy across a multiple monitor-Desktop, I cluck my tongue in exasperation."
I Command-Tab to reach the apps I'm after. Not Adam. He uses a third-party utility to assign his most-used apps to his Function keys, "so I don't need to be able to see an app to switch to it. For less-used apps, I use LaunchBar or the [Command-Tab] app switcher."
Daniel Jalkut

Daniel Jalkut, who runs Red Sweater Software, uses his Mac for software development, "but also for the usual collection of things people commonly use computers for: writing and reading email, browsing the web, participating in social networks," and the like—along with recording music and podcasts.
Daniel normally uses only the built-in 15-inch display on his MacBook Pro. He acknowledged that his setup is "pretty unusual" for a developer; common programming tools like Xcode require a lot of window space. Said Daniel: "I just got used to the limited real-estate and have learned to cope, I guess."
Unlike everyone else I spoke to, Daniel keeps his Dock hidden. When it's visible, it's at the bottom of his screen. "It's a real junk drawer, because I almost never use it to open the apps I regularly use, and I never intentionally use it to stash things I'm working on. Until I asked, Daniel wasn't even certain which apps were in his Dock; one was Apple's Launchpad, which he says he's never used. His Dock also contained several apps that weren't even installed on his Mac any longer.
Daniel doesn't use Spaces or Mission Control—"though I probably should, especially given the real-estate problem I alluded to." He very rarely uses Full Screen mode. "The last time I remember using Full Screen mode was to put VMware in its own space. It made a lot of sense to switch between 'using my Mac' and 'using the VMware instance,'" he said.
Like Adam, Daniel assigns global keyboard shortcuts to his most frequently used apps (using FastScripts, a $15 tool of his own creation). "One trick I use when dragging to a specific open application is to start dragging…from the Finder, and then, while the drag is taking place, press Command-Tab to bring up the application switcher to drop the item onto. This makes an easier target for my workflow than dragging to the bottom of the screen and trying to find the target application in the Dock."
So what have we learned?
I didn't rearrange my Dock by color, like Faith's. I didn't assign hotkeys to all my most-used apps, like Adam and Daniel. I didn't move my Dock to the side, like Marco. I haven't even started using Spotlight more, like Jim.
What I have done, however—and what I'd encourage you to do, too—is to begin questioning my default approach to organizing my desktop, windows, and apps. I've shrunk my Dock like Jim; I'm trying to assign more apps to standard positions across my displays like Adam.
Even if none of the other ideas I heard from these other Mac users stick, the experimentation is good. There's no wrong way to set up your Mac's displays, but there are plenty of right ways.
Updated on 11/5 at 7:10 a.m. PT with the name of Ms. Korpi's current podcast.
When you purchase through links in our articles, we may earn a small commission. This doesn't affect our editorial independence.