Diaries are not just for preteen girls. OK, something like this, with the Lisa Frank-esque graphics and the heart-shaped padlock and the glitter—oh, the glitter—that is for preteen girls. But just the act of writing in a diary every day, that's good for everyone.
Writing daily can help you define your goals, keep you honest about how hard you're working toward them, get your mind thinking more creatively, or just remind you of little accomplishments and reasons to be proud of yourself.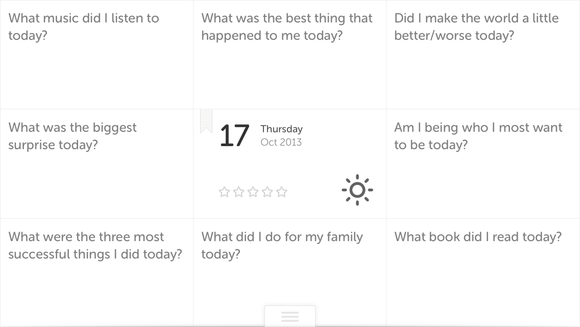 The iPhone has tons of journaling apps— Day One is among the very best—but if you blanch at the idea of starting with a blank page every day, Grid Diary is a worthy competitor. (It's also a couple dollars cheaper, at this writing.)
Instead of writing whatever comes to mind, the app gives you eight questions to answer. Hold your phone in landscape mode, and the questions and your answers populate a 3×3 grid, with the date and your overall mood indicator getting the center square.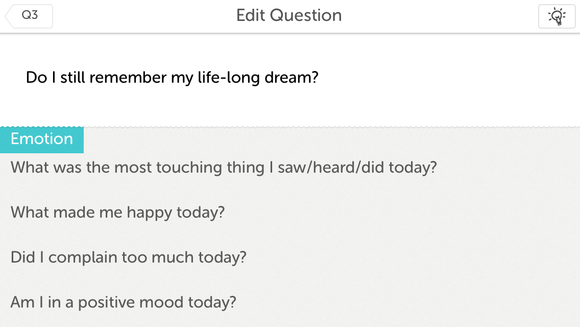 If the set of questions you're given doesn't put you in a reflective mood, you can ask the app to Randomize Questions, which replaces every question you haven't answered. You can also choose Edit Question to write your own or choose from the list.
A lot of the questions are lofty, goal-oriented things designed to elicit thoughtful responses, but you can write as much or as little as you like. Even if you're not looking to pour your heart out, Grid Diary's questions can lead you to better habits. The app can ask about the books you're reading, the music you're enjoying, whether you exercised, what you ate, and what you bought—fun things to track week after week and month after month. Grid Diary can even integrate with the activity tracking app Moves, if you want to pull in data about how far you walked, ran, and biked.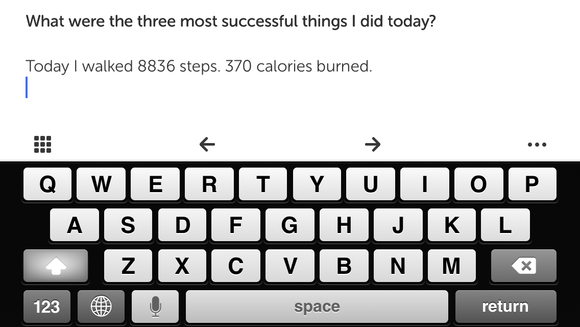 I dig the app's minimalist, black-on-white, iOS 7 aesthetic, and it keeps a lot of the extra functions tucked out of the way. So much that they can be a little hard to find—look for the Settings menu when you're in Calendar view. Here, you can populate your Questions Template with the exact questions you want to be asked each day, and optionally set a passcode too. Your entries can sync to iCloud, and you can export your diary entries to Evernote or Dropbox as well. If you're looking for an alternative to the usual "just write whatever" style of journaling, Grid Diary is worth a look.