Photography software for Mac OS X just got a new variation on the theme. Macphun—developers of the popular Snapheal and FX Photo Studio—recently debuted Intensify, a photo editor that specializes in enhancing image details. It works with a variety of image formats, including Raw and PSD (pro version only). While targeted to a mainstream audience of photo enthusiasts, the software will also prove useful to pros looking for a different take on an image fix.
Intensify, which works on 64-bit Macs running OS X 10.7 and above, comes in two versions. The $40 standalone program is available on the Mac App Store now for an introductory price of $30. The Pro version, which features plug-ins for Adobe Photoshop and Elements, Aperture, and Lightroom, costs $60 and is available on the Macphun website or loaded on 4GB SD cards for retail sale. The plug-in works with Adobe Photoshop CS5, CS6, and CC; Photoshop Elements 10 or later; Lightroom 4.0 or later, Apple Aperture 3.3, and iPhoto. We tested the Pro version.
In addition to administering photographic fixes, Intensify also lets you share images to the usual social networks like Facebook, Twitter, and Flickr.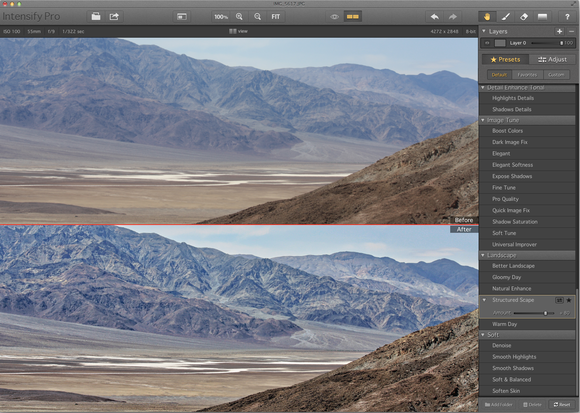 Click around
Anyone accustomed to Mac image-editing software won't need to consult the manual to get started with Intensify. Some presets have clothing catalog-style names such as Good Cityscape, Calm Day, Spicy, and Autumn Morning, whose meanings may vary. Other preset names, such as Strong Details, HDR Vivid, and Crisp are easier to decipher.
You can set up the app to show a simultaneous before and after comparison to keep track of your changes to an image, and you can use the Eye icon to preview changes. The interface performed smoothly for enlarging and navigating around images.
The program sits in a convenient application window with top and righthand toolbars featuring the controls and presets. Image layers let you edit easily and nondestructively.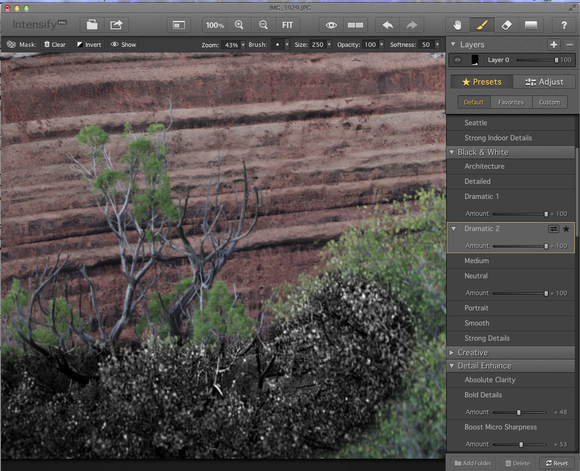 Preset action
The app offers two main image-fix techniques: Presets and Adjust. Presets, for which Macphun has relied on professional photographers to develop, come in eight main categories: Architecture, Black & White, Creative, Detail Enhance, Detail Enhance Tonal, Image Tune, Landscape, and Soft. Within these categories reside between 2 and 16 separate settings that you can apply to an image from 1 to 100 percent intensity. Once you know what these presets do, you can have a one-click perfect fix for an image, or even for an entire shoot. But you don't have to start with presets—you can use the program's built-in Adjust sliders to tweak image attributes such as Color Temperature, Basic Tune, Pro Contrast, Structure, Details, Micro Sharpness, Vignette, and Opacity. An RGB histogram gives a visual representation of your image with toggle buttons that let you see where photos have been clipped for highlights or shadows.
Intensify's named presets are designed to bring out the drama in photos, revealing details in low contrast, complex shots and improving color range with special effects layers and selective enhancements. Each preset has an adjustment button which leads to the underlying controls it applies. Thus, one click lets you delve deeply into the mechanics of each preset, so you can make the photo look exactly as you want it to without depending on the program's algorithm to intuit your aesthetic tastes. You can star presets as favorites and save your tweaks as custom presets.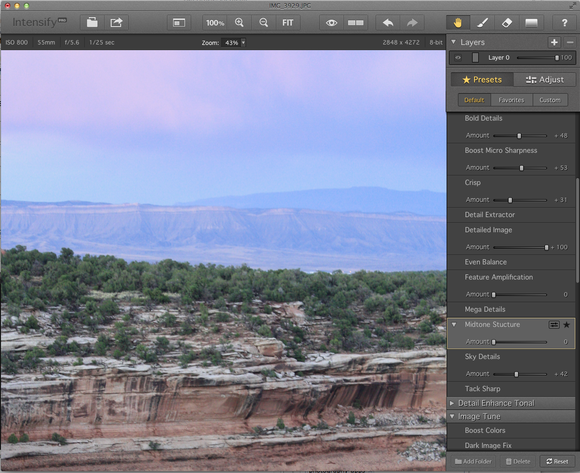 Selective edits
While the program's controls offer algorithms designed to emphasize texture or details in your image, boost low contrast areas, and sharpen without artifacts, you don't have to work in the slider interface or adjust an entire photo all at once. You can apply edits only to certain parts of the image using a combination of the paint brush, mask, and erase tools.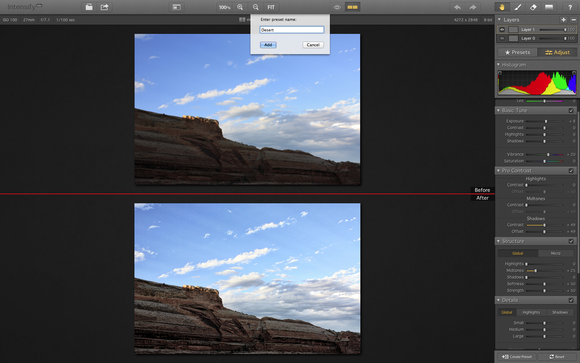 Using layers, you can employ as many presets as you want on the same image. Just click the Eye icon on and off to see individual presets in action or in combination.
Adjustable brushes let you paint effects on your image in conjunction with the masking feature. You can brush effects onto specific parts of the image, leaving other parts untouched. A show button lets you see exactly where your mask is located. The adjustable gradient tool provides an easy way to apply graduated edits for even more creative looks.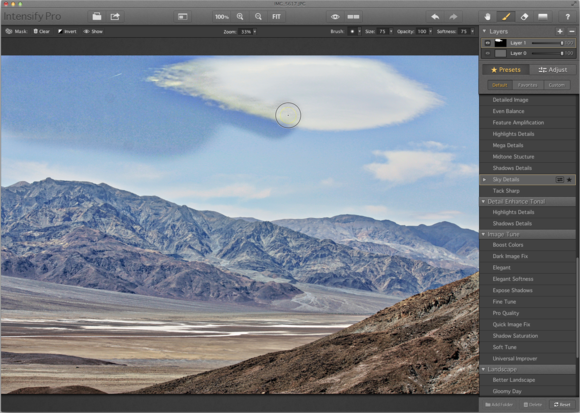 Minor quibbles
I found that Intensify Pro did exactly what it said it would do, and for the most part, did a really fine job of it. A couple of things stood out for potential improvement, however. The interface only lets you work on one image at a time, but often people work on multiple related images for compositing and workflow purposes. It would be nice if that could change in the future. In addition, there were some minor performance issues in which I noted a short lag time when changing adjustments between one preset and another. The program reverts to the original state for a second or so—just enough to be noticeable—before registering the new adjustment. Intensify saves only to its own MPI format, though you can export to other familiar formats such as JPEG, PNG, GIF, and more.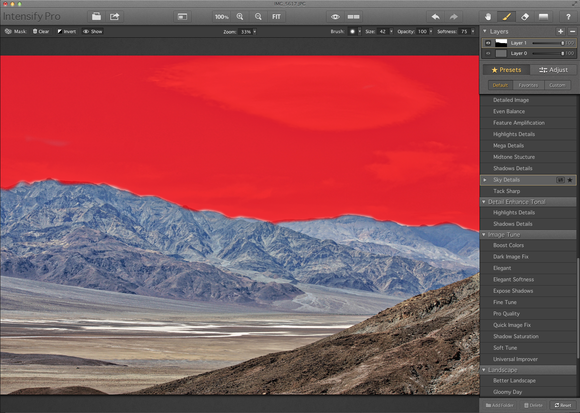 Bottom line
Intensify is a welcome addition to the stable of Mac-based image-editing tools and has made an impressive debut. It does not pretend to be a full-service Photoshop replacement, but its ease of use, fun interface, and swift, unique results make it a worthwhile stand-alone program or plugin. It would be nice if you could have more than one picture at a time open in the program. Sometimes the names of the adjustments are deceptive, because their effect depends on the photo, but that's a matter best solved by quickly trying out the settings. Overall, Intensify feels surprisingly complete and fully baked for a 1.0 app.