So, I'm pretty excited about Halloween. How excited? This excited:
And you know you are too because Halloween is the best. What other holiday allows me to claim that the cobwebs in my house are "decorations"? Or that my all-black ensembles and purple hair are "festive" and not "weird"? Or that candy is "dinner"? There's a lot to like about the last day in October, from scary movie marathons to haunted amusement parks. In honor of the most haunted holiday, I've been spending the witching hour playing some of the best Halloween-themed mobile games out there, and while they're more adorable than horrible, they're also a lot of fun.
Make a Zombie is like a horrifying spin on the Build-a-Bear fad: Basically you're given a template onto which you can craft your own zombie. Add various backgrounds, bodies, T-shirts, eyes, hairstyles, and facial features to create your very perfect zombie minion—or tap the Random button to automatically assemble an adorable undead friend. With more than 17 backgrounds, 24 hairstyles, and 20 T-shirts, there are plenty of combinations of attributes that you can give your zombie.
Once you've put the final touches on your new flesh-eating friend, you can "release" (aka share) your zombie via email, Twitter, Facebook, and AirPrint. You can even order a shirt or hoodie with your zombie creation on it. And if you tire of the myriad combos of features available, you can make an in-app purchase for an action pack of more items, with themes like Pirate Zombies, Valentine's Pack, or a Winter X-mas Pack. The only downside? You can't save your zombie horde to one place within the app, which would be nice.
A Zombie Blocks Tower— iOS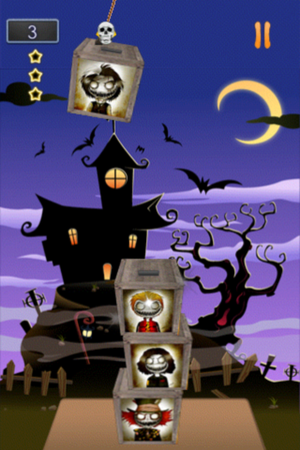 If you like your zombies all contained in one place, then A Zombie Blocks Tower will appeal to your sense of order. The fast-paced building blocks game requires you to do one thing: Stack as many creepy-faced building blocks on top of each other as you can. Simple enough, but if you don't stack the blocks in the right way, they'll topple over.
A Zombie Blocks Tower lets you play three ways, with different goals in mind: Quick Game, Score Attack (which measures your high score), and Time Attack (a timed version of the game). As you stack your boxes higher, the background scene rises along with you. There are no levels to advance to, you're just trying to hit a personal best, but it's a spooky, simple game that will likely keep kids entertained. It's also worth noting that there are a fair amount of pop-up ads you'll have to navigate around, so expect to be hitting the "No thanks" button in between rounds.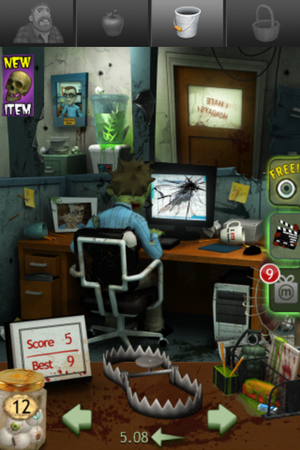 Office Zombie has a 9-to-5 grind, and he has no time for you or your horror movie shenanigans. Try as you might to distract him with your arsenal of exploding teddy bears, chain saws, and undead squid, this zombie is focused on one thing: his deadlines. But hey, that shouldn't stop you from tossing everything you've got at him—after all, somebody has to ruin this zombie's day.
You start with four weapons: a hammer, a grenade, a bear trap, and a jack-o'-lantern. Playing unlocks achievements and, hence, more items to throw at Office Zombie. Should you want instant access to, say…the hatchet or the cauldron, you can purchase those items with "eyeballs," or points. You gain eyeballs through game achievements, or you can alternatively earn eyeballs by participating in any of several third-party activities (example: Signing up for a free GameFly trial earns you 53 eyeballs, while taking a quick health insurance survey earns you one eyeball). New items are added pretty frequently, so it's worth keeping a tally on how many eyeballs you have.
To make things even more complicated, you can also earn maggots (yay?) by watching an in-app video. With 100 maggots equaling one eyeball, this is a decent option if you really, really need a ninja star to throw at the zombie (and don't feel like earning them another way). There's also a tab to access the mPoints you earn for playing the game—which you can then redeem for gift cards. Honestly, the in-app options become a bit of overkill for a game that is essentially you throwing things at an undead office worker, who doesn't do much to respond to the taunts aside from muttering, "Braaaaaains." C'mon, Office Zombie, forget your desk duty and fight back like a read undead man!
Doctor X: Zombie's Halloween Surgeon— iOS and Android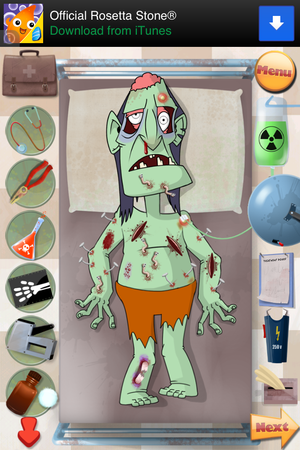 If you were good at Operation, then you'll need to try your hand at Doctor X: Zombie's Halloween Surgeon. Those steady hands are needed to help provide special, virtual medical attention to your waiting room full of zombies. You select a zombie patient who is then prepped to your table; along either side of the table are your tools. You start with a stethoscope, pliers, acid, an X-ray, a stapler, and an alcohol wipe on the left side; and an IV, chart, taser, and tissue box along the right.
The game helps you by pointing out which tools you'll need to fix up your zombie—for example, using a pair of pliers to remove all the nails stuck in the zombie's body while he yells "ouch!" You simply select the tool then hover it over your patient, and the app will direct you using arrows. It can be a bit challenging to figure out exactly how to "use" the tools, but it's not difficult. After all, your patient is already dead. Once you've finished patching up your patient, you can get the next one sent in.
The app offers up two doctors kits, four diagnosing tools, nine treatment tools, and multiple brushes to apply treatments—while some of these are locked behind in-app purchases (which run from $2 to $4) they're not necessary to enjoy the game, which is a goofy good time.
Mr Shingu's Paper Halloween— iOS and Android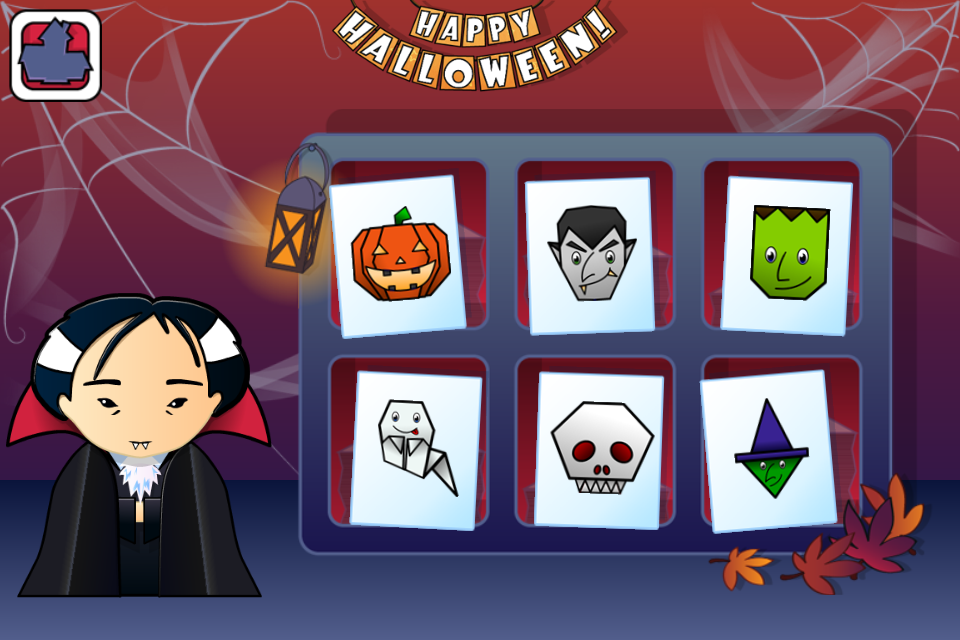 One of the best parts of Halloween is the decorations. To that end, Mr. Shingu's Paper Halloween is much more than a game. It can also help you decorate your house with a variety of origami monsters. You can select from six origami options: a ghost, a skull, a witch, a jack-o'-lantern, a vampire, or a Frankenstein monster. The app then helps you virtually fold your creature by showing you where to fold, score, or bend the paper—something you can also follow along with using actual paper to create a real origami monster.
You can then paint your virtual monster a variety of colors, and watch him or her cavort around a haunted house backdrop. The app will let you take photos of your monster as well. From there, hit the icon that looks like a game controller to play the included game, wherein you try to avoid your monster creations in order to collect candy. It's a pretty simple game, but a nice add-on to the folding portion of the app. If you find yourself enjoying the folding instructions, it's probably worth mentioning that there's also a zoo version of the app.
Ghost Train— iOS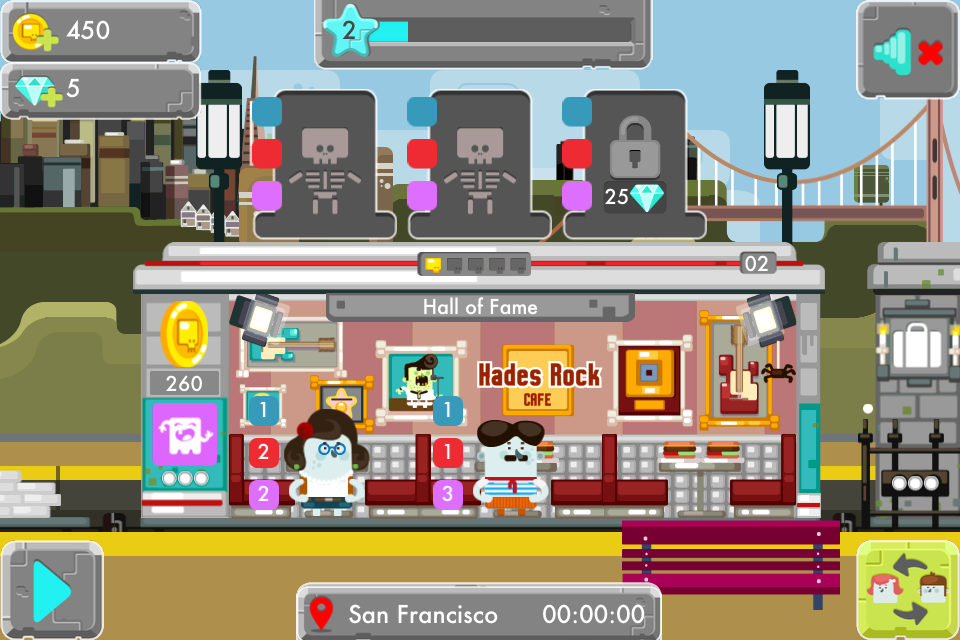 The thing about ghosts is, they're always trying to get somewhere. You can help them reach their destinations by building a ghost train in this side-scrolling game. As the official afterlife conductor, it's your responsibility to help every soul arrive at their assigned destination. For this, you collect Soul Sparks as payment from the dearly departed as they…depart your train.
With more than 50 types of wagons and 10,000 unique ghost characters, it's pretty easy to get lost in this game. Between adding wagons to your train, moving ghosts between the cars (some of them serve time in the "Hades Rock Café"), picking up more ghost passengers, and collecting Soul Sparks, it's a busy little game with plenty of icons to tap. (Tapping the tiny suitcases above the ghosts' heads displays each ghost's profile, for example). It's worth taking the time to read all the instructions; the app gives you plenty of information via arrows that direct you through the game.
The animations are pretty adorable, but the view can be a little cluttered on a small screen—this might be an app better suited to the larger screen of an iPad. Once you arrive at your destination and your ghostly passengers depart, you'll unlock upgrades, like additional locations to send your train to. To purchase additional railroad cars or a more powerful engine, you can also shell out for gems or coins, or earn some by watching videos or participating in in-app offers.
Monster Mansion— iOS
If you're not into shuttling ghosts to their destinations, perhaps you'd prefer to lend your hand to building a hotel for monsters? Monster Mansion is a more hospitality-minded game, where your goal is to build up your haunted mansion into a world-class monster hotel. Build rooms where monsters can scare guests, decorate guest rooms, check in on your monster clients to get Daily Bonuses, hire a staff to care for your monster guests, and attract even more spooky customers to your hostelry in order to unlock challenges.
The monsters in the mansion are all inspired by classic books, movies, and TV shows, so you should see some crowd favorites come through the front door of your hideous hotel, including a yeti, a swamp creature, and a gargoyle. Each guest can be viewed by tapping the guest book icon in the upper-right; a wheel icon in the lower-left accesses a menu that lets you move rooms around, delete rooms, and visit another monster mansion, while a tool icon in the lower-right provides a menu for adding monster rooms, scare rooms, decorations, and staff, among other options.
You can earn coins within the game by playing the daily challenge (one day it was a scratch-off ticket that asked me to match monsters), or you can earn "pumpkins" by participating in various in-app tasks (watching a video, signing up for a free GameFly trial). Coins are also earned by feeding your monster guests, or ridding the mansion of the bats that fly about it. Much like Ghost Train, this is a detailed, charming game that may benefit from a larger screen, but is nonetheless charming enough to lure you into spending several hours acting as concierge for various creatures of the night.
Nosferatu Run from the Sun— iOS and Android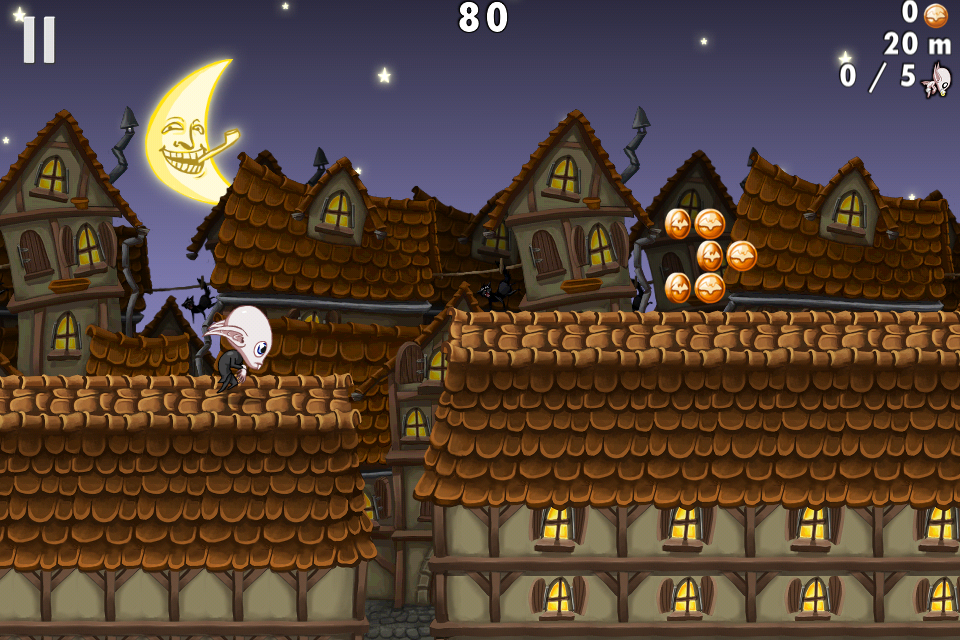 You may be the "cutest, fastest, and best vampire of all time" (Dracula who?). However, the sun is coming up and you need to race back to your lovely dark coffin. So, run, run fast across the rooftops of your city in order to escape the rising sun—and you might as well pick up a bunch of coins like an undead Mario while you're at it.
This side-scrolling game moves pretty quickly, but it's hard to resist the adorable vampire characters and animation. In addition to collecting coins, your Nosferatu can grab people and power-ups on his run home, or participate in any number of missions. You can play in either single- or multiplayer modes, and the game gives you onscreen instructions on making Nosferatu run, fly, and jump. The best part? Little Nosferatu makes adorable squeaking noises when you control him. And if you don't succeed in getting him home in time, Nosferatu turns to ash when the sun rises.
You can earn coins through gameplay, daily bonuses, and via an in-app purchase, and like most of the other games listed here, there are some pop-up ads (again, like most of the other games, you can pay to remove those ads). You can use your coins to purchase characters like Santa Nos, Zombie Nos, and Nos Vicious; upgrades (bat mode, speedrun); and power-ups (Wings of Salvation, Booster).