Some Apple events—such as the one in September where company introduced its new iPhone 5s and 5c—are focused: They spend a lot of time talking about just a couple of new products. Others are more scattershot, blasting the expectant audience with one new product after another. Apple's Tuesday event was definitely one of the latter.
The company unveiled a brand new iPad model (the iPad Air), and added a Retina screen and an A7 processor to the iPad mini. It announced an updated line of Retina MacBook Pros while also naming December as the a shipping month for its new Mac Pro (the black cylinder that looks like it belongs on Darth Vader's desktop). It showed off updated iLife and iWork suites for the Mac, iOS, and iCloud.com. And it announced that the latest version of OS X—Mavericks—would be available immediately after the event, and for free.
iPad Air
Contrary to rumor, there was no iPad 5 at Tuesday's event. Rather, there's a completely new iPad model: the iPad Air. As you might guess from the name, it's significantly thinner than its already-skinny predecessor, while also getting a bit of a speed bump.
The new model is 20 percent thinner than the fourth-generation model, and 0.4 pounds lighter (weighing an even one pound). In addition, while the iPad Air has the same 9.7-inch Retina display as its full-sized predecessor, the bezel around that screen is much smaller: 43 percent thinner than previous generation.
But inside that slimmed-down chassis rests the new 64-bit A7 chip (first seen in the iPhone 5s) and M7 co-processor. Apple says the new processors provide twice the CPU and graphics performance as the previous model, all while retaining a 10-hour battery life. Among the other new features Apple touted include faster 802.11n Wi-Fi with MIMO support; expanded LTE networks; improved FaceTime and iSight cameras; and dual mics for better Siri and audio capture.
Both Wi-Fi and LTE models of iPad Air will start shipping November 1 in silver/white and space gray/black color choices. They'll cost the same as the iPad models they replace: $499 for 16GB Wi-Fi and $629 for 16GB Wi-Fi plus Cellular, with storage options up to 128GB. The full-size iPad 2 remains in Apple's lineup at $399 for a 16GB Wi-Fi version.
iPad mini
Apple also introduced a new generation of the iPad mini. Its marquee feature: a new high-resolution Retina Display.
The new iPad mini ups its screen resolution from 1024 by 768 pixels to 2048 by 1536 pixels while keeping the same 7.9-inch (diagonal) screen size. That ups the mini's pixel density from 163 pixels per inch to 326 pixels per inch—almost identical to the density of the iPhone 5s.
The new mini gets some upgrades on the inside, too, including Apple's 64-bit A7 processor. Apple claims the new processor makes the Retina iPad mini up to four times as fast as its predecessor for processor-intensive tasks, and up to eight times faster for graphics-intensive ones. Like the new iPad Air, the iPad mini with Retina Display also features Apple's M7 motion coprocessor. The new mini also gains the same upgraded Wi-Fi and camera improvements as the iPad Air.
The iPad mini with Retina Display will be available in silver/white or space gray/black "later in November," according to Apple. The Wi-Fi versions will cost $399 for 16GB, $499 for 32GB, $599 for 64GB, or $699 for 128GB—a first in that capacity for the iPad mini. Cellular versions add $130 to each: $529, $629, $749, or $829, respectively.
Apple is also keeping around the original iPad mini as a lower-priced option: The 16GB Wi-Fi iPad mini is now priced at $299 (down from $329), while the Wi-Fi + Cellular version will retail for $429. It's also available in space gray or silver, rather than the original black and white.
Mac Pro
Power Mac users also got an early holiday present at Tuesday's event: Apple announced that the much-anticipated new Mac Pro will ship in December—previously, the company had said only that it'd be available "this year."
When available, the base $2999 configuration will include an Intel 3.7GHz Xeon E5 processor, 12GB of RAM, 256GB of flash storage, and two AMD FirePro D300 GPUs (capable of supporting up to three 4K displays). There will also be a $3999 model, which has a 6-core 3.5GHz Xeon E5 processor, 16GB of RAM, 256GB of PCIe-based flash storage, and two AMD FirePro D500 GPUs.
As we've reported previously, the new Mac Pro comes in a sleek cylindrical case, about 10 inches high. Unfortunately, that case has no room for expansion with PCI cards or internal storage devices. Users of the new power machine will have to rely on the machine's six Thunderbolt 2 ports and four USB 3 ports to connect peripherals or upgrade the storage.
Retina MacBook Pro
Apple also used Tuesday's event to reveal updated versions of the Retina MacBook Pro.
The new entry-level $1299 13-inch Retina MacBook has a 2.4GHz dual-core Core i5 processor and comes with 4GB of RAM, integrated Intel Iris Graphics, and 128GB of flash storage. It's a bit lighter (0.11 ounces) and thinner (0.04 inches) than the previous 13-inch model. The $1299 price tag is $200 less than what Apple charged for the previous generations's entry-level MBP.
There are two upgrade configurations: A $1499 model has the same CPU, but comes with 8GB of RAM and 256GB of flash storage. The $1799 model has a 2.6GHz dual-core Core i5 processor, 8GB of RAM, and 512GB of flash storage.
The new $1999 15-inch Retina MacBook Pro ($200 less than its predecessor) has a 2.0GHz quad-core Core i7 processor, 8GB of RAM, Iris Pro integrated graphics, and a 256GB SSD. For $600, you can upgrade that to a 2.3GHz quad-core Core i7 with 16GB of RAM and 512GB of flash storage, along with improved graphics.
All of the new Retina MacBook Pro models are available Tuesday via Apple retail stores and Apple.com.
OS X Mavericks
Speaking of Macs, Apple also provided a ship date for OS X Mavericks, the latest version of the company's desktop operating system, which was previewed last June. Mavericks is now available from the Mac App Store, and even more significantly, it's free.
Mavericks brings several key under-the-hood features to OS X, new versions of popular Apple iOS apps, and full support for multiple displays. Apple senior vice president of software engineering Craig Federighi briefly outlined some of the key technology improvements in OS X Mavericks. He talked about its improved battery life for laptops, compressed memory technology to help lessen your computer's memory load, and graphics improvements. He then ran through some of the new features first demonstrated back in June, including Safari shared links, enhanced notifications, Finder tags, multiple display improvements, and new Maps and iBooks apps.
OS X Mavericks will be available as a free download from the Mac App Store on OS X Snow Leopard or later. It'll run on a 2007 iMac and MacBook Pro or later; 2008 MacBook, Macbook Air, or Mac Pro or later; and the 2009 Mac mini or later.
Apps
Finally, Apple unveiled a heaping helping of new iOS and Mac apps, including updates to the company's iWork suite, iLife suite, and professional applications.
The iWork apps—Pages, Numbers, and Keynote—now offer full file-compatibility between OS X, iOS, and PCs (via the iWork for iCloud service). They've also been completely overhauled with new designs and new features. For example, Pages gets new smart text and object recognition technology, which replaces the old Inspector and actively changes depending on what you have currently selected. The Numbers spreadsheet app gains some new interactive chart options, while Keynote contains new effects and animations, designed to work on both iOS and OS X. Apple also demonstrated a new feature for iWork for iCloud: live collaboration. The new iWork apps should be available the afternoon of October 22 from the iOS and Mac App Store.
Also, after what seems like forever, we'll finally see updates to iLife—iPhoto, iMovie, and GarageBand—for both the Mac and iOS. Highlights include faster Photo browsing in iPhoto and iOS-made Photo Books; easier browsing and speed controls in iMovie; and more tracks and a new Drummer feature in Garageband. Drummer plays along with your songs at your direction. You can pick the style of drumming, the virtual player, and even choose the instruments. The accompaniment is based on the work of real drummers in a variety of genres.
We'll have first looks and reviews for all Apple's new hardware and software soon, so stay tuned.
Updated at 3:20 p.m. PT with a video report.
Mac Pro Quad-Core/3.7GHz (Late 2013)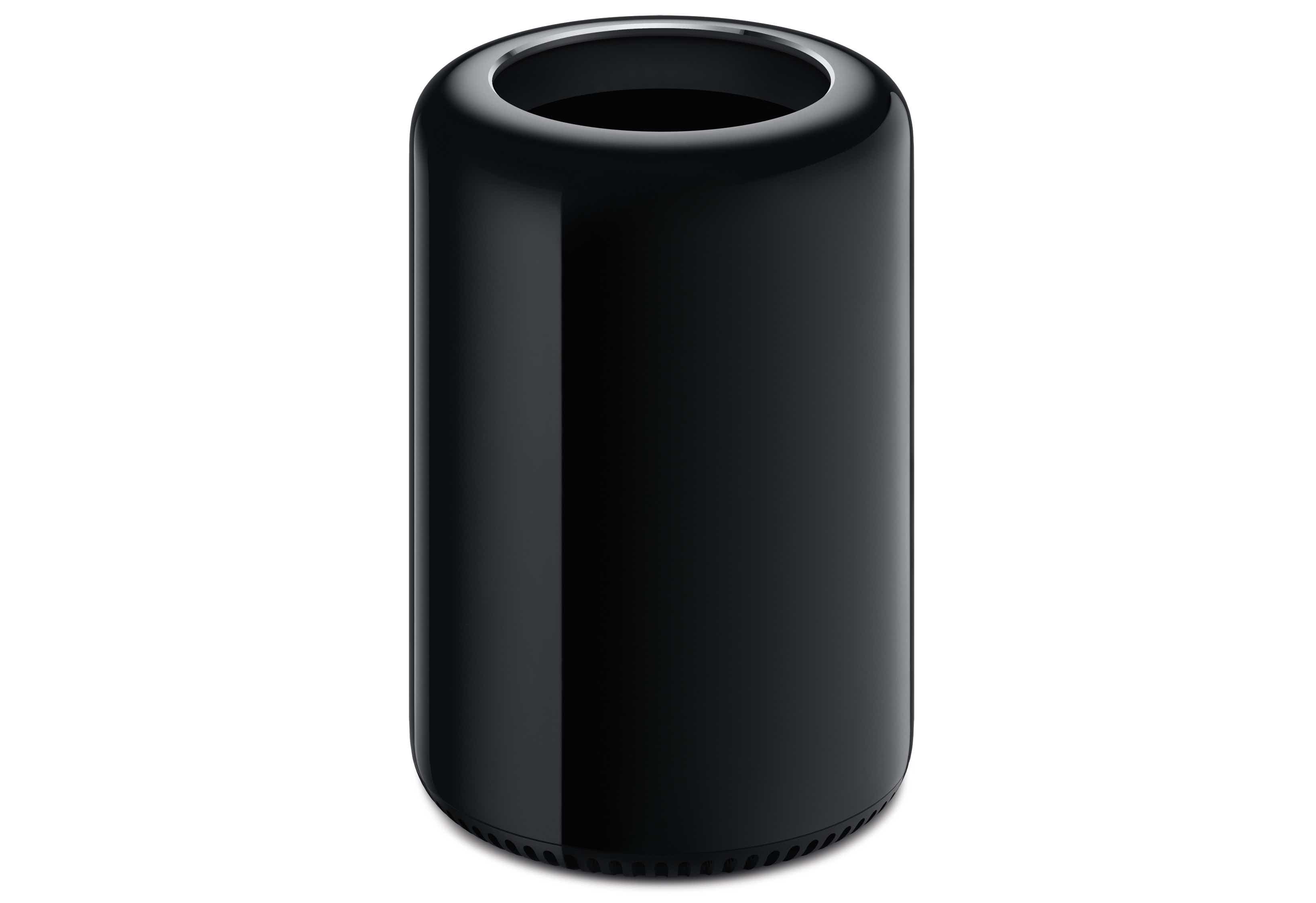 Price When Reviewed:
$2999
Read our full
Mac Pro Quad-Core/3.7GHz (Late 2013) review
Mac Pro 6-Core/3.5GHz (Late 2013)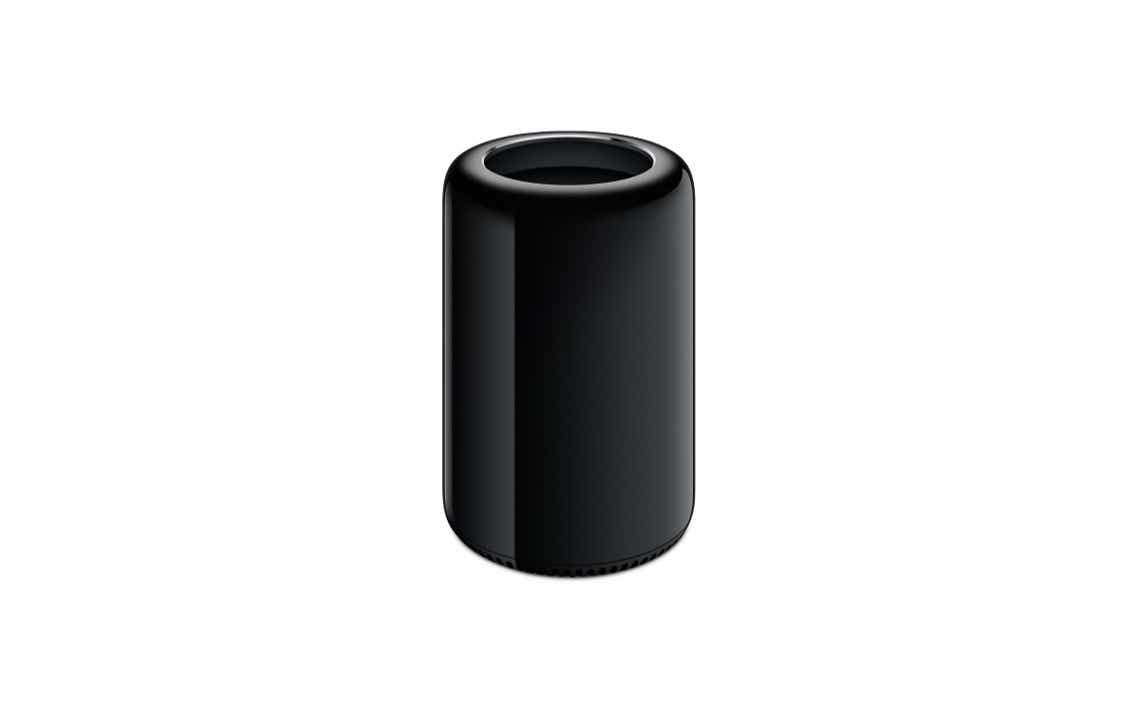 Price When Reviewed:
$3999
Read our full
Mac Pro 6-Core/3.5GHz (Late 2013) review