There are snapshots and photo albums, but it seems like there's nothing in between—at least for still images. Except, that's not true.
Collages are a great way to showcase a small group of photos that tell a story in a unique way. Instead of relying on a single iconic image or an album stuffed with similar photos to symbolize a complex thought or event, try a handful of images in a unique arrangement to deliver the big picture.
We tested nine iOS collage apps—some for the iPhone only and others that run on both the phone and tablet. Most are free; some start out free but offer in-app purchases to augment built-in features. Take note of that if you prefer to order and pay for an app once without being confronted by endless pitches for supplementary materials. Of course, if you don't need hundreds of patterns and backgrounds and extras, it's nice that some apps let you pay only for what you want.
These nine apps constitute a small percentage of what's available for the iOS platform, but they represent the best or at least unique examples of the genre and can serve as a starting point for your own explorations.
Diptic (iPhone/iPad)
Peak Systems' 99-cent Diptic (4.5 of 5 rating) puts a designer touch on the collage concept, providing nearly 200 layout choices. Swiping through the previews gives you insight into what to expect from each style. But customization options are just the beginning.
Within each style, additional adjustments such as border, frames, aspect ratio, and fonts are available. Drilling down into each of these categories offers even more choices for experimenting with your collage's look and feel. Diptic accommodates various workflows by letting you import images or take new ones within the app, and add photos as you go. You can also pull photos from social networks such as Facebook, Instagram, Flickr, and more. Diptic's elaborate control panel lets you select images, apply special effects, rotate, adjust border colors, patterns, and thickness, change aspect ratio, and create new cell shapes directly on the canvas, and add text. My only complaint is that the app is a tad slow in initially placing pictures. But its performance improves after images are on the canvas.
With its ease of use and multiple opportunities for improvement via 99-cent in-app purchases, it's hard to conceive of needing anything more from a mobile collage app. However, if too many choices overwhelm you while quickly pulling together a collage, try Diptic PDQ (short for Pretty Dang Quick), which is essentially the same Diptic app, but with a streamlined interface that removes some options and in-app purchases.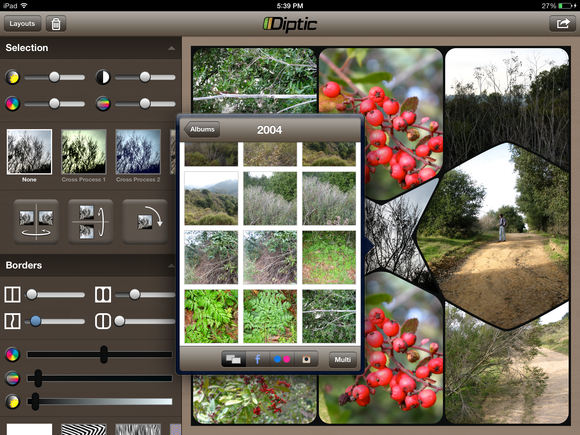 Fuzel (iPhone)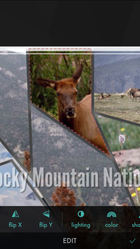 Not a Basement Studio has just overhauled its respected Fuzel collage builder for iPhone (4.5 of 5 rating) with a whole new look that encourages you to choose your photos first and then decide on layout, borders, labels, and decor from stickers to frames. But there's flexibility in the workflow, though; Fuzel makes it easy to bring your images together in an engaging presentation, offering a plethora of ways to adjust them via simple, on-screen arrow and slider controls. The app lets you adjust aspect ratio, borders, border color, patterns, and decorative frames, and offers a vast number of resources for everyday collage building.
Templates range from simple, funky, and freeform, but you don't have to stick with exactly what you pick. Within your template, you can make adjustments like merging cells or using the node control to adjust existing cells into wild shapes, or splitting an existing cell so that your collage looks unique. Onscreen controls let you dynamically adjust borders and shadows, add and change text fonts, and add stickers.
What's really nice about Fuzel is that it caters to your own individual style with minimal compositional restrictions. Double-tapping a cell lets you enhance, adjust, or place special effects on the image within it. If you should ever need more borders, fonts, stickers, or labels, in-app purchases ranging from 99 cents to $5 give you additional choices. When you're done, share your collage with the popular networks.
Eventiles (iPhone)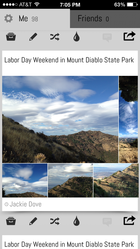 Made for people with too little time on their hands and an irresistible urge to shoot photos wherever they are, Eventiles (4.5 of 5 rating) automatically surveys the images in your camera roll and intelligently decides which ones will look best with each other when wrapped into a collage.
The program doesn't necessarily choose the best shots, because the emphasis is on telling the story. Eventiles builds collages, eliminates duplicates, and conveniently sets titles based on a photo's date, time, and location. Thus you can distill hundreds of photos down to a reasonable number of unique shots from each photo session and arrange them in a collage, complete with a title.
In conjunction with doing its job on collages, Eventiles also helps to organize your photo collection and keep track of when and where you shot your images.
You Gotta See This! (iPhone/iPad)
This free, high-concept app (4 of 5 rating) from Boinx Software takes a unique approach to collages that may come in handy depending on your shooting environment and how much fuss you want to put into collage creation. It has an artistic air about it that just works as the app cleverly employs the device's gyroscope to create your picture.
Unlike other collage apps, you don't manually compile images and you don't do much in the way of adjusting after gathering them in the app. You actually shoot panorama style by launching the app camera and moving it around your location (3D space in Boinx parlance). The app shoots automatically as you move and compiles the results into your choice among seven built-in backgrounds with names such as Polaroid Stone, Vintage Fabric, Magic Lights, and Shining Through that you choose by flipping through previews. The results are unique and pretty cool, though this app is not for everyone or for every situation, and for some users, there may be too much emphasis on the backgrounds. For the highest resolution image, save the collage to your camera roll and sync it to your Mac.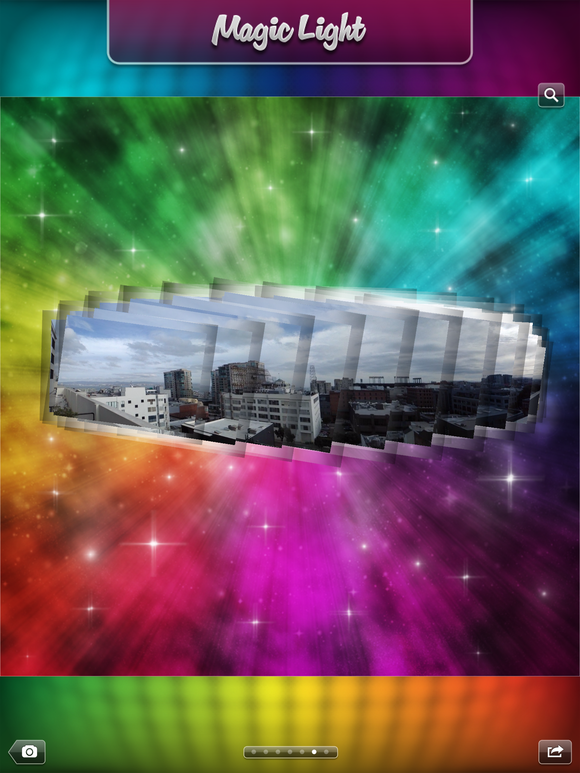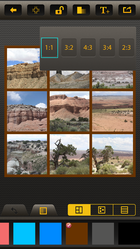 ProCollage (iPhone)
ProCollage (4 of 5 rating), a simple $2 app from Softease Tech Co., offers several styles of collages to choose from: Template, Freestyle, and Stitch. Within those, you get square and rectangular arrangements, a patterned or solid color background or a vertical or horizontal layout containing up to 12 images, including panoramas. Within each module, you can change cell size and width and add text to the collage in different colors, patterns, and fonts.
The app responds swiftly to changes, which means it's easy to experiment until you are happy with the result. The app's patterned and solid color backgrounds allow you to place your images freeform and enlarge and position them the way you want to without a template. When you're finished, you can output at three different sizes and share to various social networks.
Moldiv (iPhone/iPad)
Moldiv (4 of 5 rating), JellyBus' multi-talented collage app, offers plenty of choices on how to get creative with your images. The basic app is free, but there are numerous premium in-app purchases costing 99 cents each or a full upgrade pack for $6 to choose from should your inspiration run dry. That might take some time, since there are no fewer than 60 free layouts, and a whole lot of image tweaking capability to go with them. In addition to creating collages and stitching images together, you can also select and remove parts of images and superimpose them on other images for unique combinations. The entire process is simple and intuitive with lots of variety.
The app is slider-based, so once you have images loaded, you can dynamically adjust frame width, aspect ratio, and borders. Clicking inside a photo brings you to a whole new world of Instagram-type effects and the ability to swap or replace images. A rotate panel lets you adjust and resize each image in the frame. Fun items like text and image stamps give your collage a unique look.
When you're done, share to your camera roll or other apps, and to popular social networks.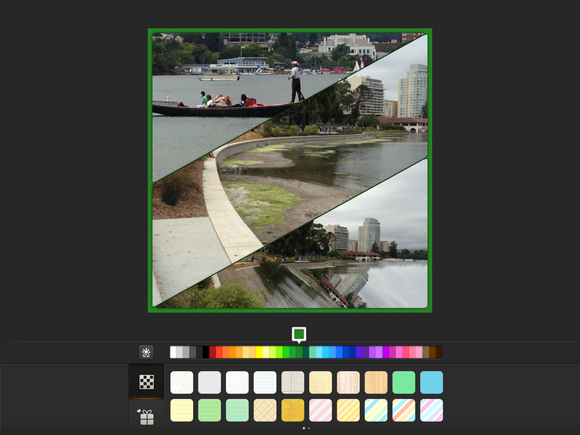 InstaCollage (iPhone/iPad)
An ad-supported free app from Click2Mobile, InstaCollage Pro Pic Frame & Photo Collage & Caption Editor (4 of 5 rating) starts with attractive and unusual patterned templates that remove you from sharp-angled collage monotony. There are several varieties of this app, designated officially for Instagram, but which can also be used independently. With each photo you place, you have a range of editing choices such as crop, adjustment, orientation, sharpness, and more. You can change frame shape and thickness, pattern, color, and background color, as well as line colors. Text options include color, size, font, and background, as well as moving, resizing, and adding shadows to text.
Adjustments also include text and sticker overlays and sharing opportunities. You can save in small, medium or large resolution depending on how you want to use the image, and you can share with a variety of social networks.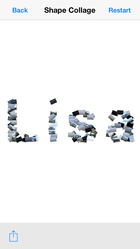 Shape Collage (iPhone/iPad)
If you're a collage fan, you're probably familiar with Shape Collage for the Mac (3.5 of 5 rating). Well, there's also a $2 version that you can tote around for both the iPhone and the iPad.
The idea behind Shape Collage is that your pictures are viewed in the form of an overarching image of its own with each included image contributing to the shape. Choose up to 100 photos and a shape, or even text, click the Create button, and the app takes care of the rest. You can go back into your collage if you want to tweak the photos.
The app offers quite a number of shapes to choose from, but it was hard to get them to look like the template unless you chose a lot of component images, so go with the maximum 100, and you'll get a beautiful looking heart—or circle. I had good luck with text and outlined images, which looked beautiful, but animal templates such as the bird and cat were less successful. There should be an option to work in landscape orientation, move images around the composition, and otherwise tweak the result.
InstaStitch (iPhone/iPad)
This flexible collage maker (3.5 of 5 rating) from YummyApps, free and ad-supported, lets you express your artistic instincts with an assortment of templates and elements. As you place images into the grid, you can apply edits such as crop, adjust, focus, sharpness, red-eye, special effects, and more. Background color, frame shape and color, and aspect ratio are all adjustable via a fun slider that lets you instantly preview all the variations available.
You can even change your mind about the underlying grid and it will take the images you placed into the new grid without missing a beat. The app doesn't look as elegant as some of its competitors, but it's easy to use and learn.