When we last met, we'd just waded into the first lessons for getting the most from iMovie. And I'd fully intended to push on through iMovie and into GarageBand and then the iWork applications. But a funny thing happened—Apple picked up the board and threw all the pieces in the air, which naturally caused me to give the future a significant re-think.
Of course, this is about more than me. I can imagine that those of you who've followed these lessons from the very beginning are quietly fuming, "Great, all that time spent on the old operating system. Now I have to relearn the whole thing."
Fortunately, no, you don't. While plenty is going on in the newest version of the Mac OS (known as Mavericks), on the surface it's not radically different from what you've used before. In this lesson I'll provide you with some information on the obvious changes so that you can get on with your work and play rather than stumbling over something unexpected. Let's start with the Finder's most significant changes.
Finder tabs
Back in mid-June we talked about Safari and its Tabs feature. The gist was that you could create a single window, and within that window create tabs—with each tab representing a different Web page. It's a great way to cut down on the clutter while browsing the Web.
Someone at Apple had the brilliant notion that creating a similar tabbed experience in the Finder could be just as helpful. Rather than trying to find your way through dozens of open windows, why not instead create a single window and then turn additional windows into tabs? Mavericks makes that possible, and it's easily done.
In the Finder, press Command-N to create a new Finder window. Choose View > Show Tab Bar. If you now gaze at the top of your new Finder window, you'll see a smallish Plus (+) button on the far right. Click this button, and you create a new tab that opens in the Finder's default view (which is the All My Files view). You can treat this tab just like a window. Open a folder within it, and that folder shows its contents. Click the window's Back button, and you navigate back to the previous contents of the tab.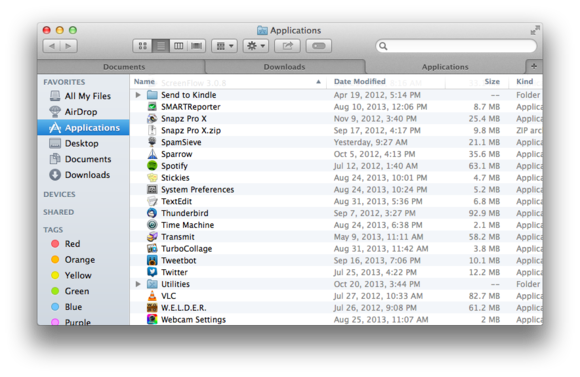 You can create tabs in other ways. If you hold down the Command key and double-click on a folder, it becomes a new tab within the active window. Or you can drag a folder from another location (from the desktop, for instance) on top of the plus sign to create a new tab that contains that folder's contents. And if you'd like to pull a tab out of a window, just drag it outside the window. It will turn into a window of its own.
This is a feature worth looking at right away, as it will greatly help create a tidier Mac.
Finder tags
Are you the kind of person who alphabetizes the spices in your condiments cabinet? Who dutifully tags photos once they're imported into iPhoto? Who knows the difference between a cousin once removed and a second cousin? Then you'll love Finder tags. This is a feature designed with the organized in mind.
The idea is that you can assign colored labels to your files and folders as well as slap keywords on them. If this sounds like the old Labels and Finder Comments features it should. They're kissing cousins (once removed, perhaps). The differences are that you can assign more than one colored label to an item, and keywords are much more evident.
You can assign a colored tag in a few ways. First, you can select an item in a window and, from the Tags menu at the top of that window, select a tag. (Select more than one if you like.) You can also drag items on top of tags that appear in a Finder window's sidebar. Or you can select an item, click on the Finder's File menu, and choose a tag. Or you can Control-click (right-click) on a file or folder and choose a tag from the resulting menu.
Colored labels are all well and good, but keywords are where the power lies. And creating such things is easy too. To do so, select an item in a window and click, once again, on the Tags menu. At the top of this menu you see an empty field. This is one place where you can create tags. If you're preparing for the upcoming holidays and want to easily organize documents associated with it, just enter the appropriate tags—Thanksgiving and Pumpkin, for example (be sure to press the key after each keyword). Those terms are now keywords that you can assign to other items.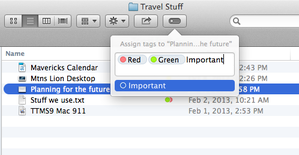 You can tell that they're tags by glancing in the Tags area in any Finder window. Among your tags you should see Thanksgiving and Pumpkin. But wait, they have no color. Wouldn't it make sense to assign the color orange to them? Easily done. Just -click (right-click) on them in the sidebar, and from the menu that appears choose a color. Optionally, you can choose Finder > Preferences, click on the Tags item, and then, in the list of tags below, click on the empty circle next to the tag whose color you wish to change. A menu appears offering you the seven color choices plus a No Color option.
But how are these worthwhile organizational tools? If you click on one of these sidebar tags, you'll see a window full of files that have been assigned that tag. So, click Thanksgiving, and all your Thanksgiving-related items should appear (if, of course, you've taken the trouble to tag them). Also, if you open a window in List view, choose View > Show View Options, enable the Tags option, and then click the Use as Defaults button at the bottom of the window; whenever you open a window in List view you'll see the names of your tags within each Finder window.
Notifications
If you take a gander at the top-right corner of your Mac's menu bar—whether you're running Mountain Lion or Mavericks—you'll see three lines, preceded by dots. This is Notification Center, the place where alerts issued by your Mac appear. These can include Calendar events, received Twitter tweets, text messages, and email summaries.
Notification Center in Mavericks looks and operates very much as it did under Mountain Lion, but it has a few changes you'll find helpful. To begin with, when you receive a notification from Apple's Messages application, you can click directly within the message and type a reply in the Reply field. You'll also see email notifications sent from Apple's Mail application. Hover your cursor over such a notification, and you can choose to reply to the message or delete it. Choose Reply, and Mail opens with a reply message already set up for you.
Safari now supports a feature that can allow (with your permission) websites to send you notifications via Notification Center. This could be helpful with sites that push sports scores, for example.
If you scroll up in Notification Center you'll find a new Do Not Disturb switch. This is similar to the feature of the same name on iOS devices. Flip the switch to Off and you'll see no notifications until the next day, when the switch will automatically move back to On.
But you needn't handle this kind of thing with a switch. Instead, launch System Preferences and select the Notifications preference. On the right side of the resulting window, you'll see controls for configuring Do Not Disturb. By default, your Mac won't bug you between the hours of 10 PM and 7 AM when you enable this option, but you can always change those hours using the up and down arrow controls. You can additionally enable an option to allow FaceTime calls to be received during the Do Not Disturb hours you've configured.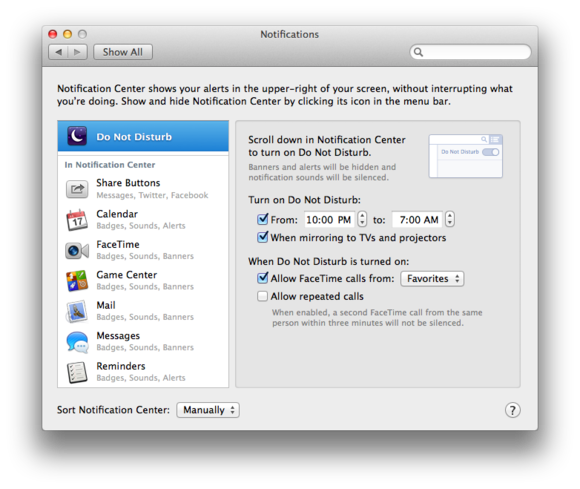 Two new applications
Mavericks continues the tradition of incorporating elements of the iOS into the Mac OS. In this instance it does so in pretty obvious fashion by including two applications that were previously found only on iOS—Maps and iBooks.
My colleagues and I will be covering both applications in depth in the coming days and weeks, but here's the once-over on each.
Maps: If you've ever used Maps on an iPhone, iPad, or iPod touch you'll be very familiar with Mavericks' Maps application. It has all the same elements and features. You can view the world (or an area as small as your local neighborhood) in a traditional map view or as a satellite image. And you can bend and twist those satellite images (more likely taken from a plane than a celestial orbiting body) into a 3D view where you can see the scenery from an angle.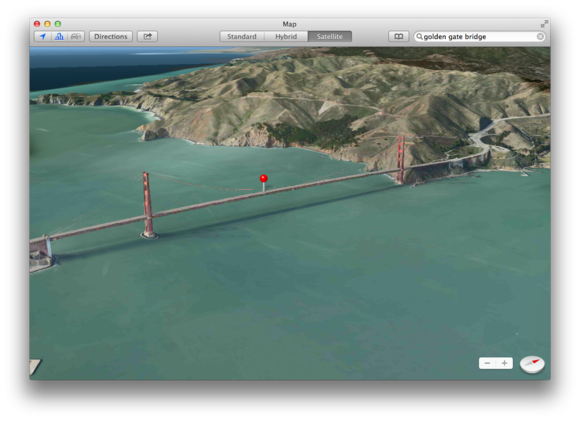 Maps also supports driving and walking directions and can give you some information on places of importance in a region you're viewing—restaurants, parks, banks, and so on—as well as paint a picture of how congested the traffic is in that area.
While Maps may seem like an unnecessary addition in a world where we have Web browsers and access to Google Maps, Apple has incorporated its Maps data into other applications such as Calendar and Mail, making it easier for you to quickly view a location.
iBooks: How many of you read books on your computer? Neither do I. Devices like iPads and Kindles are far better vehicles for portable reading. So here too you may wonder why bringing an application better suited to a portable device to the Mac is necessary.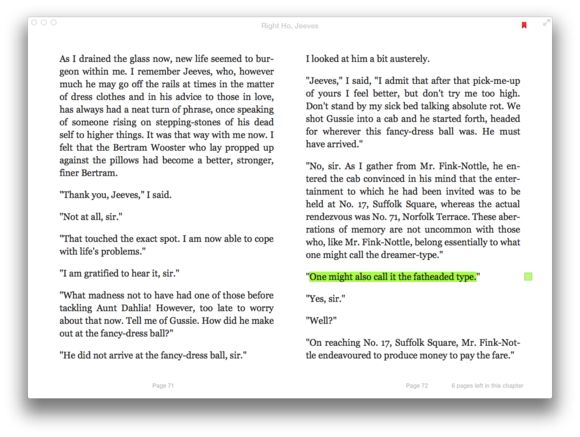 Apart from being a benefit for those who do relish taking a MacBook to bed, iBooks can be helpful for students. Load a textbook into iBooks, place it on the left side of the screen, move your school applications on the right side, and you've got a pretty sweet work environment—one where you don't have to type in words pulled from a paper textbook. It could be just as helpful for those who work with technical papers offered in the ePub format.
iBooks can also catalog PDF files, though not open them. (Preview remains the application tasked with that.) If you routinely work with such files and are less than thrilled with how they're organized, drag them into iBooks and arrange them in categories.
New look for some applications
A few applications have a new look, influenced by the design of iOS 7. Once you get beyond the new, sparser look, you'll find that these programs haven't changed all that much. Calendar, for example, looks quite different, but its basic functionality remains the same. A very noticeable difference is that you can now scroll through weeks in Month view rather than being presented with a preset five-week view. Event edit windows also look different. But at their heart they're the same. It's just that they're now divided up into four areas within the window. Click the area you want to work with, and you're well on your way.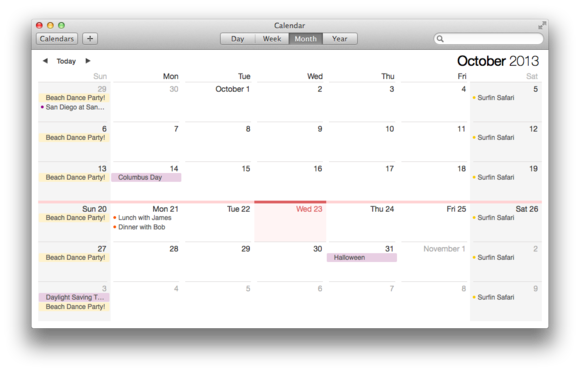 Contacts also has a new appearance—one that strips away the old "book look" with its faux leather stitching. And, of course, if you've downloaded any of the new iLife (iPhoto, iMovie, GarageBand) and iWork (Pages, Numbers, Keynote) applications, you'll find that they too look different. Some of them have changed significantly, while others have simply been slathered with a new coat of paint and a few new features sprinkled on top.
But where does that leave us?
Apple naturally wants people to be excited about any new thing the company does. And in the case of a new operating system, it often tries to prompt excitement with claims of "Over 200 new features!" In the case of Mavericks, however, a lot of these new features are things you will never see—processess that take place "under the hood" that make for better performance, improved battery life, and more stable operation.
In other words, no, you haven't wasted the last year learning all about Mountain Lion. Mavericks is not a radical departure from the version of the Mac OS that preceded it. Just about everything you've learned up to this point is still applicable to a Mac running Mavericks. And where important things have changed, I'll bring them to your attention.
In short: Carry on.
Note: When you purchase something after clicking links in our articles, we may earn a small commission. Read our affiliate link policy for more details.