By and large, I quite like iMovie's new look and feel—but in Apple's revamp, the editing program has lost one of its more-favored features: importing projects between iOS and the Mac. In addition, some users are complaining about being unable to upgrade to the newest version of iMovie on their Macs as their machines lack the right video cards.
No love for iOS projects on the Mac
iMovie for iOS began life unable to transfer projects to its desktop sibling, though it could still back up those projects to iTunes. In July 2012, however, the desktop version of the app was updated to allow you to import iMovie for iOS projects into iMovie '11 on the Mac.
Unfortunately, it looks as if this feature has disappeared in the new version of iMovie for the Mac. I was first informed by reader Jeff Roy about this problem, and independently confirmed it myself: While you can still send your projects to iTunes, you can't open a mobile iMovie project in the new iMovie for Mac—nor will it open in iMovie '11. Try to do so, and you'll get the following error message: "iMovie can import projects created with iMovie for iOS version 1.4.1 or earlier."

Nor can you go the other way, sending an iMovie for Mac project to the iOS app (though to be fair, Apple never made that option available in previous versions). Uploading your project file to iTunes works just fine, but iMovie for iOS won't recognize it once it's on your device.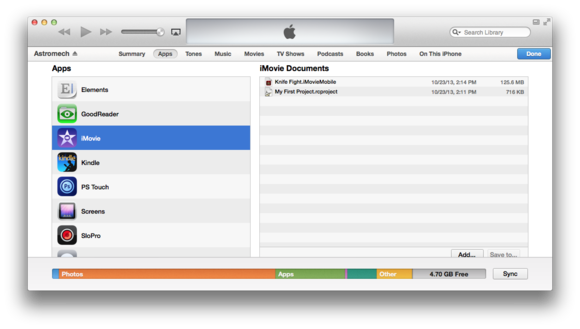 After reaching out about the missing option, Apple has confirmed that the feature will be reintroduced in a future update. As such, it looks like its removal is merely temporary—a small setback, caused by the large revamping of all iLife and iWork apps—but it's still odd to me that the feature didn't make the final cut. Apple has made a strong effort to unify the look and feel of its iOS and Mac apps in both the iLife and iWork suites; to prevent iMovie projects from transferring seems completely antithetical to the company's mission. Fingers crossed, we'll see an update soon that will rectify this situation; in the meantime, if this breaks your workflow you'll want to restore an older version of the iMovie for iOS app from your iTunes backup and use it with iMovie '11.
Older video cards not welcome
Of course, if your Mac doesn't have an OpenCL-capable video card, you may not even be able to run the new version of iMovie at all. The updated Mac app offers several new speed improvements, much of that due to the use of OpenCL (which uses your computer's graphics card to boost performance). Unfortunately, certain older Macs don't have video cards that support OpenCL; when trying to download the new version of the app, users will receive an error from the Mac App Store if their Mac is not compatible.
Apple does warn users that this is the case: On the Mac App Store, iMovie notes that it requires an OpenCL-capable video card, but not under the compatibility section—it's only visible at the bottom of the program's description.
You can check this support document from Apple for more information. Affected systems include the Mid/Late 2007 MacBook Pro (excluding models with the GeForce 8600M GT), Mid 2007 iMac, Early 2008 iMac (excluding the 24-inch models with Nvidia GeForce 8800 GS), and Early 2008 Mac Pro (excluding those with the Nvidia GeForce 8800 GT or Quadro FX 5600).
Updated at 10:27 a.m. ET with information about the return of this feature.