Among the many (somewhat jarring) changes in iTunes 11 is that you can no longer open and display multiple iTunes windows. This feature of iTunes 10 and earlier was useful for a number of tasks, not the least of which was building playlists.
In those older versions of iTunes, you could create a new playlist, open it up as a separate window, and then drag and drop tracks from your iTunes library into that window to build a custom and organized collection of items. iTunes 11 instead offers a new Playlists view, accessible only if you hide iTunes's sidebar. To add items to a playlist, you find or create that playlist, click the Add To button, and you get playlist-building functionality somewhat similar to what you had before, with the playlist appearing in its own sidebar to the right—you can drag items to it and arrange items within it. This approach works, but if using multiple windows is the way you like to build playlists, you're out of luck. (There are other ways to make and add to playlists in iTunes, including by dragging and dropping from the main window to a playlist in the sidebar, but none provides the same two-window ease of use as before.)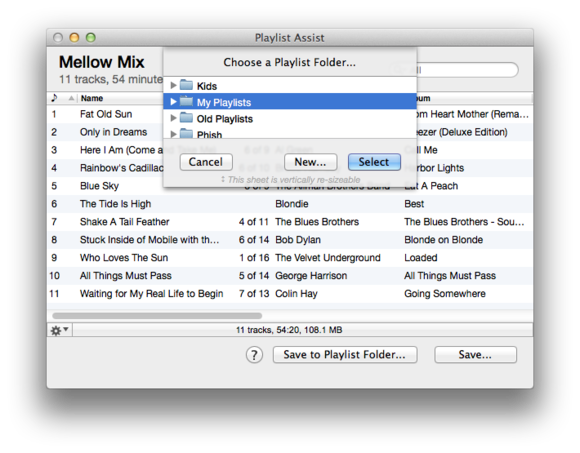 If you want the old way back, you could try to find a copy of iTunes 10, although that version won't work in OS X 10.9 Mavericks. A better solution is to pony up for Doug Adams's $5 Playlist Assist. (A free demo version, limited to building playlists of 15 or fewer tracks, lets you try before you buy.)
Launch Playlist Assist and you're greeted with a window to which you can drag from iTunes individual tracks, videos, playlists, and even playlist folders. Drop the items into Playlist Assist and they appear in the window with the playlist name highlighted for you to change. (By default, Playlist Assist starts with untitled playlist, but the app lets you set your own default name.)
You can rearrange, add, or delete tracks as you see fit. You can also select a track and press Spacebar to get a Quick Look preview. Playlist Assist even works with iTunes Match—tracks that are in the cloud but not on your Mac show up in blue instead of black (though you can't preview anything that's not stored locally).
When you're all set, click Save to create an iTunes playlist, using your chosen name, that includes the listed items. Alternately, you can click the Save To Playlist Folder button to save the playlist into an existing or new playlist folder in iTunes. After you save, you'll be taken to the playlist in iTunes.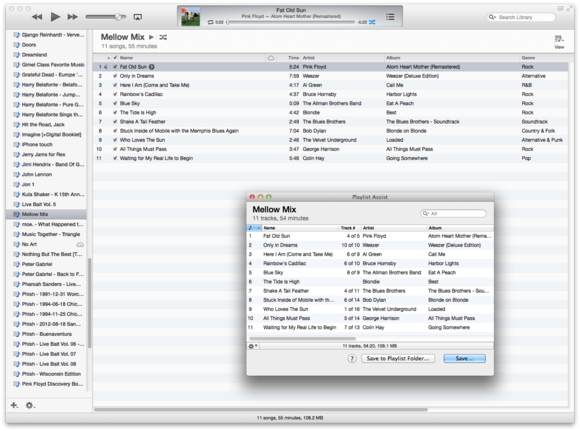 Playlist Assist isn't something everyone will need. If you're happy with the playlist-building tools built into iTunes 11 (or if you don't really care much about playlists in the first place), then keep your $5 in your virtual wallet. But for those who miss the drag-and-drop-between-windows approach of old, Playlist Assist is a handy tool.
Want to stay up to date with the latest Gems? You can follow Mac Gems on Twitter or on App.net. You can also subscribe to the Mac Gems RSS feed.