Traveling can take a toll on anyone—whether you're a nervous flyer, a terrible planner, or a n00b at navigating all the various airline deals, there's a lot to contend with when you want to take a trip. Of course, that old adage "There's an app for that" certainly applies here as there are scads of apps to help each aspect of a trip. So how do you figure out which ones are most useful to you? Simple, just check out our App Invasion to see what we're using!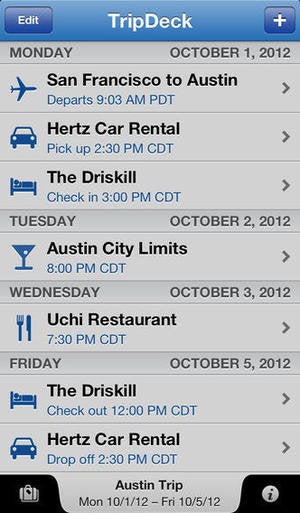 On a recent trip to upstate New York, I was able to put two travel apps through their paces: TripDeck and Hotel Tonight. TripDeck made my life significantly easier by allowing me to collect all the bits of information about my trip into one tidy place. This free itinerary manager collects all the details about your trip and puts them into "cards" that you can easily flip through in order to access information about your flights, hotel reservations, car rentals, meetings, restaurants, cruises, and more.
You'll never have to hunt for a confirmation number again, as TripDeck keeps everything at your fingertips: check-in times, seat numbers, gate information, baggage claim—even contact information for your airline, and an option to upgrade to include live status details for your flight. It can also sync with TripIt, a popular itinerary app that pulls your trip details from your confirmation emails.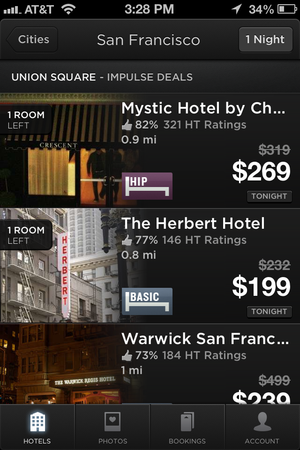 The other app that literally saved the day was Hotel Tonight—see, when we landed at JFK we…didn't really have a place to stay for that first night. I was also suffering from a migraine and had been viciously sick the entire flight; the last thing I wanted to do was spend hours at an airport gate, attempting to find a reasonably priced room in New York.
Instead, I opened the Hotel Tonight app as we made our way out of the airport—with a few taps I was able to find last-minute, same-day reservations across the entire city. By the time we'd gotten into a cab, I had reserved a room with a few taps. Because Hotel Tonight not only finds low prices on same-day bookings, it also manages to be a phenomenally easy app to use, offering a guarantee on rates and 24/7 customer support via telephone or email (with real, live people on the other end!). Checking out was just as easy—the app not only displayed my receipt information but emailed me a copy as well, making this the most painless hotel reservation I've ever made.