Thanks to its intuitive interface and outstanding natural-language event-creation capabilities, the original version of Fantastical for the iPhone has been the rare static icon on my otherwise continually evolving Home screen. Put simply, it's a much better calendar than Calendar—at least for my needs.
But much like Apple's own iOS 6-era apps, the original Fantastical's font choices, muted colors, and skeumorphic details—such as subtle "stitching" along the top of the virtual calendar—look dated on a phone running iOS 7. So it only makes sense that Flexibits, the maker of Fantastical, has been working on a new appearance for the app. But the company has also been developing new features that have required significant changes under the hood.
The result is Fantastical 2 for iPhone ( App Store link), an app that's undeniably a complete redesign, but that's also immediately familiar to anyone who's used the original version. Fantastical 2 requires iOS 7 and costs $5, though Flexibits is offering it for a limited time at the introductory price of $3. (The original Fantastical runs perfectly well in iOS 7, so if you don't want to forgo a coffee or two to buy Fantastical 2, you can continue to use the old version.)
Familiar yet new
When you launch Fantastical 2 for the first time, you're asked to allow it to access your calendars and reminders—a standard procedure in iOS 7. (Any calendar you've configured in iOS 7's Settings app should work with Fantastical.) You're then greeted with the same basic view you'd see in Fantastical 1: A red title bar indicating the current month and year, with buttons for accessing settings and creating a new event. Below that is a white calendar showing, by default, the upcoming five days—as the first-launch tutorial helpfully explains, you just swipe down an inch or so to toggle between this view and a monthly calendar. (Scroll a little less, and you get a search field for searching all your calendars by event title, location, invitees, or all.) Taking up the rest of the screen is the Day Ticker, a scrolling, chronological list of the events in your calendar(s), with past events dimmed.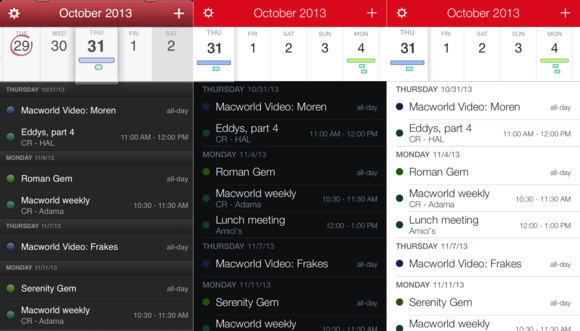 As with the original version, you can tap the red bar at any time to jump to the current date; you tap and hold on that bar to access the date picker to jump to a particular date. (The calendar preview indicates—using color-coded bars in five-day view, or dots in month view—which dates include scheduled events.) Alternatively, you can scroll up or down in the Day Ticker until you get to the desired date; the calendar at the top shifts to match whatever dates are displayed in the list. Conversely, you can swipe left or right on the calendar until you see the desired date—tap it, and the Day Ticker jumps to that date so you can view what's actually scheduled on and around that date. (The app provides an option to display only the events on the selected date, instead of a continual list.)
But while Fantastical 2 functions much like its predecessor, it's immediately obvious that this is an app that takes its design cues from iOS 7. The colors are brighter, the fonts are thinner, the contrasts are starker, and, to use an overused word, everything looks flatter. The little skeumorphic effects have also been eliminated. For example, the virtual stitches are gone from the top of the calendar, and whereas the selected date was previously "circled" in red marker, it's now called out using a simple black circle. Fantastical 2 also supports iOS 7's Dynamic Type feature, so text adapts to your systemwide size setting. Whether or not you like the new look will be closely aligned with your opinion of iOS 7, but Fantastical 2 fits right in.
Natural events
As before, to create a new event you tap-hold anywhere in the calendar view, or tap the plus-sign (+) button in the upper right; you then begin typing a description of the event in everyday language—or even an abbreviated version of it. (Fantastical 2 understands English, French, German, Italian, and Spanish.) Typing Lunch with Jon Monday at Amici's results in an appointment called "Lunch with Jon," scheduled for Monday at noon, with "Amici's" as the location. Typing Staff meeting every Monday 1030a on Phone gives you a repeating event titled "Staff meeting" that occurs every Monday at 10:30am with "Phone" as the location.
As with the original Fantastical for iPhone and the Mac version, Fantastical 2 interprets your text on the fly and shows you the resulting event in a calendar preview below. You can also use iOS's dictation feature here: Instead of typing your event description, just tap the dictation key on the onscreen keyboard and then speak that description. When you tap Done, iOS pastes the text into Fantastical's text field and the app turns that data into the appropriate event details. Like its predecessor, Fantastical 2 integrates, using URL actions, with automation apps such as LaunchCenter Pro and Drafts
Tapping Show Details displays a more traditional set of event-entry fields. This view is useful in cases where the natural-language feature isn't accurately recognizing your description; you need to provide additional information such as notes or a URL; you want to manually tweak event details; or you want to invite other people to your event. The recurring-event options here aren't as flexible as those offered by, say, Readdle's Calendars 5, but you do get more options than with the built-in Calendar app.
Whichever approach you use, tap Save, and the event is added to your calendar and appears in the Day Ticker. Deleting an event is as simple as left-swiping over it in the Day Ticker and tapping the Delete button that appears.
(As an aside, a couple of my favorite event-entry features from Fantastical 1 are still around: If you have multiple calendars, typing /[calendar name]—for example, /work—adds the new event to that calendar, rather than to your default calendar. And when viewing the Show Details screen for an event, tapping the location button automatically adds your current location to that event.)
Task master, better listener
New in Fantastical 2 is the capability to use this natural-language entry system to create reminders. While you're entering the task details, tap the calendar/reminder toggle—or simply start your description with "reminder," "task," "todo," or "remind me to" (the four approaches Flexibits specifically recommends)—and Fantastical interprets the text as a reminder instead of a calendar event. As with events, you can specify a particular list using /[list name], and tapping Show Details lets you configure options such as priorities, geofencing, and date/time reminders. (You can also set some of these options by including the information in your task description, such as "remind me Thursday at 4pm.")
To view your pending reminders (tasks), tap the Reminders item, which appears at the top of today's events in the Day Ticker. This takes you to the Reminders view; tap Show Completed to also view completed tasks. (Scheduled reminders appear both here and in the Day Ticker at the scheduled time.)
Flexibits has also improved Fantastical's natural-language parser. Fantastical 2 is better at correctly interpreting event and task descriptions, but it also now understands complex date descriptions such as "last Monday of every month" and "first weekend of the month."
What a week
Fantastical has always unabashedly been a list-view calendar app. Though the month and five-day calendar previews indicate which days have events scheduled, those views are primarily a way to see, at a glance, which days are busy or empty. The app's focus is instead on the detailed, scrolling list of upcoming events.
But with Fantastical 2, Flexibits has responded to customers who've asked for a traditional calendar view. Rotate your iPhone to landscape orientation, and Fantastical 2 switches to an attractive week view of your calendar. This landscape calendar shows only five days, but it provides a scrollable, eight-hour view of those days, with event details that are large enough to actually read.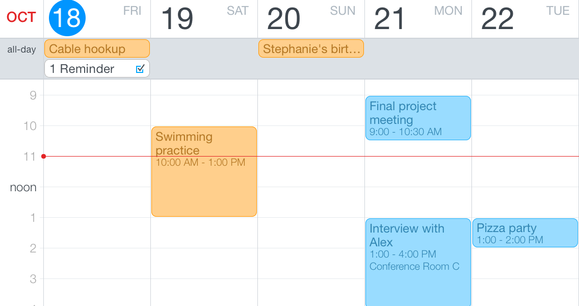 You can scroll up and down to shift the visible time range, and scroll left and right to change the viewed dates. Tapping the month name in the upper-left corner takes you to the current date.
As with the main calendar view, you can tap an event here to view its details or edit them, and you can tap-hold on a date to create a new event. But there's a nice extra here: If you tap-hold on a particular time—say, Tuesday at 2pm—the new event's time is automatically entered for you.
Nips and tucks
Flexibits has also added numerous tweaks that make the app more enjoyable to use. For starters, if an event includes a location, viewing the event's details screen displays an inline map with that location. This feature assumes, of course, that the location you provided includes enough detail for Fantastical to determine the location. In my testing, with the exception of a few overly-simple location abbreviations that I use, this feature worked well. Tapping the arrow button under the map preview opens the location in Apple's Maps app or the Google Maps app—you choose, in Fantastical's settings screen, which you prefer. (You can also choose whether URLs open in Safari or Google Chrome.)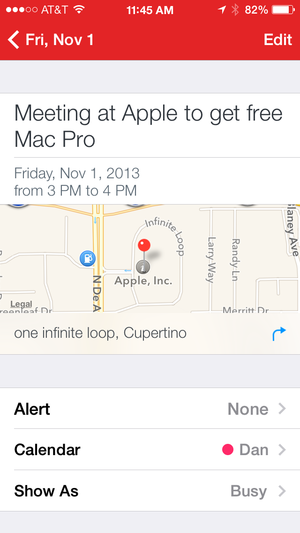 Fantastical 2 also takes advantage of iOS 7's new Background App Refresh feature to automatically check for updates to your calendars and reminders. This is a big improvement, as anyone who has used a third-party calendar app in iOS 6 or earlier knows all too well: You would open your calendar app and have to wait for a (sometimes slow) update to make sure you were seeing the latest changes; or you'd receive outdated calendar alerts for events that had been modified or deleted. In Fantastical 2, your calendars are always up to date within the app, and your alerts and reminders are accurate, even if you haven't opened the app for days.
Fantastical 1 allowed you to invite attendees to an event only if the event already had at least one attendee (which you added, say, by creating the event in the stock Calendar app). Fantastical 2 remedies this limitation by allowing you to invite people to any event by entering email addresses (manually or by browsing your contacts) in the Invitees field when viewing the event's details. Similarly, Fantastical 2 offers its own notifications, rather than piggy-backing on the stock iOS calendar notifications, so you no longer accidentally open Calendar by tapping an event notification. (You'll want to disable Calendar notifications in the Settings app and enable notifications for Fantastical.)
If you tap-hold an event in the Day Ticker, you get a popover with options to duplicate, move, and—new in version 2—share the event. Duplicating obviously creates a duplicate copy, but a nice touch is that Fantastical immediately prompts you to enter the start date and time for the duplicate, since what you usually want to do is create another instance of the event but at a different date and time. The Move option presents a date/time picker to move the event to the desired date and time. And the new Sharing option creates a new email message with a .ics calendar-event file as an attachment, so the recipient can easily add the event to his or her own calendar.
On iOS devices with four-inch screens (the iPhone 5, 5c, and 5s, and the latest iPod touch), Fantastical's keyboard now offers an extra row containing numbers and the / and : symbols, making it easier to enter dates and times when creating events. And on all devices, a new Light theme inverts the Day Ticker's colors to black text on a white background for those who aren't fans of white text on black.
Finally, a couple minor but useful changes are TextExpander support, so you can type abbreviations to automatically enter longer snippets when creating events; and that both of the five-day calendar views (above the Day Ticker, and the landscape-orientation week view) show, by default, today and the subsequent four days. (Fantastical 1 showed the previous two days, today, and the next two days.)
Bottom line
Fantastical 2, like its predecessor, doesn't try to be the end-all, be-all calendar for everyone. Though the new version does add a useful landscape-orientation week view, Fantastical remains primarily an app for quickly viewing your current and upcoming events and tasks, and for making it as easy as possible to create and edit those items. But it excels at these goals, and the new features fill in several of the original's gaps, making the app more capable while remaining easy to use. Fantastical 2 improves on an already—I'll say it—fantastic app.