The newest version of iPhoto for Mac is essentially the same software you've been using since 2010: iPhoto 9.5, released in time for Mavericks, does not change much in terms of either the interface or the core functionality of Apple's consumer-based image editor and photo manager. That's disappointing, and it seems like a lost opportunity.
As noted in our First Look, iPhoto 9.5 is so similar to version 9.4.3 (on OS X 10.8.5) that I did a double-take to make sure I was running the new version. With that confirmed, it took some investigation to locate the subtle differences in the new version as compared with the pre-Mavericks edition.
First off, you have to be running Mavericks to use the new version of iPhoto for Mac, as it is not backward compatible with any previous feline-inspired operating system. So, too, you must have fairly recent Mac hardware to run the latest version. If you own a Mac older than mid-2007 or so, you won't be able to install the new, free Mac OS with which iPhoto 9.5 is compatible.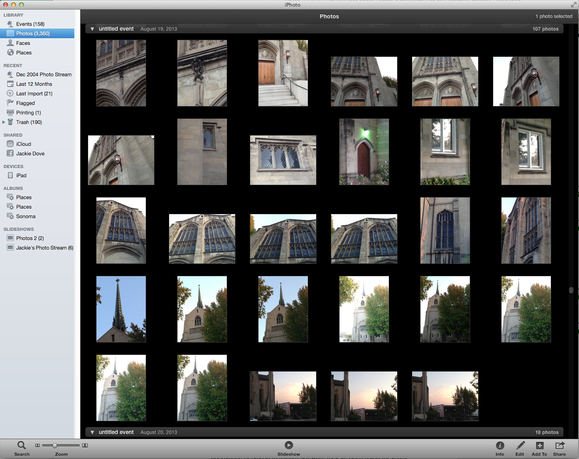 With everything in place, you could be excused for anticipating (hoping) that a brand-new iPhoto version, accompanying a sparkling new OS of non-feline lineage, might offer something resembling a radical overhaul of the aging program. If so, you may be disappointed by what seems to be an almost identical product, containing just a few interface tweaks here and there and enhanced hooks into iCloud photo sharing.
Sure, under the hood is new 64-bit support that will no doubt improve performance for some users. In creating the latest version of iPhoto, Apple paid particular attention to improving launch times and processing times for large images. When I tested the software on four Macs—two desktops and two laptops of various vintage—I noticed no specific uptick in speed, but I had not previously had problems with iPhoto performance.
Visible changes
The most obvious update in iPhoto 9.5 relates to some of the controls—there are now fewer of them because Apple has conflated the Create and Share menus into a single menu. That makes sense, as the items on the Create menu—books, cards, calendars, albums, and slideshows—are meant to be shared. Also, in addition to letting you share photos via Facebook, Flickr, and email, the new version now lets you share via Twitter, Messages, and iCloud.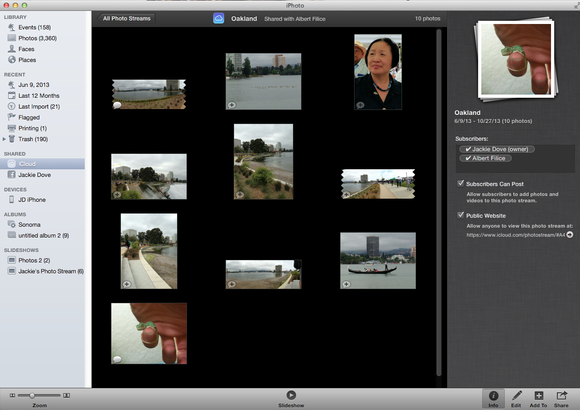 There's something to be said for consistency and not putting users through the annoyance of having to relearn software they've been using for years. Nonetheless, the desktop version of iPhoto offered plenty of room for improvement—Apple could have taken a bit more effort to refresh the look and feel of the app. It might also have offered more flexibility in the program's operation, and a bit more of that familiar Apple flair.
The new version of iPhoto—by adding advanced iCloud options into the mix—makes it easier to share the experience of digital images. You can now invite friends and family to add photos, videos, and comments to your shared photo streams, which you can also view on shared webpages. I found that the iCloud photo sharing worked seamlessly. However, I missed the charming, but still iOS-only Journals feature, which would also come in handy.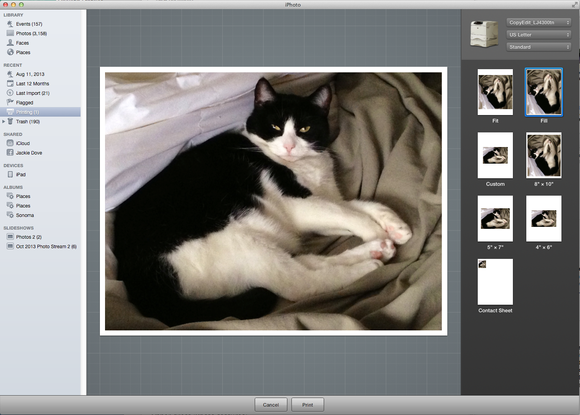 Another noticeable update concerns Apple Maps, which replaces Google Maps as iPhoto's default map type for both individual images and the Places feature. Using location data in your photos, iPhoto places pins on a map in Standard, Hybrid, and Satellite views, offering fairly precise physical locations. For the most part, the images in my library were mapped correctly in the general vicinity, but were not granular. Checking the same photo stream in the iPhone version of iPhoto, the Maps feature was more robust, actually registering specific addresses and address ranges. This set featuring my cats was accurate on the phone within a few doors of my house, but at least one photo taken on the same couch at the same time registered a different, though nearby, location.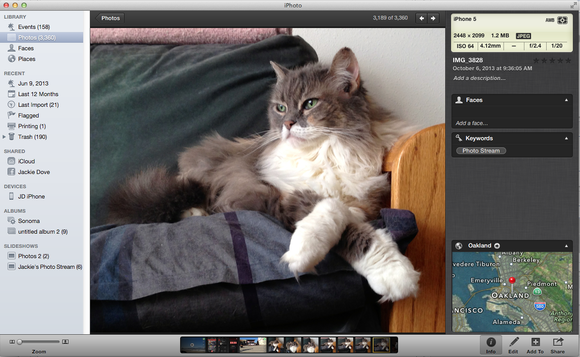 Bottom line
By putting out an incremental upgrade for Mavericks, Apple clearly signaled its intention to maintain the status quo, at least for now. For most users, version 9.5 of iPhoto for Mac comes free of charge, though complexities with the Mac App Store and certain kinds of licenses had users paying $15 for this upgrade (as I did) at first. Apple hustled to fix this problem. Buyers of new hardware don't even have to think about it—it's there by default. Given that this upgrade has few cosmetic improvements, what really matters is that it's reliably tuned up for Mavericks.
That said, the improved connections with iCloud and the inclusion of new Photo Stream capabilities—really more an iCloud feature than an iPhoto feature—are welcome, as are any performance improvements as a result of 64-bit support. However, users pining for a refreshed app with an updated interface, along with a few more creative bells and whistles, may be disappointed with this solid but uninspiring update of Apple's premiere consumer photo app. Hopefully, the next full scale release of iPhoto will deliver the high energy creative jolt that Apple is famous for.