Kami might not keep you up at night or be on your mind all day long, but if you're looking for a solid brain teaser sort of game to play on your bus rides or waiting in line, it might just be the perfect one for you.
Kami is an origami paper themed puzzle game that requires you to transform a patterned paper grid into one uniform color. Changing the colors works by picking a color and tapping a square; a cascading origami animation fills the entire region, altering the paper color to the one you have selected.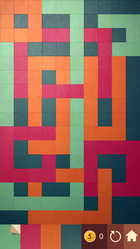 From the colors and texture of the paper to the animation as the grid turns into a different color, visuals are definitely the star of Kami. The sounds are also a great feature; the Zen-like Japanese themed music and beautiful paper rustling noises that accompany the puzzles make for a calming, mellow experience.
Achieving a passing score usually isn't too difficult, but managing to get a perfect score can leave you scratching your head for quite a while. Kami isn't a particularly fast paced game, so the restart button will be your friend. It allows you to attempt the puzzle as many times as necessary with no consequences, so if you're after that perfect score on every challenge, you'll probably become extremely familiar with this function.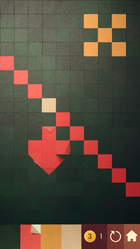 There are four levels of puzzles featuring various color combinations that you unlock, with nine different sets per level. This means there are only about 36 patterns to solve, which is a relatively short game.
While not particularly thrilling or gripping, Kami's beautiful aesthetics, soothing sounds and deceptively challenging puzzles make for an enjoyable experience.
Note: When you purchase something after clicking links in our articles, we may earn a small commission. Read our affiliate link policy for more details.