I've been getting a lot of interesting, if obscure, questions lately, including one—regarding adding album art to high-resolution AIFF files—that took me a while to solve. In this week's column, I share that tale; discuss duplicating just the music part of an iTunes library; and tell you how to find your podcast playlists in the iOS Podcasts app.
Q: Is there a way to sort music on an iPod classic by date added?
No, you can't actually sort the music on the iPod in that way, but you can create a smart playlist in iTunes that will let you view it by date added, and sync the playlist to the iPod.
To create a new smart playlist in iTunes, choose File > New > Smart Playlist, or press Command-Option-N. Set the following conditions:
Date Added is in the last 1000 months
Limit to 50000 tracks selected by most recently added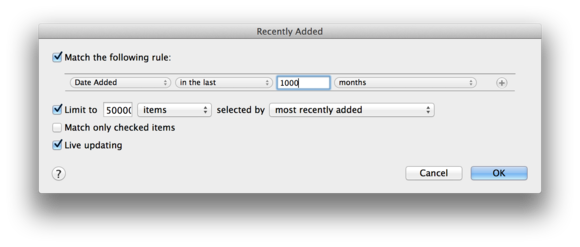 (I've set the number of tracks and months to extremes to include everything you might own; adjust accordingly.)
Sync this playlist to your iPod, and you'll always be able to find the most recent tracks you've added to your library at the top of the list.
Q: I'm releasing a new album in high-resolution format, and I can't get the artwork to stay in the files. I'm using 24-bit/96kHz AIFF files. The artwork embeds correctly in 16-bit/44.1kHz files, but I can't figure out how to get it to stick in my 24-bit/96kHz AIFF files. I have lots of other high-resolution files from different artists, and I've never had this issue before.
This is a tough question. I corresponded with the reader who sent this question to try and figure out the problem, and I managed to find a roundabout solution.
First, some background. These are high-resolution uncompressed AIFF files—24-bit, 96kHz; these files are higher resolution than standard CDs, which are 16-bit, 44.1kHz.
It turns out that this is a known problem that crept up around the time of iTunes 7; it happens with some 24-bit AIFF files but not all. I found a lot of people complaining about it on the Web, but no solutions. The reader sent me a file to work with, and here's how I solved his issue.
I converted the file to Apple Lossless format using the free XLD. I added the artwork to the Apple Lossless file in iTunes. I then converted back to AIFF, and the artwork was still in the file. I confirmed this by copying the file to another Mac, to make sure it wasn't showing the artwork that was in iTunes' cache.
The reader confirmed that this worked with all the files on his album. Because we were working with uncompressed or lossless files, the conversions produced no loss in quality.
Q: Is there a simple way to create a new library in iTunes that contains only music, but still has all the tagging I've done?
I can think of two ways to do what you want, both of which will take a fair amount of time if you have a lot of content. (Be sure to back up your iTunes Media folder first, though, just in case.)
1. You could create a new library by launching iTunes while holding down the Option (Alt) key on startup. Name it whatever you want.
When iTunes has launched with the new library, you'll see a window asking you to add music. Find the Music folder in your iTunes Media folder and drag it onto the iTunes window. This will copy just the music to the new library. The music will retain your tagging, but you won't have any playlists in your library. Note that this will take a while if you have a lot of music.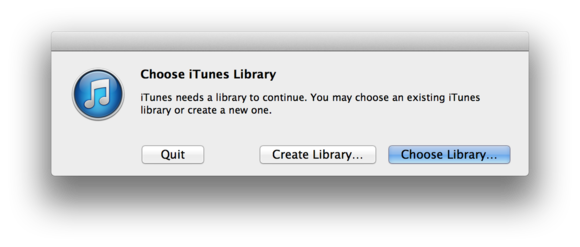 2. You could simply duplicate your existing iTunes library, then delete all content that is not music. To do this, go to your home folder (the one with the house icon), then the Music folder. You'll find an iTunes folder, which should contain both your iTunes library files and your media files.
Press Command-D to duplicate this folder. When the duplicate file is ready, rename it to, say, iTunes 2. Launch iTunes while holding down the Option key, then click Choose Library, and select that folder.
Now, go to the different libraries—Movies, TV Shows, Podcasts, and so on—and delete their content. This solution will retain any playlists from the original library.
Note that with both of these methods, you'll have two copies of all your music. There's no easy way around this, because if you change the settings in iTunes' Advanced preferences that copy music to the iTunes Media folder, it will apply to both libraries.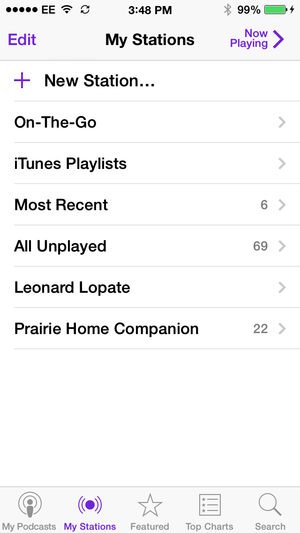 Q: I had a smart playlist in iTunes that contained the latest podcasts I subscribed to, played them in chronological order (oldest first), and then deleted them after I listened to them on my iPhone. I upgraded to iOS 7 without realizing that podcasts wouldn't play without Apple's podcast app. Is there a way to recreate the functionality of my smart playlist with the Podcasts app?
That smart playlist still works in the Podcasts app, though it's a bit hard to find. As long as you choose to sync it to your iOS device, it'll be there.
In Podcasts, tap My Stations, then iTunes Playlists. You'll see your playlist there, and you can play it as before. The playlist won't delete podcasts—I don't think yours did before, as playlists can't do that—but if you set the smart playlist to copy only unplayed podcasts, then you won't see the ones you've already listened to after they've finished. To have iTunes actually delete played podcasts, set it to Keep All Unplayed Episodes in the settings for each podcast on the My Podcasts tab.
[Ask the iTunes Guy is a regular column in which we answer your questions on everything iTunes related. If there's something you'd like to know, send an email to the iTunes Guy for consideration.]
Note: When you purchase something after clicking links in our articles, we may earn a small commission. Read our affiliate link policy for more details.