Compared to Keynote 6 for OS X, which suffers from significant missing features even as it adds new capabilities, the upgrade to Keynote for iOS 2.0 is more clearly a win. The new mobile Keynote drops only a few transitions and builds (mostly the same ones removed from the desktop Keynote), while adding new animations, more than doubling the number of preinstalled themes, and including several useful new features.
Keynote for iOS version 2 adopts the new iOS 7 design language and rearranges a few features, but otherwise looks and acts very much like its predecessor. If you liked Keynote for iOS before, you'll almost certainly like this version better. And if (by choice or necessity) you've moved to Keynote 6 on the Mac, you'll find that sharing presentations between platforms is far smoother than before, with no loss of formatting (fonts not present in iOS being a notable exception). The OS X, iOS, and iCloud.com Web app versions of Keynote now use exactly the same file format, so you can start a presentation on any platform and edit it on another without messages telling you that you'll lose formatting unless you work on a copy.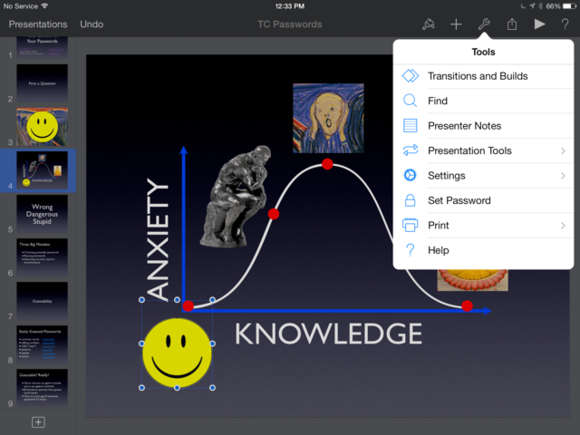 This is not to say the iOS version of Keynote now has all the features of the OS X version. On an iOS device, you still can't edit master slides, change a paragraph's before/after spacing, or use custom bullet characters, for instance. Although you can apply user-defined paragraph and graphic styles created on a Mac, you can't create new styles or edit existing styles. Nor can you access the new character or list styles of the OS X version. But these are mostly fiddly things that won't prevent you from making (or updating) high-quality presentations on your iOS device.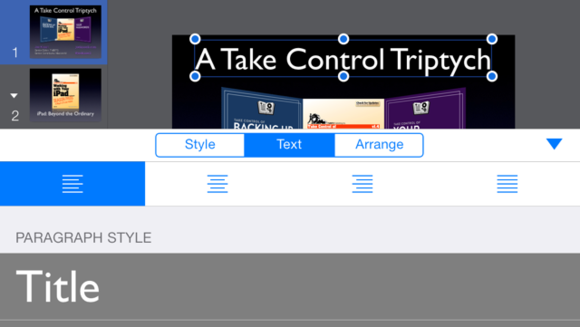 However, a few interesting new features have appeared. You can now (on any platform) create interactive charts, which let you step through your data during a presentation one row or column at a time and watch as the chart updates dynamically. The iOS version of Keynote also inherits Instant Alpha from its OS X sibling, enabling you to make all or part of an image's background transparent. (It's not as precise using a fingertip on an iPhone as with a trackpad or mouse on a Mac, but it works.) And, as on a Mac, you can now add one or more tracks from your iTunes library to create a soundtrack from your presentation.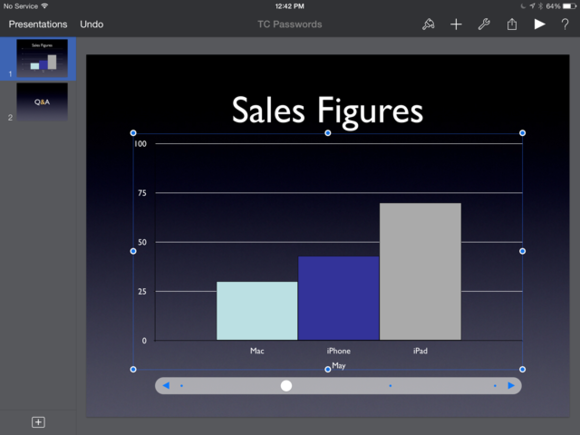 Sharing options have expanded, too. In addition to sending a presentation to another app or sharing it via email, iTunes, or WebDAV, you can now send it via Messages; you can also share a link to your presentation via iCloud, which enables anyone to whom you give the document's URL to view or edit it in a Web browser at iCloud.com. And you can do all this from within a presentation; previously you had to close the presentation to access sharing options.
On the downside, as in the OS X version of Keynote, you can no longer link an object to another Keynote presentation. A more significant drawback to this update is that if you plan to open your presentations on a Mac too, you must use Keynote 6 on the Mac (which requires Mavericks)—older versions won't open the new file format. If Keynote 6 for OS X is unsuitable for your needs, then Keynote for iOS 2 will be as well, unless you keep presentations created with the two platforms entirely separate from each other.
Bottom line
Anyone who uses Keynote solely on iOS devices, or in conjunction with Keynote 6 for OS X, will find this new version of Keynote for iOS 2.0 to be a solid upgrade. Transferring documents between devices and platforms is much improved, and the new features are welcome. The few missing animations will disappoint some users, but on the whole, the new version of mobile Keynote offers a significant net gain over the previous version.