To summarize Keynote 6 for OS X: Apple giveth, and Apple taketh away.
On the one hand, Keynote offers useful new features, a reimagined user interface, and vastly improved compatibility and consistency across platforms. On the other hand, numerous features from the previous version of Keynote are gone, which can wreak havoc with older presentations that relied on them. As evidenced by the fact that most of the Mac App Store ratings for this new version are either 5 stars or 1 star, your reaction to Keynote 6 will depend on how you use the app—you'll love it or you'll hate it.
Let's start with the missing features, since so many people are up in arms about them. A comprehensive list would take up half this review, but you can get an idea of what's gone by browsing this discussion thread. I'll give a few prominent examples: Master slides can no longer include animations (builds, actions, and transitions). The toolbar is no longer customizable. Apple has removed several themes, along with a handful of transitions and builds. Smart builds are no more. AppleScript support is pared down to almost nothing. The presenter display is less customizable (although you can now edit your notes during a presentation). You can no longer link objects to other Keynote presentations. The list goes on.
Despite the missing features, it would be unfair to characterize Keynote 6 as being "dumbed down." Indeed, Apple has added splendid capabilities that make Keynote smarter in several respects.

The program now offers both built-in and user-defined styles for characters, paragraphs, lists, and shapes that behave much as styles in a word processor do, enabling you to achieve a consistent look in your presentation with much less bother than previously required. Paragraphs can now include borders, rules, and background colors. If you add a soundtrack to your presentation, it can include a playlist of multiple tracks. And although Apple removed some themes and animations, it added even more (and updated some older themes with new fonts and layouts). All built-in themes, including several completely new ones, come in both 4:3 and widescreen versions; you'll find about half a dozen additions each in the Transition, Build In, and Build Out animation categories; and the program has a whole new category of emphasis actions to call attention to existing elements (Blink, Bounce, Flip, Jiggle, Pop, and Pulse). Keynote now supports up to six displays, too.
Apple makes a big deal about how Keynote can now share files seamlessly across platforms (OS X, iOS, and iCloud.com's Keynote Web app) without any loss of formatting, and that's basically correct (some elements, such as fonts available only on your Mac, won't transfer). If you frequently use Keynote on an iOS device, you'll likely find this change a godsend; if you use Keynote only on a Mac, it's neither here nor there. You can share presentations more easily in a variety of ways, including giving other people permission to view and/or edit them on iCloud.com—but again, that's helpful only for certain kinds of users.
Then there's the completely new user interface. If you're used to Keynote 5, your first impression of the new version may be that all the controls are missing—the toolbar is sparsely populated, the format bar is gone, and the floating Inspector palette is nowhere to be found. In fact, virtually every control is still present, but things have been rearranged and sometimes renamed, so getting used to the new layout may take some time.
Keynote 6 puts almost every control in a single window, and what's now called the Inspector is a sidebar on the right of the window that dynamically changes to reflect the operations you can perform on whatever you've currently selected. (Some Inspector panes have multiple tabs, such as Style, Text, and Arrange for text objects.) I prefer the new arrangement because it makes better use of screen real estate, and because nearly all the controls are now larger and clearly labeled.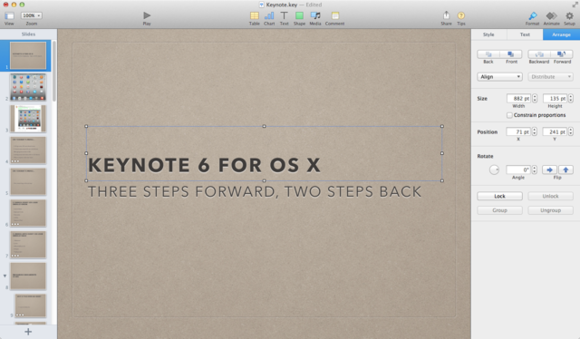 Under the new interface, I repeatedly had moments of thinking, "Oh phooey, I can no longer do x," only to find that x simply required a different approach. One example: When playing a presentation, the presenter display used to have build markers—colored bubbles under the current slide/build that showed you how many builds were left on that slide. Those are gone, but instead Keynote now displays text above the next slide/build telling you how many builds are left on the current slide. Another example: Although it initially appeared as though objects on individual slides could no longer be layered arbitrarily with objects on master slides (because the 'Allow objects on slide to layer with master' checkbox is gone), it turns out that you now accomplish the same thing by selecting the object on the master slide and selecting the 'Define as (Shape/Text/Media) Placeholder' checkbox on the Style tab.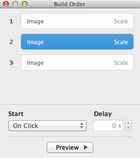 Some of the interface changes, however, are just wrong, such as the way builds are arranged. You now display and edit the builds on a slide by choosing View > Show Build Order, which displays a floating Build Order palette. So far so good, but this palette doesn't indicate the name of individual graphics or what type of build (In, Out, or Action) each item is. You have to select each item individually and check the Animate Inspector to find out.
In the end, I have mixed feelings about Keynote 6. For the most part, I prefer the new interface to the old one, and the new features (especially cross-platform compatibility) will be useful to me.
I did experience several crashes during my testing, and although I didn't lose any data, the crashes were irritating and contributed to a "not quite baked" impression.
And even though I rarely used most of the features that are now gone, I appreciate how upsetting it is to find that Keynote has profoundly broken a presentation that you crafted carefully.
Bottom line
If your presentations are full of the now-removed features and your workflow crucially depends on a heavily customized toolbar, a modified presenter display, and AppleScript, Keynote 6 will cause you no end of frustration. Your best bet is to keep using Keynote 5.3, which Apple thoughtfully leaves in your Applications folder when Keynote 6 is installed. Several pundits have predicted that Keynote will follow a trajectory similar to that of Final Cut Pro X: The initial "reboot" release of that program was a step backward for power users, but Apple quickly addressed the most serious shortcomings in a series of updates. We don't know whether that will happen with Keynote, but it's a reasonable hope.
New users should find Keynote 6 more approachable than the previous version, and those who need to work on multiple platforms will have a much easier time doing so. Even longtime Keynote users who have never delved into the more advanced features may consider this update a great improvement. But be sure to keep a backup of your existing presentations and Keynote 5.3, just in case.
When you purchase through links in our articles, we may earn a small commission. This doesn't affect our editorial independence.