The last time Apple unveiled a new version of OS X with barely any changes to Mail.app, it was a bit disappointing but no big deal. Now, however, more than two years after Mail's last significant overhaul, the extremely incremental upgrades are getting annoying. And reports of a host of troubles with Mail, Gmail, and IMAP might make Mail 7 actually worse than its predecessor.
Small change
Though 'What's New in Mail' gets its own entry under the program's Help menu, there are only four items on the resulting list. They're all minor additions to previous revisions, and some are more useful than others.
Adding attachments to the list of ways you can search your mail messages marks Mail 7's one genuinely welcome improvement. The program is smart enough to have categories for many common file types, including Word, PDF, iWork documents, and MP3 audio. My sample searches turned up comprehensive, accurate results from the depths of my many years' worth of email in a flash.
Building on Mail 6.1's Notifications support, version 7 lets you reply to a message directly from a notification if you're in another program. That's a great idea in theory, but in practice I had trouble spotting the notification and clicking on it in the fleeting seconds before it vanished.
Mail now supports Passbook passes as an attachment (and makes them searchable). You can view a pass right from your email, and add it to your Passbook via iCloud with a click. I'm just having trouble envisioning a real-world scenario that would demand this feature. If you're emailing someone a Passbook ticket or gift card, wouldn't they be far more likely to receive that email on their iPhone?
Finally, Smart Mailboxes have a new criterion that allows you to filter messages by the account they belong to. I'd salute this feature more if Smart Mailboxes hadn't seemed to lose a few IQ points in the upgrade. Especially when I first start the program, it can sometimes—but not always—take a few of my very simple Smart Mailboxes several minutes to display any messages whatsoever; before, their contents loaded when the program did.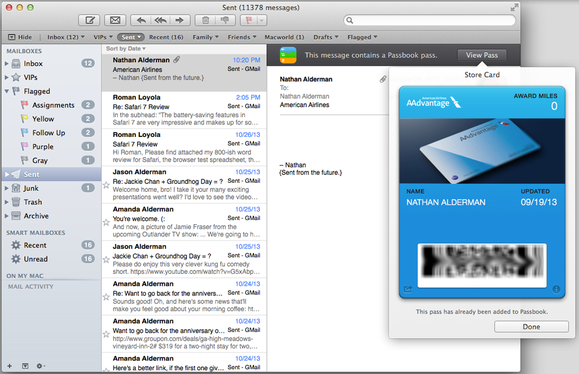 IMAP irritation
[Editor's note: on 11/7/13, Apple released an update that fixes many of the problems Mail 7.0 has with Gmail, problems addressed in this section. Macworld's rating of Mail 7.0 remains the same.] As Joe Kissell has reported, Mail and Gmail don't play nicely together when IMAP's involved. Among a host of other flaws, Kissell noted that a change to the way Mail and Gmail interact via IMAP can either render some messages invisible or require hours of needless duplicate downloads. He also reported long, intermittent stretches in which Mail wouldn't update its Gmail contents at all, and said readers had sent him tales of other IMAP services working poorly.
I've always used POP mail with Gmail, and I've experienced no problems under Mavericks, save for the same sluggish initial message downloading that plagued me under Lion and Mountain Lion. I fired up my old Yahoo account over IMAP as a test, and its hundred-plus alarming spam messages promptly showed up the first time I manually checked mail afterward.
Still, if Kissell's accounts of IMAP misbehavior are any indication, you'd think Apple would have put a bit more effort into making sure its mail client actually worked with the most common means of accessing one of the world's most popular and widely used email providers.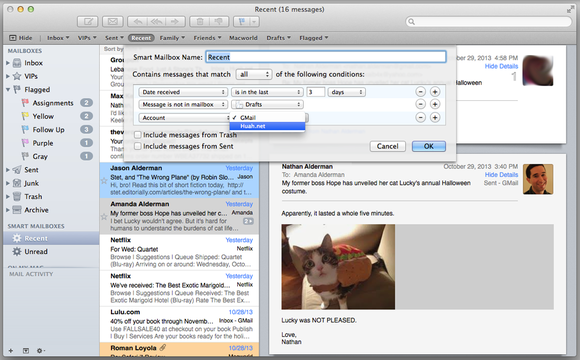 Bottom line
Among email clients, Apple Mail was always the equivalent of white bread: a little bland, but friendly and comforting. However, it's gotten a little stale over the years, if not slightly moldy. If Apple wants to keep up with the host of impressive, innovative email clients cropping up for the Mac, it will need to spend more time baking up something fresh.
Editor's note: Updated on 11/7/13 at 2 p.m. PT with information about the Mail update for Gmail users.