Congratulations: You've unwrapped, purchased, or otherwise braved wait times to pick yourself up a brand-new iPad or iPad mini this holiday.
But before you get to playing with your new device, you'll probably want to set it up. Thanks to iOS's step-by-step activation process, Apple's made it pretty simple to get started; but just in case you need some extra help, we've put together a comprehensive guide to your new iPad, activating it, transferring data from an older tablet or your computer, and some suggestions for exploring its new features.
If you have an older tablet, transfer your data
You've moved to the latest and greatest in the iOS world, and to do so, you're leaving your old device behind. But before you send it off with a fond farewell, you have to decide whether you want to transfer its data to your iPad or iPad mini. Here are the various ways to do so, depending on whether you're moving from an old iPad, a different tablet, or you just want to move data from your computer.
Upgrade from an older iPad
If you're upgrading from an older iPad or iPad mini, you can transfer all its apps, data, and settings to your new device. (To add your music and video, you'll still have to sync your new device with iTunes.) But to do so, you'll need to make a backup (via iTunes or, if you're running iOS 5 or later, via iCloud) of your information. You can then restore that backup onto your new phone during the setup process.

Make a backup using iTunes: If your old device is running iOS 4 or earlier, an iTunes backup is the way to go. To update your backup (or to create a new one) connect your old device to the computer you normally sync it with via USB, open iTunes, select the device from the Devices menu, and in the Summary field, click Back Up Now.
Make a backup using iCloud: If you're running iOS 5 or later on your old device and you have an iCloud account, you can alternatively take advantage of iCloud Backups to save your data. Your device will automatically make an iCloud backup once a day while locked, plugged in, and connected to a Wi-Fi network, but you can manually force a backup whenever you're on Wi-Fi by opening the Settings app on your device. Navigate to iCloud > Storage & Backup, and make sure the iCloud Backup switch is toggled on. From there, you just have to tap on Back Up Now to start the process. (You should note that iCloud backups can sometimes take significantly longer than iTunes backups, so it may not be the best option if you're in a hurry to set up your new phone.)
Upgrade from another tablet
Moving from an Android or Windows tablet to the iPad Air or mini? Depending on how you've set your information up, it should be relatively painless to transfer it to your new device.
Mail, contacts, and calendars: If you're using a Gmail account or other POP or IMAP-based account for mail on your smartphone, it's already syncing to a central server, and you should be able to add that account to your new iPad with few issues. Apple's iOS has automatic setup for those using Microsoft Exchange, Gmail, Yahoo, Aol, or Hotmail; you'll also be able to manually set up a POP or IMAP account for mail, LDAP or CardDAV for contacts, or CalDAV for calendars. You can alternatively use Apple's free iCloud service to set up a new email account.
Music, videos, and photos: Your new iPad uses iTunes to sync any local music, TV, movies, and photos from your computer to the device. If you've been syncing that information with your smartphone or tablet, it's easy enough sync that data with your Apple device—you just have to know where the content is located on your old device and get it over to your computer. Once you've done that, add it to iTunes; to sync your photos, add them to iPhoto or Aperture (on a Mac) or place them in your Pictures folder (on a PC).
If you've purchased content through your old tablet that hasn't been copied to your computer (say, if you're using Amazon Cloud Drive), you should be able to download it to your desktop system, or, at the very least, install an app on the iPad (like the Kindle app for book purchases) that lets you access the information.
Apps and miscellany: Unfortunately, you can't port any Windows or Android apps from your old device to your iPad. On the upside, you may be able to find parallel versions of those apps on Apple's App Store (for instance, if you used Dropbox on your old tablet, you can download the company's iOS app and continue to access your Dropbox data). If you have apps with valuable information you don't want to lose (notes apps, to-do lists, etc), you can poke around to see if there's any way of exporting that information; otherwise, you'll be out of luck.
Meet your iPad and iPad mini
Welcome to your iPad. Apple's tablet packs in all sorts of magic: If you have an iPad Air or iPad mini, you're looking at a device with a 3.1 million pixel Retina display, 64-bit A7 chip and M7 motion coprocessor, a Lightning connector, optional LTE service, two cameras, and up to 128GB of storage—the only difference is in the device's size.
The iPad mini is smaller and lighter than the iPad Air—a 7.9-inch diagonal display weighing .75 pounds to the iPad's 1.05—they both sport the same buttons and ports. We'll walk you through these buttons, calling out differences where they appear.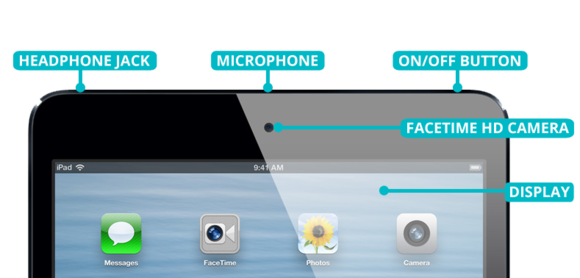 Headphone Jack
The iPad and iPad mini both have a standard 3.5mm audio jack on the top of their casing to let you listen to music. You can use several types of headphones with the iPad, including the Apple earbuds, or alternatively you can use Bluetooth headphones. If you plug in headphones that have a built-in microphone, the iPad senses the mic and allows you to use it with apps that have audio-recor¬ding capabilities. Otherwise the iPad uses its built-in microphone to record sound.
Microphone
The iPad and iPad mini's internal microphone is on the top center edge of the device, right above the front-facing camera. You can use it to record audio in any app that supports audio recording. Unless you're using an external microphone, you'll use this mic for video chatting, recording voice memos, talking to Siri, and more.
On/Off Button
Press the On/Off button to turn the iPad's screen on or off. You can still receive email and notifications with it turned off, but the screen stays blank until you wake it by pressing this button or the Home button. To turn the device off, hold the On/Off button down until the screen dims and the red "slide to power off" slider appears. Slide your finger across the switch, and the iPad mini powers down. (To turn your device back on, press and hold this button again until the Apple logo appears.)
You can also decline or silence alerts and alarms with the On/Off button; press it once to silence an incoming alert.
Front-Facing FaceTime HD Camera
This 1.2-megapixel camera can shoot 1280-by-960-pixel stills and 720p HD video (1280 by 720 pixels). Apple designed the front-facing camera primarily for using FaceTime and snapping quick self-portraits.
Retina Display
The iPad and iPad mini don't have a tactile keyboard or many hardware buttons; instead, you use its LED-backlit Multi-Touch glass display to read books, surf the Web, compose email messages, navigate apps, and change settings. The screen is made from optical-quality glass, which makes it highly scratch resistant. It also has an oil-resistant oleophobic coating that makes it easy to wipe off smudges.
The iPad Air's screen is 9.7 inches with a resolution of 2048 by 1536 pixels—at 264 pixels per inch, Apple describes it as a Retina display, meaning that the pixels are too small to distinguish with the human eye. If you have an iPad mini, you're looking at a 7.9-inch Retina screen with 2048 by 1536 pixels at 326 pixels per inch.

Home Button
The only physical button on the face of the iPad and iPad mini, the Home button provides a variety of shortcuts for accessing apps and operating system features.
SINGLE-PRESS A single-press of the Home button can have several results, depending on what you're using the iPad mini for at the time: If the iPad is in sleep mode, pressing the Home button wakes it; if you're in an app, it returns you to the home screen; if you're on a subsequent home screen page, it returns you to the first page.
SINGLE-PRESS AND HOLD Press and hold the Home button for at least two seconds to activate Siri.
DOUBLE-PRESS When the device is locked or in sleep mode, a double-press of the Home button wakes your device and brings up the Music controls (if active). In active use, it brings up the multitasking screen, showcasing your active apps.
Speaker(s)
Speakers line the bottom edge of the iPad Air and iPad mini. Both contain two small stereo speakers on either edge of the Lightning connector. They play anything that makes noise on your iPad, including music, video, or app sounds. You can also hook up the iPad mini to third-party speakers using the headphone jack, via Bluetooth, or via AirPlay, Apple's wireless audio and video feature.
Dock Connector
The iPad Air and iPad mini use Apple's new Lightning dock connector to connect to your computer and other accessories. The connector is reversible, so you can plug it into your device in either direction. Unfortunately, if you have older iOS device accessories that sport a 30-pin dock connector, your iPad won't work with those times unless you get an adapter.
When plugged into its included power adapter, the iPad can charge while awake or asleep. Your device will also charge when plugged into newer Macs and PCs, though charging will take longer. Older computers without high-powered USB ports will only charge the iPad mini when it's in sleep mode; when awake, it displays a "Not charging" message in the status bar at the top of the screen.

iSight Camera
The second of the iPad Air and iPad mini's two cameras is located along the back of the device, in the upper left corner. This 5-megapixel camera features a five-element lens, backside illumination, a hybrid IR filter, and an f/2.4 aperture; it shoots 1080p HD video and 2592-by-1936-pixel stills. You can use this camera for quick moviemaking and showing your FaceTime companion a wider view of your surroundings. (While you can certainly also take stills, we suggest using a smaller device—like your mobile phone or a portable camera—for such matters.)
SIM Card Tray (iPad and iPad mini Wi-Fi + Cellular models only)
Apple offers the iPad mini and iPad mini in two different colors, silver and space grey, as well as in two different models: Wi-Fi and Wi-Fi + Cellular. If you want to be able to connect to the Internet via cellular networks, you need to buy the latter. (You can tell them apart visually: The Wi-Fi + Cellular model has a black plastic stripe along the top back.)
The iPad and iPad mini's Wi-Fi + Cellular model can operate on multiple cellular Internet bands: various bands of the LTE cellular data standard, HSPA+, DC-HSDPA, GPRS, EDGE, CDMA-EvDO, and HSPA. Major U.S. partners for the iPad and iPad mini include AT&T, Sprint, T-Mobile, and Verizon. When purchasing a Wi-Fi + Cellular model, you must choose which provider you want, though you don't have to sign up for a contract plan. The iPad comes contract free, allowing you to pay for service month to month.
The iPad and iPad mini need a nano-SIM card to connect to a cellular provider. Without it, you won't be able to access cellular Internet, only Wi-Fi. This SIM card comes preinstalled, though if you go abroad you can also pick up a SIM from a supported cellular carrier.
If you need to install a SIM, or access your current SIM card, you can remove it by sticking one end of a paper clip into the hole next to the SIM card slot, visible on the left side of the device.
Side Switch
You can set the iPad and iPad mini's Side Switch—located on the right side of the tablet near the top—to lock the screen orientation or to act as a mute switch, depending on your preference.
To set this, go to Settings > General, and then tap Lock Rotation or Mute in the "Use Side Switch to" section. If you choose Lock Rotation, toggle the screen-rotation switch on the side of the iPad to expose the orange dot, and your iPad stays in either landscape or portrait view, regardless of how you're handling it. When the rotation lock is engaged, a small icon showing a lock with an arrow around it appears on the right side of the status bar near the battery icon. If you select Mute in the settings screen, the switch controls the iPad's Silent mode, which mutes alert noises. Be advised that you can still hear the audio from music and videos from the device's speaker when the iPad is in Silent mode.
Volume Up and Volume Down Buttons
Directly below the Side Switch is a rocker button for volume. Press the top of the rocker to increase volume and the bottom rocker to decrease volume. (In the Camera app, the top rocker also functions as a physical camera shutter button.) In the Settings app, you can choose whether these buttons affect only noises from an app, or whether they control systemwide sounds as well.
Activate your iPad
If you purchased your iPad in the Apple Store, you may have already activated it with a Specialist by your side. But if you've received it under the tree this holiday or in the mail, or you opted not to activate immediately, here's a guide on how to do so.
Don't worry about making a mistake—if you find yourself tapping the wrong thing, you can press your device's Home button at any time to launch the iPad Not Set Up menu and reset the process.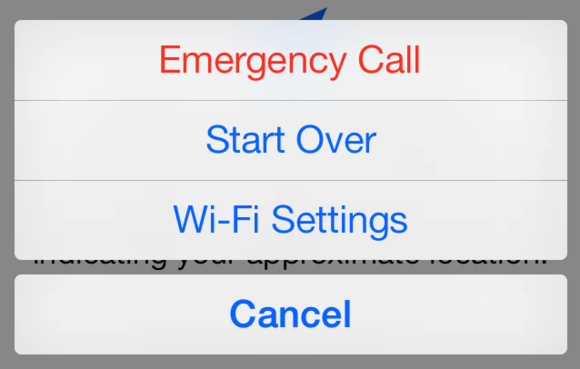 After a fresh install, your device greets you with a screen displaying 'Hello' and 'slide to set up' in a variety of different languages.
Drag your finger to the right, along the 'slide to set up' text, to access the next screen. Your device asks you to pick your language and country, along with your Wi-Fi network. The device checks for any Wi-Fi networks to which it can connect; to move forward, select a Wi-Fi network and tap the Next button. (You can also choose to set up your iPad over a cellular connection by tapping the Next button without selecting a network, or set up using iTunes by tapping the Connect to iTunes button at the bottom of the screen.) You're also asked whether you'd like to enable Location Services. This allows Apple apps (and third-party apps) to access your location via Wi-Fi networks and your Global Positioning System (GPS) location.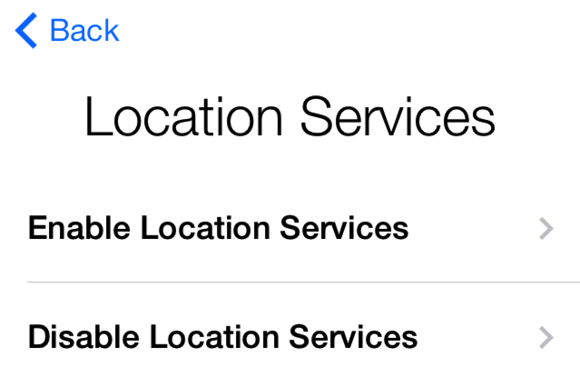 You can always enable or disable these on an app-by-app basis, and you can configure this option in more detail from the Settings app.
From here, you have three choices: You can set up your iPad from scratch, or restore from an iCloud or iTunes backup (if you had a previous iPad you want to restore data from).
START FROM SCRATCH If you want to start fresh, the first thing you need to decide is whether to supply an Apple ID (or create one, if you don't have one). You use your Apple ID to buy music, apps, and books from the iBookstore, and you can associate it with iCloud if you want to.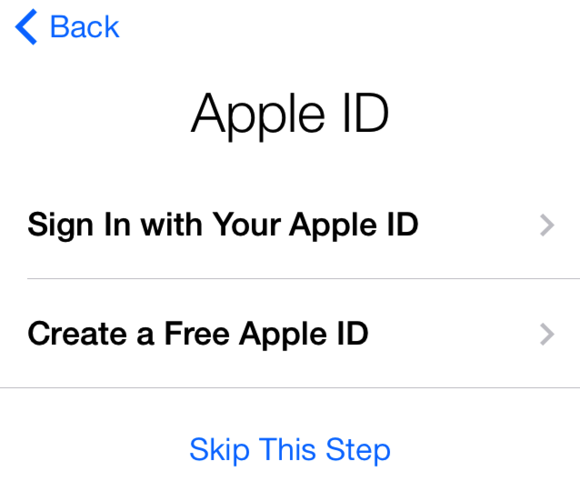 If you already have an Apple ID, tap the Sign In with Your Apple ID button and enter your username (usually your email address) and password. Apple then spends a few moments linking your device to your Apple ID. If you don't have an Apple ID, it's easy enough to create one by tapping the Create a Free Apple ID button. You then enter your birthday, name, and email address (or you can create a new iCloud email address), as well as a password, a security question (in case you forget your password), and whether you'd like to receive email updates from Apple.
And if you'd rather not set up an Apple ID, you can tap the Skip This Step link below the two options. You can always add or create an ID from the Settings app later, but note that you won't be able to buy anything on the iTunes Store or set up iCloud until you do.
RESTORE FROM iTUNES If you have an iTunes backup of an older iPad, select this option and connect to your computer. You'll see a screen asking if you want to set your phone up as a new device or restore it from a local backup.
Choose Restore from this backup, and then use the pop-up menu to choose the desired backup. Click Continue, and iTunes restores that data and syncs with your device. You're then asked to give your device a name and choose whether to automatically sync songs and videos, photos, and/or apps to your device. Make your selections and click Done, and then iTunes performs its first sync. Once it's complete, the setup process continues.
RESTORE FROM iCLOUD If you have an iCloud account and you've previously backed up an older device to iCloud, 'Restore from iCloud Backup' lets you restore that data directly to your new iPad without having to connect to a computer. Choose Restore from iCloud Backup, and then enter your iCloud Apple ID and password. Agree to the iCloud terms and conditions by tapping Agree (twice), and your device displays all compatible iCloud-hosted backups. Be sure to pick the correct backup here, as the list may include backups for other devices you own.
Choose the desired backup, and then wait—the process can take anywhere from a few minutes to many hours, depending on how many apps you had installed and how much data you had stored in those apps. (Restoring from an iTunes backup is much faster than restoring from iCloud, which is why many people back up to iTunes periodically even if they normally back up to iCloud.)
When the restore is finished, your device restarts, and you see a screen explaining that you have a few more steps to follow.
Final steps
After you've set up a network connection, entered your Apple ID, and agreed to your terms and conditions, it's time to decide if you want to use iCloud. The service is an umbrella term for Apple's collection of sync offerings, which allow you to sync your photos, apps, contacts, calendars, and mail across multiple devices.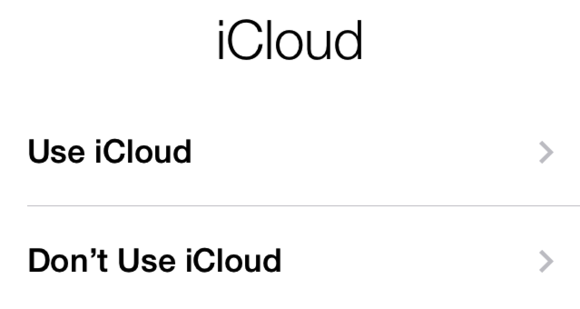 You can even set up different Apple IDs for iCloud and iTunes, if you have one shared Apple ID you use for family purchases and another you want to use for your iCloud data.
Choose to set up iCloud, and you'll also be asked whether you'd like to enable iCloud backups for your device. If you do so, you can have your device back up all essential settings to your iCloud account; if you ever need to restore, you can do so over Wi-Fi without needing a computer. (Of course, if you'd rather back up to your computer, you can always elect to have iTunes back up your device.)
Additionally, you'll be asked whether you'd like to opt in to iCloud's Find My iPhone, iMessage, and FaceTime services.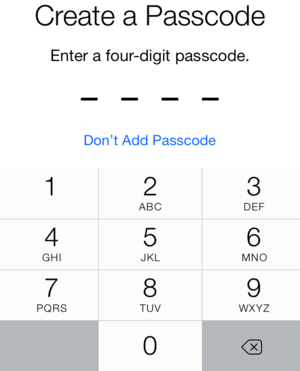 Find My iPhone enables location monitoring for your device, allowing you to find it using your Apple ID and the Find My iPhone app should it go missing; iMessage lets you send text, photo, and video messages to your friends and family over a data connection; and FaceTime lets you chat via video and audio with friends over Wi-Fi and cellular connections (select carriers only).
Your device also prompts you to enter a passcode to protect it from potential thieves or snoops. If you'd rather not set one, just tap Don't Add Passcode to skip this step.
Your iPad will also ask if you want to enable Siri, Apple's personal voice assistant.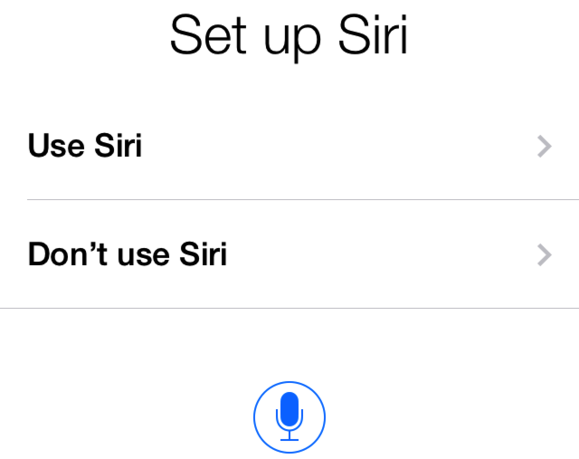 You can toggle Siri on or off from this initial setup screen, but you can always change your preferences from the Settings app at a later date.
Once you finish the setup process, you see a screen asking if your device can automatically send diagnostic and usage information to Apple to "help Apple improve its products and services."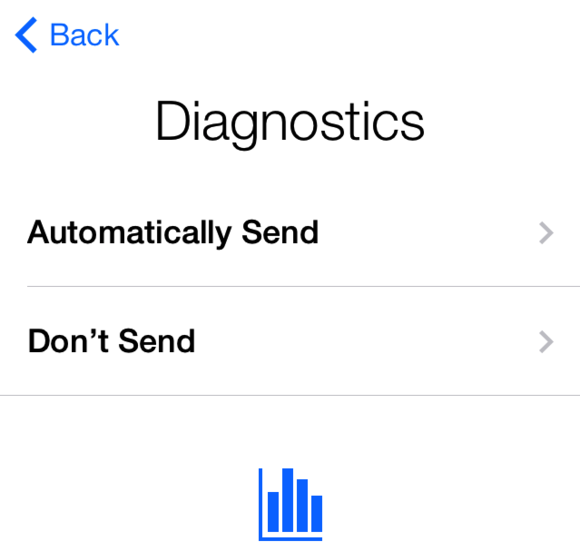 Choose Automatically Send or Don't Send, and then tap Next.
Congratulations! You've answered all the setup questions and you're ready to begin using your iPad. At this point you may also be prompted to download your free copies of Apple's mobile iLife and iWork suite.
Get started with your iPad or iPad mini
Those of you who have purchased an iOS device before know the drill, but for those first-timers, here are a few quick pointers for getting acquainted with your device.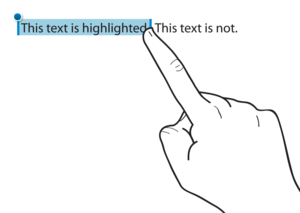 Learn how to tap, drag, and multitask: If you've never used an iOS device before, check out our primer on Multi-Touch gestures and using the multitasking bar.
Tweak your settings: Most of the underlying system information for your new iPad—network settings, Mail, sounds, messages, restrictions, wallpaper, and more—is kept in the Settings app. As such, it's a good place to start when you're first getting acquainted with your device.
Get a data plan: If you purchased an iPad with a cellular connection and plan on using it to browse the internet, you need to sign up for a data plan. You can do so by launching the Settings app and tapping Cellular Data.
Set up iTunes sync: If you didn't restore from an iOS backup, you won't have any music, video, podcasts, photos, or books on your iPad. You can remedy that by connecting to your iTunes library: Just plug your device into your computer via its included USB cable. (Once you've completed this initial sync, you can also set up wireless local syncing; check out our guide for more information.)
Explore the App Store: Your iPad comes with a bunch of cool built-in apps, but you may want to reach to third-party programs for more interesting fare. The App Store, which you can access on your device or via iTunes on your computer, features more than 1,000,000 apps for both the iPhone and iPad; though some of those are meant to run on an iPhone, they can work on your iPad, too.
And don't forget to download your free copy of iBooks, Apple's ebook reader, either. You can do so by going to the App Store and searching for "iBooks."
Talk to Siri: If you chose to set up Siri on your iPad during the activation process, you're just one Home button press away from having your first conversation. Siri can help you book appointments, find restaurants, look up the weather, talk sports, and occasionally whip out snarky quips about robotic AI. To start, press and hold your Home button; the Siri interface will appear, along with a few suggested phrases to get going.
What to do with your old device
Now that you've managed to transfer your old information, set up your new iPad, and start using it, it's time to figure out what you'd like to do with your old device. If you're interested in selling, recycling, or passing it along to a friend or family member, Macworld contributor Joel Mathis whipped up a handy guide that contains the steps you'll need to take.