As an Amazon Cloud Player Premium subscriber I've been, shall we say, less than thrilled with its Web- and Adobe AIR-based tools on the Mac.
I love that it offers similar functionality to iTunes Match, for the same price, and with 10 times the storage. But what good is the ability to store, stream, and download up to 250,000 tracks when the experience of using it is so bad?
Thankfully, potential help has arrived in the form of an Amazon Cloud Player for Mac, which joins the Windows version as a native desktop client for enjoying your Cloud Player account. Here's how it stacks up.
After a first launch during which it syncs up a list of your music (but doesn't attempt to download all your tracks) and your playlists, you'll see everything from your Cloud Player. With my 40,000-track library, the process took a good seven minutes to load everything up. And on a second launch of the app, nearly 15,000 of those tracks were gone and had to re-sync—very, very slowly and with intermittent bursts of visual feedback. And after installing on several different Macs, the behavior with loading up cloud tracks was wildly inconsistent. That was my first indication that the software needs a lot of work.
The interface is exactly like the the Windows version—enough so that it looks to be ported over from that version. In a column on the left, you can choose to view content in the cloud or on your computer locally, and then drill down by playlists, artists, albums, songs, or genres. In the middle you see your selected content and can sort by various headers, although you can't choose which ones you want displayed. Also, the names of the headers and even their relative positions aren't the same as on the Web. On the right is a handy (and hideable) sidebar that lets you drag and drop to add tracks to playlists, or to download songs or albums to your computer. That's a big improvement over the downloader app required before Amazon launched its desktop player for the Mac.

You can create and listen to playlists, play entire albums, or double-click a song to start it playing—most of the time. I tried to play a live moe. track from a show I saw in Vegas, and got a window saying the file format wasn't recognized, also implying that the file itself might be corrupt. I then played the exact same track using the Web interface without problem. Sigh. You can use keyboard shortcuts to control playback while the app is the active one. When you quit the app and relaunch, it remembers where you were, but not what you were playing.
You can initiate a live search by simply beginning to type while the app is in the foreground, which is pretty cool, but it shows the same results regardless of which view you're in at the time. In other words, it displays (in order) artists, albums, and songs, regardless of how you were viewing you music. And it cuts off after an arbitrary number of items. Select a result to drill down into it in the main interface.
One problem I've had with Cloud Player is that I've amassed many duplicates, thanks to running the uploader app on multiple Macs and it not being smart enough to know those songs were already uploaded. I was hoping that the desktop app would make it easier to clean up my cloud library. Alas, there's no feature to locate dupes, but it is somewhat easier to select and delete multiple items in the desktop app.
Unfortunately, uploading new content to your account still requires the horrendous AIR uploader app. In the desktop app you select File > Import Music To Cloud Library, click OK to be taken to your Amazon account, click the Import this music button to launch the AIR application, and then pick and upload your music. And that's when it works. Now every time I try to upload new music, I'm forced to redownload the uploader app.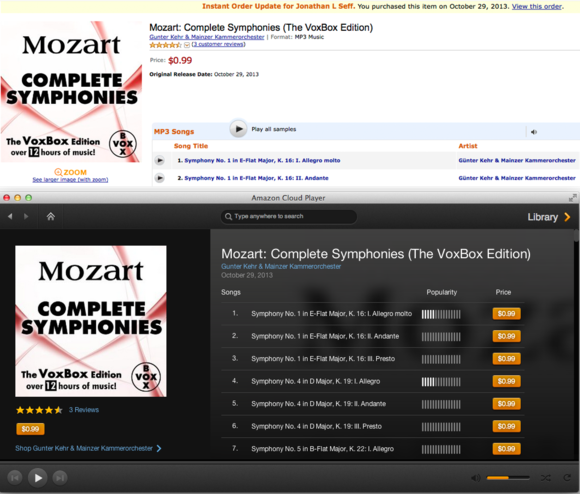 One nice feature is the integration of Amazon's MP3 store into the app. Click the Store button in the upper right corner and the UI shifts to one in which you can browse and buy music. One problem I noticed, though, was that it doesn't indicate whether or not you've purchased something previously. For example, I bought Mozart: Complete Symphonies (The VoxBox Edition) but wouldn't know it from looking. Visiting the album page on Amazon.com shows me a banner indicating I've already bought it.
Bottom line
Although I'm glad to see Amazon bring its desktop app to the Mac, in many ways it's less functional and more difficult to use than the Web-based interface. And failing to integrate an uploader into the app is just inexcusable.