Apple's consumer video editing software, iMovie, has had ups and downs over the years. It's been a testing ground for the company, and a place to experiment with new video features, gimmicks, and simplified layouts to balance the needs of basic and intermediate users.
Apple's latest iMovie is a stunning renovation, and I gushed about it at length in my hands-on with the new version. It's also a no-brainer upgrade because now it's free—and those yearning for the rare omitted feature or two can always revert to iMovie '11, which is left installed on your computer. Unlike the iWork suite, it doesn't suffer from major feature removal in an effort to unify the Mac and iOS; in contrast, iMovie offers new partnerships between the two operating systems (as in iMovie Theater) while still remaining a separate program for each of your devices.
Wonderful interface changes
iMovie has always been a bit of an odd sibling to its big brother, Final Cut Pro, in terms of both features and appearance. It never quite had the same timeline handling, or the right look; sometimes it would be ahead of Final Cut's development curve, sometimes far behind. This version of iMovie, however, can stand proudly alongside its big brother. It has the same "space gray" coloration and timeline handling, and though it pales in comparison to Final Cut's feature set, it still has a decent number of tools in its toolbox.
But unlike previous versions of iMovie, those tools aren't out in the open—they're instead secreted away behind simplistic-looking buttons that won't scare off casual filmmakers or beginners. The first thing you see upon launching the program is a collection of your event clips and a big viewing screen—you don't even have to make a project if all you want to do is find and share a particular clip. Its initial treatment reminds me far more of iPhoto's management options than of a piece of video editing software. But once you open up a project, it becomes clear that those editing chops are still there.
iMovie's myriad buttons and shiny aluminum textures are all gone, replaced with a few distinct sections: a sidebar for accessing your photos, videos, projects, and content library; buttons for importing video, creating new projects, and sharing clips/projects; a tab switch between iMovie's Library screen and iMovie Theater; and two editing buttons, Enhance and Adjust. In another iPhoto/Final Cut-esque move, all possible clip and audio adjustments have now been hidden inside Adjust, while those who care little for green-screen options and color correction can ignore that icon altogether—they can still brighten up their video with one click from the Enhance button, or slow down their video from the new slow-motion scrubber in the timeline.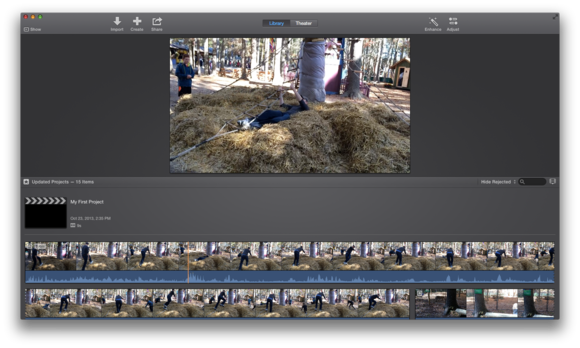 But that's it. There are zoom sliders here and there, and a search bar, but the dozens of unlabeled buttons and confusing sections have gone the way of the dodo.
This minimalism carries over to preferences, too. iMovie '11's preferences were a little terrifying for new users: the nebulous "Show Advanced Tools" option, lots of viewing options for the media browser, font choices, a video import dropdown—in short, a lot of unnecessary controls shoved into the preferences screen because the program really had nowhere else to put them. (I'm sure some people out there love the "Always show clip badges" preference option, but as a former editor, I found most of these settings ridiculous and redundant.)
Apple seemingly agrees with me: The new iMovie has just two preference options. Not preference tabs, or preference screens—two preference options, period. Those are "Apply slow-motion automatically" (which automatically turns your iPhone 5s 120-fps clips into slow motion), and "Automatically upload content to iCloud" (any iMovie Theater film you export). Most other features formerly found in settings have been moved to more appropriate locations.
Import and speed improvements
iMovie is downright speedy in comparison to its predecessor, and nowhere is that more evident than in clip import. In my tests, the camera import screen launched and imported video twice as fast as '11.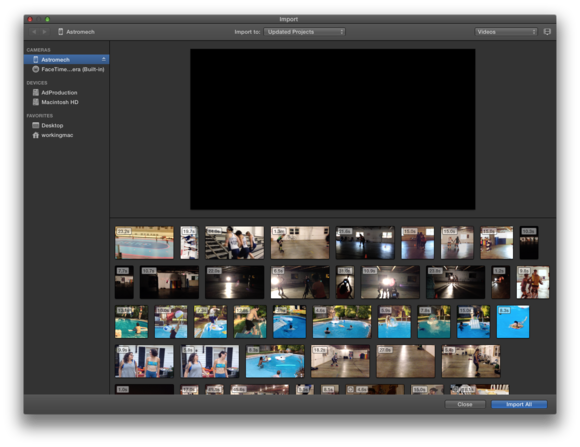 And oh, I could write an ode to the revised import process. Gone are the "import selected" checkboxes, the "analyze for stabilization" and "optimize video size" options, and any extra nonsense you might have had to first click through before getting to what you wanted to do in the first place—edit your clips. The new version of iMovie treats you with respect. Do you want to import all your clips? Great. Want to just import some of them? Highlight the ones you want, and then press import. The app's fast enough now that it doesn't need you to downscale your HD clips so that you can edit them.
Once you've imported your clips, you can search through them by name or date, tag your favorites, and sort by favorites or rejected clips. It's not nearly as complex as Final Cut's tagging options—organizing feels easy and simple.
Background check

iMovie takes yet another card from Final Cut X with background tasks. Say goodbye to progress bars for import, rendering, and sharing—they're not your problem any more. Nowhere is this more apparent than in the import process: There's no waiting eternally in front of the import screen, watching a progress bar slowly tick down. Once you select clips for import, they're available in your library almost immediately, with clock icons on those still importing. I was even able to scrub through those still importing.
When you're importing or rendering a clip, a new background tasks icon (in the shape of a clock) pops up in the upper-right-hand corner of the menu bar. It displays all currently rendering background tasks, along with a time estimate of when they will be completed.
Improved timelines and fancy features
One of my biggest complaints about the reinvention of iMovie way back in 2008 was the change to the traditional editing timeline—it folded over itself vertically, rather than displaying horizontally. That option is still here, but it's hidden in the View menu under Wrapping Timeline—the horizontal timeline is now the default.
And that horizontal timeline seems to have gained many of the improvements found in Final Cut Pro X, including support for proper multilayer editing. This allows you to drag clips on top of others to create a straight cutaway to the clip, picture-in-picture, side-by-side, audio-only track, or green-screen matte. You still can't create more than two tracks of video, but I largely prefer it to iMovie '11's weird Advanced Tools workaround.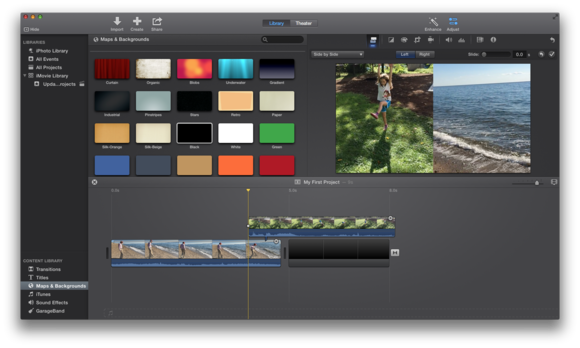 The Adjust bar has a treasure trove of video effects hiding within; some are features from past versions of the program, some are all-new. They're broken up into color balance, color correction, cropping, stabilization, volume, noise reduction and equalizer, video and audio effects, and clip information categories. At the right of the icon list is an undo button; if you create a result you dislike, you can click it to reverse the effect.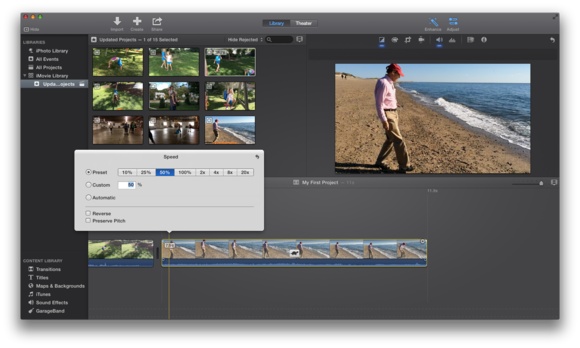 The Adjust bar does lack one big effect: speed control, which you largely perform using the clip's built-in speed scrubber or via the modify menu. You can adjust clips to 50 percent of their speed, fast-forward them 20X, or create instant replay or rewind effects. The speed controls are quite snazzy, but it bugs me that iMovie's speed scrubber can't be ducked in and out (like the slo-mo clips in the Camera Roll on the iPhone 5s); instead, you have to cut your desired clip in three places, and apply separate speed modulations to each.
Sharing is caring
Past versions of iMovie were great for many things, but quickly sharing clips was not one of them. The export process in iMovie got easier over the years, but it still involved twisting and pulling a variety of virtual knobs and levers to get a video you were happy with. Those export controls have been dramatically simplified on the Mac, offering you eight types of sharing (including iMovie Theater, email, YouTube, and to your Desktop), each with its own painless menu.
Those who like to fiddle and tweak their export settings may cry foul at the relatively limited options—among other things, export to Final Cut XML is gone on the Mac—but I think that these settings will be enough for the majority of iMovie users. (And for those who need more, Final Cut isn't as much of an expensive step up as it used to be.)
Of course, the biggest sharing feature that Apple wants to get you on-board with is iMovie Theater, which allows you to share a clip or final project from any of your devices and have it show up on any other Mac or iOS device that has iMovie installed and is linked to your Apple ID. Think of it as sort of like Photo Stream for your edited videos.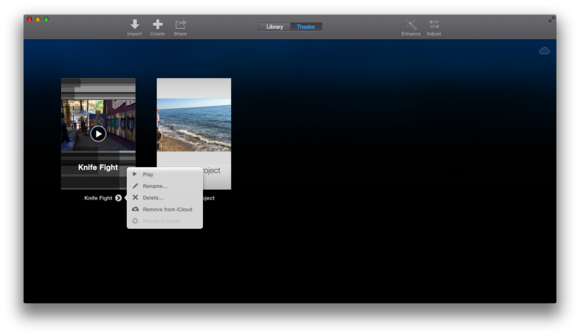 As a quick way to share video on your TV or other devices, it's stellar: You can cut something on your Mac and push it to your iOS device, which you can then take with you and show off wherever you want. You don't even have to download it to your device—iMovie Theater stores everything on its server by default, so you can stream it if you have a data connection or download it ahead of time—your choice.
iMovie Theater does have a few limitations, unfortunately. Unlike with Photo Stream, any video you share counts toward your iCloud storage limit; those with the default 5GB of storage may find themselves quickly running out of room. If you reexport a project video, it appears as a duplicate, instead of replacing the old version. You can't send a video to another friend's iMovie Theater library. And perhaps most annoyingly, you can't share projects—only final videos. Project sharing can still be done among iOS devices, but you can't transfer projects to the Mac (though this may be coming back in a future update).
For version 10.1…
While I was quite impressed by this new version of iMovie, it doesn't cure all woes—the team in Cupertino still has a few things to hack away at. Here are a few omissions I hope get fixed in the next update.
More gestures, happy editors: iMovie for iOS has a bunch of fantastic Multi-Touch gestures that make editing delightful; sadly, few of those gestures have made it onto the Mac. Now that the majority of the Mac population uses a trackpad—built-in or Magic—it seems like a no-brainer to include iOS's two-finger cut gestures, scrubbing, pinch to zoom, and so forth.
Bring back iOS projects on the Mac: One reason Apple updated the iWork and iLife suite so dramatically and in tandem with their iOS counterparts was to create more unification across platforms, but this came at a cost: feature elimination. For iMovie, the "bring iOS projects to the Mac" feature has disappeared; Apple plans to bring this back in a future update, but we have no idea yet just how far out that update might be. Fingers crossed it's sooner than later.
Consider iCloud-stored projects and collaboration: Apple boasts that the new versions of iWork are very collaboration-friendly, but there's no hint of such a move for iLife and iMovie. Basic editors may not have a lot of use for multi-editing options, but it would be neat to have the option to work collaboratively with a friend on a school project, or with family on cutting together the 60th reunion slideshow.
Even if collaboration tools are never in the cards, how about iCloud storage of projects, rather than just final video files? iMovie Theater is a nice start, but I'd love to be able to seamlessly work on projects between computers—or even between my iOS device and Mac. I assume storage limitations are holding this back somewhat, as your raw footage can quickly fill up many a hard drive when working on a project, but it's still something I'd love to see the folks at Apple hammering away at.
Bottom line
The new version of iMovie looks like it's going to be a great tool for families, kids, budding filmmakers, and the occasional editor. The new interface keeps things easy to read, fun to edit, and simple to share—without taking away any truly key features. If you're an intermediate-to-advanced filmmaker looking to max out iMovie, it might be time to look at upgrading to Final Cut Pro X, but I predict most users will have a lot of fun with this new version.