Between the radically updated look and feel of iOS 7 and the new features and emphasis of iPhoto 2.0 for iOS, it's sometimes hard to determine where one ends and the other begins. On the one hand, the new iPhoto for iOS update shares many similar features and image editing concepts with the previous version. But it looks and functions so differently that even some old features feel new. And then there are a number of genuinely new features added to the app, which is universal for both iPhone and iPad.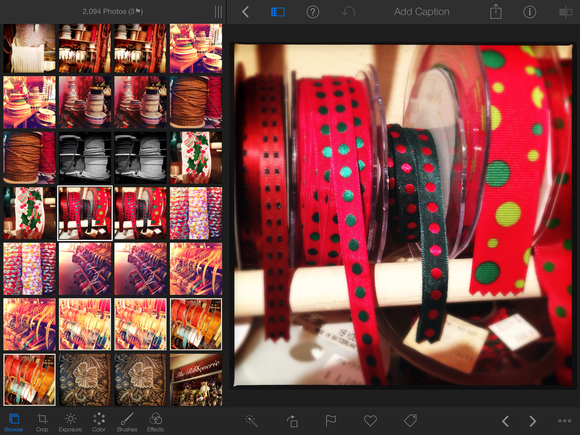 The most obvious change in iPhoto 2.0 for iOS, derived from iOS 7, strips away most archaic visual cues—called skeumorphism—recognizable representations of objects like photo albums or leather grain to represent familiar physical items. Part of the problem with skeumorphism is that object representations mean different things to different people and thus introduce noise into an intended clear signal. With iOS 7 everyone is now focused on the same electronic page and it feels right.
Aside from the look and feel, iPhoto 2.0 for iOS also works faster and smarter because of an engineering advancement that shifts the burden of image editing from the device's CPU to the GPU for smoother, more organic performance.
iPhoto 2.0 for iOS is a free upgrade to owners of the previous version of iPhoto for iOS. It's also free to anyone who buys a new iOS device. If you've never had iPhoto for iOS, the new version is $5.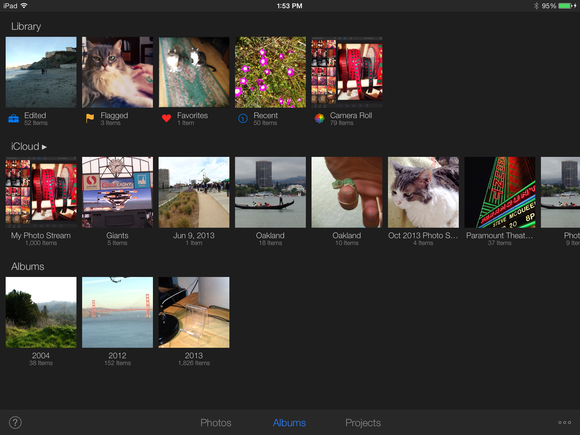 Photo editing
The iOS 7 interface influence is most evident in the Photos module where the editing controls have visually changed. While the previous version of iPhoto had a discrete Edit mode that you could invoke with a specific button, the new version is perhaps more subtle than it needs to be in signaling how to switch between browsing and edit modes. In fact, the copiously detailed tool tips neglect to label this all-important but unobtrusive control at the top of the edit screen. Once tapped, it leads you to a redesigned layout that provides the backdrop for your photos, albums, and projects.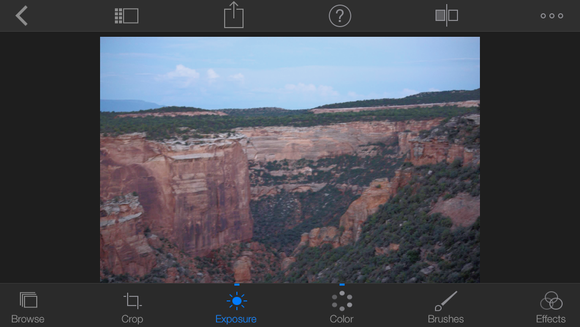 In this version, the photo album metaphor (where albums reside on glass shelves) is replaced by a library tagged with various labels, iCloud albums derived from photo sharing, tagged images, and specific albums—all represented by thumbnails. Projects include journals, slideshows, and new photo books, which give a subtle hint of what they are by their shape: slideshows look like 35mm transparancies; photo books have a slight binding; journals are represented by thumbnails.
The re-designed Photos module is reminiscent of Apple's iOS 7 Photos app on the iPhone and iPad, in that it dynamically labels photos and videos by date as you scroll, separating them into sections, a much improved interface.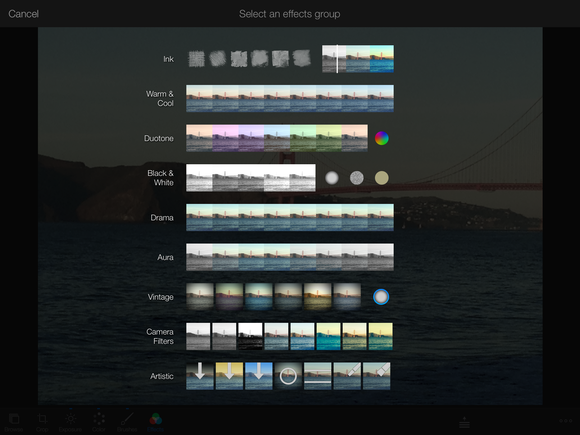 Choosing a photo automatically brings you to the edit mode, where the functionality—if not the look and feel—are similar. The same editing choices of crop, exposure, color, brushes, and effects await you, as with the previous version, except that category icons have been redone to elegant, schematic line drawings with text labels—very convenient. Non-labeled icons, such as heart, flag, and tag, are self explanatory. Navigate with the arrow icons, swipe gestures, or show your album and tap on the image you want to see. An ellipsis icon at the lower right corner offers context sensitive options related to the chosen tool, and functions similarly to the previous gear icon.
Sliders help with exposure and colors, as they did in the previous version, or you can still tap and slide on the image to adjust the colors of sky or grass, or hue and saturation.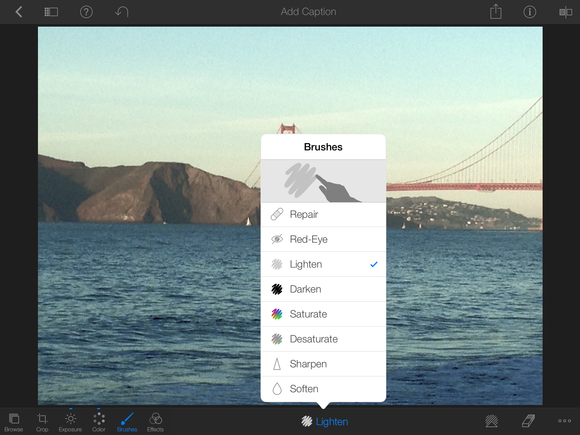 The Brushes tab is a lot cleaner than in the previous version, where a charming, animated selection of brushes emerged from the base toolbar. This new version is tastefully minimalist, but I actually liked the animated brush interface. Similarly, the effects panel is changed too, with a different type of animation replacing the cute fan, which made people smile. The new effects interface is lovely, but it's all business, and offers new Camera and Drama filters in addition to the original Ink, Artistic, Aura, and others. A new white balance feature now controls underwater photos for you scuba fans.
If you knew how to edit images in the previous version, there's nothing mysterious about version 2. Real updates come in the form of new projects and sharing capabilities like print ordering and book creation, shared video streams, enhanced beaming, AirDrop functionality, and incorporating Apple Maps into the app's geotagging infrastructure.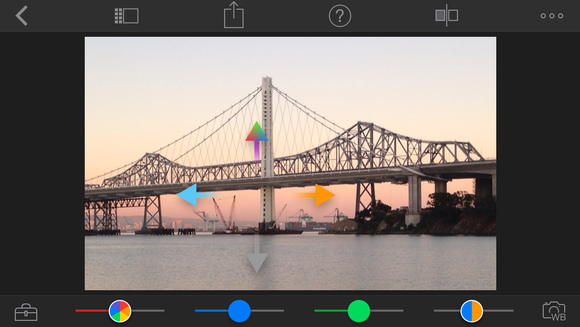 Projects
Creating a book on an iPhone or iPad is surprisingly easy to accomplish. Just pick from a choice of templates and you get 20 pages by default (though you can add more). Either pick images to use as you go or choose the images you want first and album auto place them. You can re-edit an image or add a caption at any time during book creation. Then, just tap and swipe until you're done. The square book is unique to the iOS app.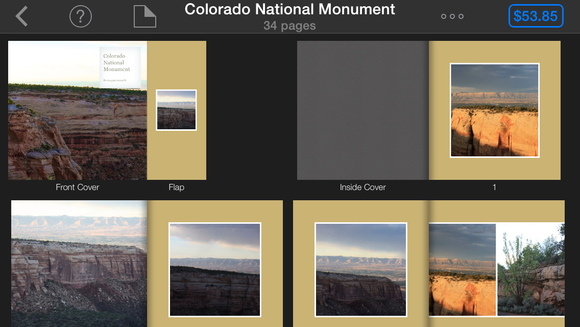 Gesture-based, interactive slideshow creation is likewise intuitive and works well. Last year's journal—basically an online digital scrapbook—is now panorama savvy and has two new widgets: national flag and currency. I find the journal best for specialized use such as for an event or a vacation blog.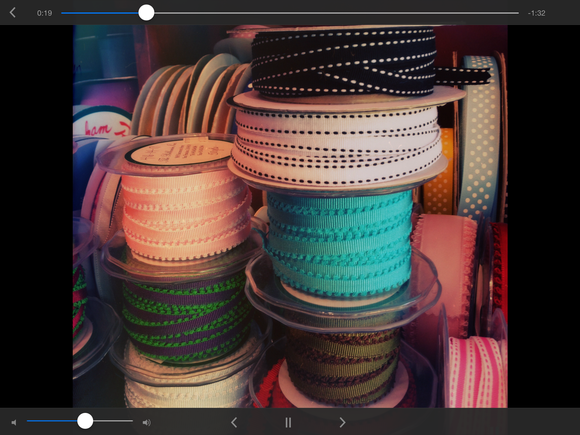 Sharing
A hefty chunk of improvements to the photo program come not from the editing side but from the expansion of sharing capabilities. For starters, you can now beam full resolution journals, albums, and slideshows. You can also share via AirDrop. The new version lets you order photo books and prints directly from your mobile device, and lets you choose glossy prints alongside matte in the same order and ship orders to muiltiple recipients.
Photo stream now allows you to share with specific people and lets those you choose contribute to your shared photo stream. With an enabled iCloud account, you can publish a journal or slideshow to a web page.
The new version of iPhoto also seeks to improve filtering. As you edit, favorite, or flag your photos, the app keeps a record of your actions and lets you use visual boolean search queries with multiple attributes to track down specific images.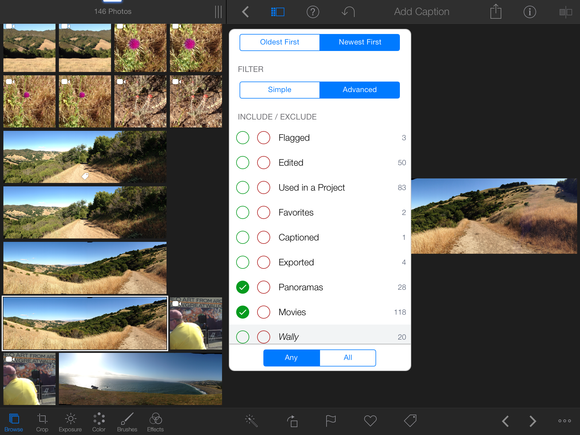 Bottom line
iPhoto 2.0 for iOS is a fantastic upgrade to Apple's mobile consumer image editing flagship program; its streamlined, updated interface is a joy to use. Though not as cute and whimsical as last year's debut version, its swift operation, direct controls, enhanced sharing, and no-nonsense interface make it a must-have upgrade.