Symphytum 1.1 is an inexpensive, basic database application capable of creating simple databases. The app has a feel similar to Apple's discontinued Bento, but lacks the features and finish necessary to make it useful enough for everyday use.
Upon opening Symphytum you see a demo database ("collection" in Symphytum parlance) with three records in it. Two buttons at the top of the collection window allow you to switch between form and table views of your database and there are also buttons for navigating between records, adding or deleting records, and creating or removing fields from your collection. A library list to the left of the app's database window contains a list of all your collections. Selecting a collection from this list changes the collection of data you see in the window to the right.
Symphytum offers little in the way of documentation and, in fact, you are relegated to using a silent film-like video demo of the app on the developer's Web site to figure out how Symphytum works. New collections are created by clicking the toolbar's New Collection button and then typing a name for your collection when it appears in the library list.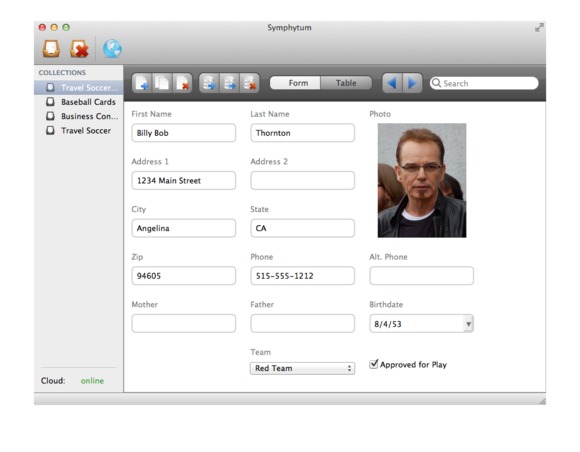 Before you can starting adding records to your collection you need to create fields. Symphytum offers no templates, so every new collection needs fields created from scratch. Clicking the new field button or, although not obvious from the app's menus, typing Command-Shift-N, opens a sheet from which you can select your field type and name your new field.
Symphytum offers 10 types of data fields, including text, number and date fields as well as image, progress, and file fields. The app lacks calculation and media fields capable of playing video or audio files, although you can use the file field to store media files, which, when double-clicked, are opened in an appropriate application.
Creating fields in Symphytum was a painful process. Rather than sticking around to see if you want to create another field, the new field sheet disappears after each new field is created, requiring you to either user the keyboard shortcut or click the new field button to create your next field.
Once you've created your fields and added at least one record, you can begin rearranging fields on your form until you like the way your form looks. As with Bento, Symphytum forces you to arrange your fields to a pre-ordained grid. It's easy enough to move and resize the fields, but you cannot make minor adjustments to where the fields appear on your form. There is also no way for you to set the tab order for your fields. Tabbing through fields always goes from left-to-right tab starting from the top left of your form.
If you don't want to enter your data manually you can import CSV formatted files into Symphytum. Oddly, you cannot import the records into an existing collection, as an import always creates a new collection. Once imported, it's not possible for your to merge two collections, so the import feature has no value if you already have an existing collection. Finally, Symphytum always uses the first record in the CSV file as a header file and creates field names based upon the information in the first record. So, if you haven't defined fields in the first record, your collection will have field data for field names.
When it comes time to print the info stored in your collections Symphytum offers almost nothing. You can print records, but there are no configuration options. You get a printout of your data with fields appearing in the order that you first created them.
On the plus side, Symphytum allows you to add information to some of your data fields by dragging items from the Finder to the field. So, for example, you can drag images to the image fields and files to the file fields and they will be added to the record.
Symphytum also offers database synchronization using your Dropbox account. This means you can have one centralized database available on all your Macs that can accessed by more than one person at a time. Only one user is able to update the Symphytum database at a time, but all others users can view the data. Unfortunately, there is no way of knowing when a user has given up edit access to the database without quitting and reopeneing the app.
Bottom line
Symphytum is an interesting app in that it has potential, but potential is just about all it has. Yes, you can create a database with Symphytum, but once you do there is little of value you can do with the data you've entered. Symphytum simply doesn't do enough, and what it does do it doesn't do well enough to justify using it.