Since the release of OS X Mavericks, I've gotten a lot of questions about ebooks and iTunes. I address three of these in this week's column. I also look at a question about smart playlists with nested conditions, and a way to keep Christmas music from coming up in shuffle mode on an iPod.
Q: Since I've upgraded to OS X 10.9 Mavericks, I notice that iTunes no longer has a Books section; all the books have moved to iBooks. Under this new scheme, how do I sync books to my iPhone or iPad?
You're correct that since Mavericks has an iBooks app, you'll find that iTunes no longer stores your books. The first time you select the Books library in iTunes, the app will offer to take you to iBooks, which will then import your books. It will not, however, move your audiobooks; these stay in iTunes, and the Books library gets renamed Audiobooks.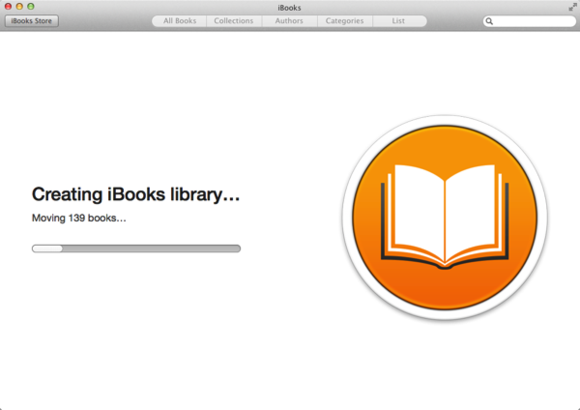 While iBooks stores the books, iTunes still manages syncing to your iOS devices. When you connect an iOS device and click it, you'll see a Books tab, where you can choose what to sync. This tab manages the syncing of both ebooks—those stored in the iBooks app—and audiobooks, which are still in iTunes, just as before.
Confusing? Yep. But once you get used to it, it's not too much of a hassle.
Q: When I first had iTunes move my ebooks to the new iBooks app in Mavericks, many of my books didn't get transferred. How can I get these books back? Are they lost forever?
There was a bug in the first version of the iBooks app that prevented it from moving all the books in the iTunes library to the new app. In my library, only two books didn't get moved, but I've heard from people who lost dozens or even hundreds of books.
These books should still be on your computer. If you haven't done so, open the App Store app, click Updates, and download the iBooks 1.0.1 update. Launch iBooks, then choose File > Move Books from iTunes. This should move the remaining books to iBooks.
Q: When ebooks were stored in iTunes, I was able to find any of my books by looking in my iTunes Media folder. There's no longer a Books folder within that folder; where are my books stored now? I sometimes want to access books to move them; how can I do this?
For some reason, Apple has stashed ebooks away in your home folder—the one with the house icon and your user name—in a sub-folder that's quite hard to find:
~/Library/Containers/com.apple.BKAgentService/Data/Documents/iBooks
Not only is the folder hidden, but the file names won't help you figure out which book is which.

If you need to get any of your books out of iBooks, you won't be able to find which is which from looking in that folder. However, you can drag any book from iBooks to your Desktop, or to a folder. Just select a book and drag it, and you'll get a copy of the book with its title in the file name.
Q: I was wondering how to create a smart playlist that has three rules. I made one with the following rules: the genre is Dubstep, the artist is Haze, and I added another rule because some of the songs are mixed by Haze, so I want songs where the name contains Haze. However, when I do this, my playlist is empty. Can you tell me how I need to do this?
What you want to do requires what's called nested conditions. You want to have the smart playlist search for one genre, but either of two other possibilities. This is easy to do when you know the secret.
Start by making a first condition: Genre is Dubstep. Next, press the Option key (or Alt on Windows), and click the ellipsis (…) next to the rule where the plus (+) button used to be. You'll see that this adds a new rule that's indented, and where you get to choose between All/Any of the following are true. Choose Any, then set the next rule to Artist is Haze. Click the plus button again, without holding down the Option key, and create a rule in which Name contains Haze. The finished playlist should look like this: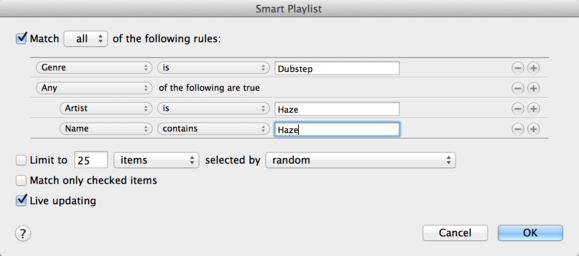 Make sure the first Match condition is set to All. iTunes will search for all of your Dubstep music, then will look for either of the two conditions you've set up with Haze as artist or in the song names.
Q: I have Christmas music and some other songs I don't want to play when I shuffle my iPod. I have created specific playlists for that music; is there a way have them play from the playlist but not on the iPod in shuffle mode?
There is a very simple way to do this. Select all the tracks in the playlist of music you don't want to shuffle. Press Command-I, then click the Options tab. Click the pop-up menu next to Skip when shuffling and choose Yes. Click OK, and these tracks won't come up when you shuffle music on your iPod or in iTunes. Naturally, you'll need to sync your iPod after you make this change for it to take effect on that device.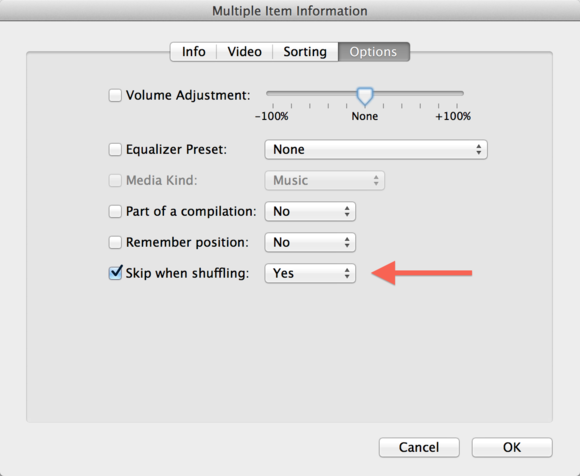 [Ask the iTunes Guy is a regular column in which we answer your questions on everything iTunes related. If there's something you'd like to know, send an email to the iTunes Guy for consideration.]