If you've read our review of GarageBand 10.0 for the Mac OS (and really, you should) you know that Apple brought a lot of changes to the Mac version of this venerable music-making application. The same cannot be said for the latest iOS version of GarageBand, which operates almost exactly as the original iteration did. Although it has been improved, it hasn't changed nearly as radically as its computer-bound sibling has. And that's hardly a terrible thing: GarageBand 1.0 was great and version 2.0 piles a few additional features atop that greatness.
Like GarageBand 10.0 for the Mac, GarageBand 2.0 for iOS devices (iOS 7 required) is free, with the option to add more features via a $5 in-app purchase. Specifically, with the free version you get three instruments—Keyboard, Drums, and Smart Guitar with eight preset sounds—as well as the Audio Recorder instrument. For that additional $5 you gain the Guitar Amp, Smart Keyboard, Smart Bass, Smart Strings, Smart Drums, Sampler, and 157 preset sounds. If you've already purchased GarageBand for iOS, you get this content free of charge.
The new features are almost entirely technological rather than musical. To begin with, this version doubles the number of tracks you can record on compatible iOS devices not using an A7 processor (the iPhone 4s or later, the iPad 2 or later, and the fifth-generation iPod touch), for a total of up to 16 tracks. (You can use this version of GarageBand with an iPhone 4, but it supports the original 8 tracks.) On a device with the 64-bit A7 processor, namely the iPhone 5s, the iPad Air, or the iPad mini with Retina display, you can record up to 32 tracks. (For reference, The Beatles recorded Sgt. Pepper's Lonely Hearts Club Band on four tracks.) Ah, progress.
GarageBand 2.0 also offers inter-app communication, which means you can include the output of compatible third-party instrument and effects apps in your GarageBand recordings.
For example, I purchased Waldorf Music's $20 Nave wavetable synthesizer app on my iPad. When I launched GarageBand on that same iPad and tapped the Instruments button, I found a new Inter-App Audio Apps entry. I tapped it and saw that the Nave app was an instrument option. When I tapped it, the Nave app opened and displayed the app's interface. Just above the keyboard were small GarageBand transport controls. To record the Nave synth into a GarageBand track, all I had to do was tap the transport's Record button. I heard GarageBand's metronome and the other tracks I'd already recorded, and started playing. When I stopped recording, switched back to GarageBand, and looked at the tracks screen, there was the music I'd played, captured as an audio file (versus MIDI data, as you'd see when recording from one of the software instruments). This is a worthwhile feature that allows you to expand GarageBand's sound palette greatly.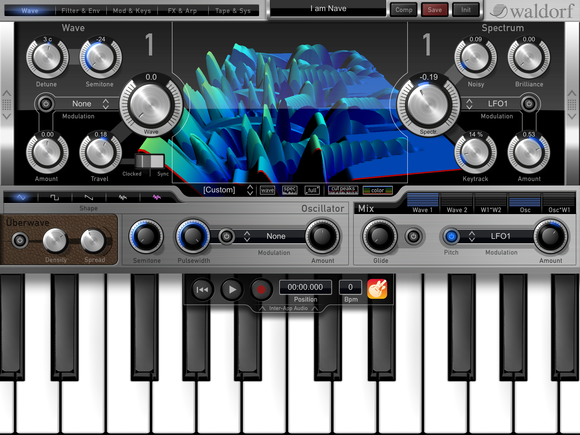 Other instruments currently compatible with inter-app audio are Arturia's iSEM and iMini synths and Tempo Rubato's NLogSynth Pro. As for effects, currently you can use IK Multimedia's AmpliTube, and Kymatica's AUFXDub and AUFX:Space. Others will almost certainly join the list.
This version of GarageBand additionally supports saving to iCloud and sharing via AirDrop. (You can also share the results of your work via email, Facebook, SoundCloud, and YouTube.) iCloud is a good way to share your projects with a Mac for more-critical editing. AirDrop is helpful when you'd like to share a project with a bandmate before leaving the studio. Note that you can't use this app to edit projects created with the Mac version of GarageBand.
Finally, if you're the kind of person who enjoys inserting samples of other people's work into your compositions, GarageBand 2.0 has just the feature for you. Select the Sampler instrument, tap the Import button, and tap the Music tab—you'll discover that you can now import unprotected tracks from the Music app. (These tracks must be on the device; iTunes Match tracks have to be downloaded before you can use them.) You can then trim them within the Sampler instrument and "play" them in different keys using the Sampler's keyboard. You can additionally reverse the sound and change its envelope (the "shape" of the volume from the beginning of the sound to the end).
Nonmusicians will find this feature helpful as well. How? Trim your favorite song down to several key seconds, return to the My Songs screen, tap Select, tap the song that contains the sample you just edited, tap the Share button, and tap Ringtone. You've created a custom ringtone without paying a nickel for the privilege.
Bottom line
GarageBand for iOS is much greater for the addition of more tracks, inter-app compatibility, iCloud sync and AirDrop sharing, and a more flexible Sampler instrument. With version 2.0, it remains one of the musical stars of the iOS firmament.