Experience has taught me that when Apple ships an update and intentionally leaves the old version of the app on your Mac, it's a strong hint that the update is going to be a very different experience. Such is the case with Numbers 3.0 for OS X Mavericks. If you've used Numbers '09, changes in the Numbers 3.0 interface and functionality will be quite an adjustment. Whether you consider the changes to be good or bad depends on how you use Numbers.
Changes, for better or worse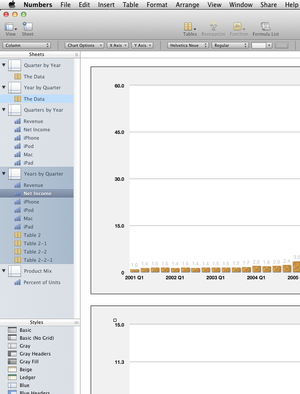 The first thing I noticed was that the left-side panel, which showed sheets, tables, and styles, is completely gone; sheets are now listed across the top of the window, and styles appear in a new right-hand column called the Inspector. While this layout works well for simple projects, you lose the high-level overview that the Numbers '09 sidebar provided when you're working with complicated projects.
Also gone is the customizable toolbar; what was once home for up to 40 of your most-used features (in the order you preferred) is now a list of 13 unchangeable, unmovable icons. As someone who had relied on a heavily customized toolbar in the prior version of Numbers, I do not welcome this change.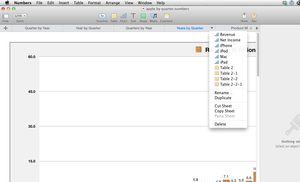 The other difference is that the format bar, which lived immediately below the toolbar, is also gone. Like the left-side panel, it has moved to the Inspector column on the right, in a layout that requires more clicking.
Gone, too, are the floating inspector windows of the prior version. They've been replaced by that right-hand Inspector column, which changes based on your selection in the worksheet. On the upside, however, the Inspector column features larger text and graphics than the floating inspectors, wo readability is improved. In addition, the floating windows often got in the way on a smaller display. If, however, you have a large monitor, not being able to display multiple inspectors at once means you'll be doing a lot more clicking to format your worksheets.
The other visual change that grabbed my eye was the disappearance of the formula bar. In every spreadsheet app I've ever used, including Numbers '09, the formula bar has been top front and center—it is, after all, a very important part of any spreadsheet. But it's not there in Numbers 3.0—in fact, there is no formula bar at all.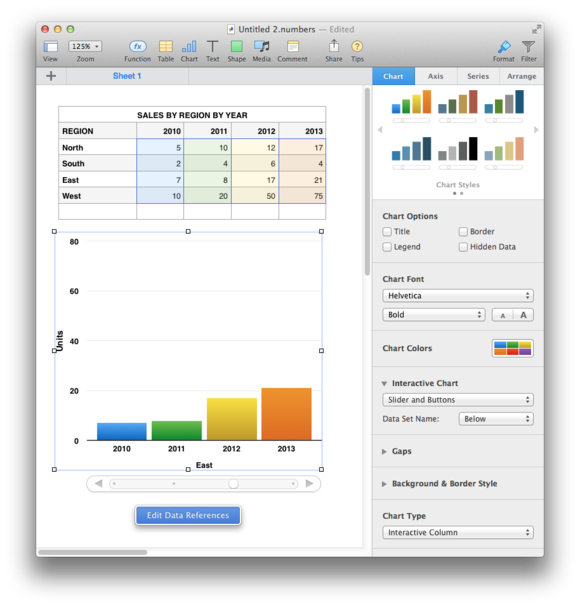 At the bottom of the screen is a "smart cell view," which displays the contents of the selected cell; but you can't edit formulas here. To edit a formula, you must double-click the cell, which opens a pop-up formula editor. At first glance, this appears problematic, as the formula editor is but one row high, and may appear over a portion of the worksheet you need to see while editing. But you can move and resize the formula editor, though the pixel targets for doing so (especially resizing) are small.

To move the editing bar, place the cursor over the thin bar to the left, and it'll change into a hand, which you can then use to drag the bar around. To resize, hover the mouse over the bottom or right edge of the window, until it turns into a resize cursor. I had trouble with this, especially with the bottom border—it seems the pixel target you're trying to hit is only one or two pixels in size. (It's much easier to resize vertically from the bottom of the bar to the left of the formula input area.)
While Numbers was never an AppleScript powerhouse, there was at least a fundamental dictionary in Numbers '09. In Numbers 3.0, there's absolutely no AppleScript support. And there's still no macro support, either.
Finally, if you want more help than just coaching tips with Numbers 3.0, you'd better have an Internet connection: Eschewing Apple's own Help Book technology, the Numbers help command opens a webpage. No Internet—no help.
While the overall interface looks much cleaner than the old version's, functionality and ease of use have both taken a big hit. Would new users feel this way? Perhaps not, but they would probably still puzzle over some of these design decisions.
It's not all bad news
Despite all the negative changes in Numbers' interface and usability, the program contains some nice improvements. The templates have been reworked, and I find the new designs to be more visually pleasing than the old ones. There are a number of new templates, though these come at the expense of some now-missing templates, leaving the total number at around 30.
A new Table Filters feature lets you easily build filters to control what you see in a given table. If you have large, complex tables, these filters can quickly trim your data set to show just what you want to see. Doing this in Excel is no trivial task, but Numbers makes it simple.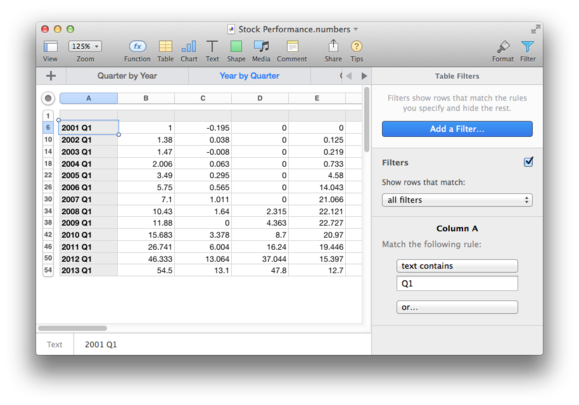 Interactive charts are another useful new feature. An interactive chart shows data as it changes for a given a variable—sales by year or expenses by department, for example. A slider below the chart lets you step through each year, or region, or other parameter, and the chart changes to reflect each set of data. Setting up an interactive chart is relatively straightforward, though you'll spend some time modifying the default settings if your chart data doesn't sit in the header area of a given table.
Finally, there's the elephant in the room: cross-device compatibility. The removal of floating inspector windows, the elimination of resizable side panels, the dumping of AppleScript—all of these changes help Apple deliver a version of Numbers that looks and acts nearly identically whether on your Mac, on your iPad, and (via iCloud) on the Web. You can even have multiple users editing the same document at the same time, via iCloud. If you edit your worksheets on multiple devices, these capabilities are a key part of the new version's appeal. But if you're primarily a Mac user looking for a decent spreadsheet tool, there's no added value to compensate for all the interface changes that have been inflicted on the app.
Performance and functionality
Apple (thankfully) hasn't dumbed down the actual features in Numbers. There are still more than 250 formulas, and a new formula-completion assistant makes them even easier to enter and use. You can still open and save Excel files, though, as before, some advanced features (macros, array formulas) won't survive the migration from Excel to Numbers and back. The built-in templates make it easy to create excellent-looking spreadsheets, and Numbers can help you create some of the nicest-looking graphs of any spreadsheet app.
Numbers still won't wow you with its performance on big files, though. Opening my standard 8MB test file took more than 30 seconds on my high-end iMac; the same file opens in Excel 2011 in under 2 seconds. Unlike in previous versions of Numbers, though, changing a cell in the test file no longer results in multiple-second delays. This is a welcome improvement.
Welcome also is the new "undo" behavior. In previous versions of Numbers, using Command-Z (Undo) would first blank the cell; you'd then have to hit Command-Z again to make the previous value or formula appear. In Numbers 3.0, Command-Z finally works as it does in any other program, and instantly reverts to the cell's last value or formula.
One functionality change that's hard to understand, though, is the removal of the concept of printed pages. In the old Numbers, you could work in a page-preview layout that showed exactly how your sheets and charts would fit on a printed page. In Numbers 3.0, that's gone. In its place is an infinite canvas, on which you can place sheets and charts anywhere you like. You won't know how those objects fit on a page, though, until you do a print preview. If they don't fit, you go back to normal view, move things around, open print preview again, and repeat until everything works. If you're designing to print at all, this is a really bad regression in functionality.
Bottom line
Unlike the new Pages and Keynote, Numbers hasn't suffered from a massive removal of features. It has, unfortunately, suffered from an interface refresh designed not with Mac users in mind, but with Web and iOS users front and center. That makes day-to-day usage of the program more difficult.
So should you use Numbers 3.0? If you need to use and edit your worksheets across your desktop Mac, the Web, and your iOS devices, the decision is a no-brainer: Numbers 3.0 makes that possible and even easy. If, on the other hand, you use only your Mac, you'll have to decide if the new interactive charts, improved templates, and other new features are worth the trouble of working with an interface that's been designed around multidevice editing. As a Mac user primarily, I'm thankful that Apple left Numbers '09 in place, as I find it makes a better desktop-centric spreadsheet application. But if I have to share, or want the same editing experience on my iPad, Numbers 3.0 is a nice addition to my toolkit.
Updated 11/14/13 to clarify statements about in-cell formula editing.