Alongside Numbers 3.0 for OS X, Apple also introduced Numbers 2.0 for iOS. The big news in this version is file, user interface, and (for the most part) feature parity with the desktop (and Web) versions of Numbers. As with the desktop version, the new iOS version has been lightened, flattened, and cleaned up quite a bit. Unlike with the desktop app, where I felt like the interface was penalizing me for having a large screen (no multiple windows, no overview sidebar on the left, etc.), the new interface feels right at home on the constrained screen of an iPad.
Yes, you can also run Numbers on your iPhone or iPod touch, but I really wouldn't advise it—these screens are so small that getting anything done in a spreadsheet app is frustratingly painful. You can only see a couple handful of cells at once, at least at any zoom level where you can read what's in the cells. In a pinch it works, but if you've got work to do in a spreadsheet on an iOS device, you really want that device to be an iPad.
Overview
Overall, Apple has really done a nice job at unifying the Numbers interface across OS X, iOS, and the Web. If you've used the app on one platform, you'll feel instantly at home on the other platforms. The iPad differs in a couple of minor areas, mainly changes made in recognition of the small amount of screen space available. Numbers for iOS gains interactive charts that work as they do in the desktop version (and are very cool), and you can now share your work by sending a link in iCloud, AirDrop, or mailing a copy to someone. You can now send that copy as a CSV file, joining the already-existing Numbers, PDF, and Excel formats.
The main interface, when working with a spreadsheet, is incredibly simple and clean. At the top of the main window is a small toolbar that controls your interactions with Numbers; you can jump to your list of saved spreadsheets, undo the last action, add and format objects, access a number of tools, share your work with others, and turn on a quasi-replica of balloon help from Mac OS releases of yesteryear. Beyond the tiny toolbar, 100 percent of the space is dedicated to displaying your spreadsheet.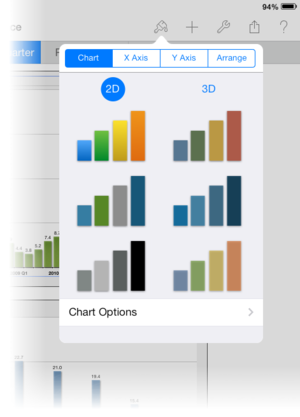 Compared with the desktop and Web versions of Numbers, the most visible difference is the lack of a right-side Inspector. Instead of an always-present space-sucking column, Numbers for iOS uses a pop-up menu that appears when you click the paintbrush icon in the toolbar.
While this isn't quite as easy to use as the always-there Inspector on OS X, it's a reasonable compromise between usability and efficient use of screen space.
One thing you won't find in Numbers for iOS, though, is the Filters feature. Filters allow you to quickly limit the data you see, based on rules you create. But if you want to create Filters, you'll need to use the Mac version. (If you've enabled a filter on an iCloud-based spreadsheet using Numbers for OS X, your view of that spreadsheet on iOS will have the filter applied. To see the unfiltered view on iOS, you have to dive into the Format pop-up, and then into the Table Options area, where you'll find a toggle to disable Filters.)
In use
How you feel about using Numbers on an iPad will depend on how you use it. If you can make use of Apple's redesigned (and very handsome) templates, then you'll probably love the experience. There's not much design or layout work to do, and probably not a ton of data entry. Used in this way, Numbers on an iPad is a great experience.
If, on the other hand, you need to build a spreadsheet from scratch, you may not find the process quite as enjoyable. While you can certainly do nearly everything you can with the desktop version, I quickly found that the lack of a real keyboard and minimal screen real estate led to a lot of tapping and jumping about to get things laid out properly. For example, I created this simple project to track the performance of some hypothetical boat sales people.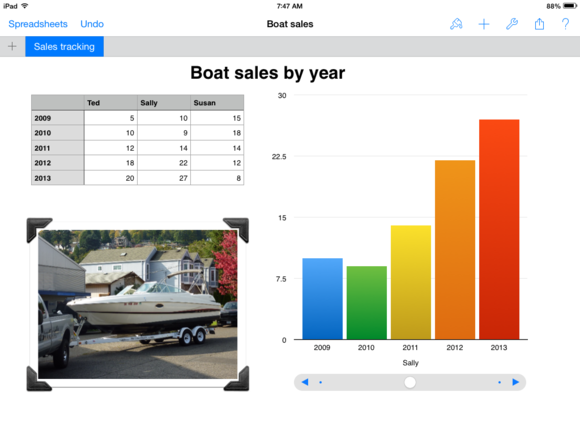 This simple project, with one table, one interactive chart, and one photo, wasn't overly hard to create on the iPad; it took me about 10 minutes. But inputting names and numbers into the table quickly gets old as you flip between text and numeric input; add in the work required to format cells to your liking, and the taps (and time) starts to add up. For a small table like this, it was bearable. But if you've got hundreds of rows and columns to populate and format, the process would be painful.
One nice addition in this version is the ability to add comments to cells and objects; this is a good way to remind yourself to check a value, or to adjust a chart, etc. Performance is also notably improved against the old version (which I still have on an older iPad); I was even able to open my 8MB test file in just under a minute on an iPad 3. (This same file takes over 30 seconds to open on my iMac, so it's not hugely slower on the iPad.) Once open, the large file worked fine, and I had no issues with slowdowns while moving around and editing cells.
The in-app help is very good, though the "coach" bubbles seem tacky and not overly useful. Instead of relying on the bubbles, just head straight to the full help.
Note that you must have an Internet connection to access the full help. Without a connection, you're stuck with the coach bubbles.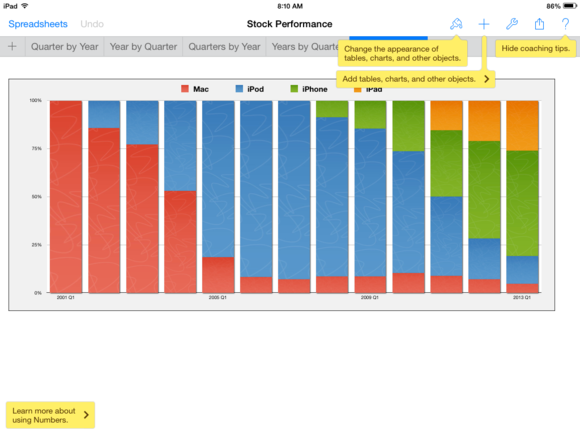 Bottom line
If you need to create spreadsheets on the go, Numbers for iOS is a solid tool. If those spreadsheets can take advantage of Apple's excellent templates, the overall experience is very good. If, however, you need to build a larger spreadsheet from scratch, the lack of screen real estate and a physical keyboard can make the process time and tapping intensive. But within those constraints, Numbers for iOS works quite well—it's not an Excel killer, but on an iPad, it doesn't have to be. It just has to be a good, solid, usable spreadsheet tool, and that's exactly what it is.