After trying out Apple's latest, decidedly meh Mail.app, it's hard to look at new email contender Unibox ( Mac App Store link) without thinking, "This is what Apple should have done." Its inner workings aren't quite as smooth as its splendid surface, but this smartly crafted client brims with innovative and appealing design ideas.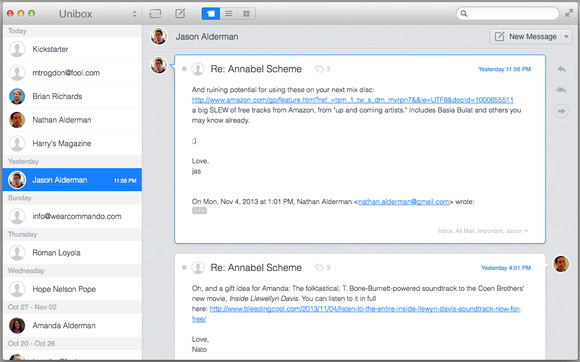 A breath of fresh air
Unibox can handle any kind of mail protocol you throw at it—as long as that protocol is IMAP. There's no POP support for dinosaurs like me who like to keep mail on the hard drive. But on the plus side, keeping things IMAP-only made setting up Unibox a snap. With my name, email address, and password, it completely configured my Gmail account in seconds. Unlike some other programs, it was even kind enough to warn me that downloading all my messages might take a while, and make the program sluggish in the interim, though I didn't notice any performance slowdown.
With a little time and exploration, I fell in love with Unibox's clean, confident interface. The program sorts your mail by the person who sent it to you, displaying those contacts in a single list on the left. That leaves the rest of your screen free to display every message from those contacts. If you want to focus on a particular conversation, click the icon next to any message's subject line; it'll even show you how many messages are in that thread. Two additional views let you switch from seeing a contact's messages to a complete collection of every attachment they've ever sent you, so you don't need to hunt down a given message just to find the file attached to it.
I liked how key design elements appear only when and where you might need them. Trash, Archive, and Junk buttons materialize to the left of whatever message you're hovering on, and as you move your cursor to the right, Reply, Reply All, and Forward buttons appear. It keeps the interface uncluttered, but the overall scheme's still easy to learn and understand.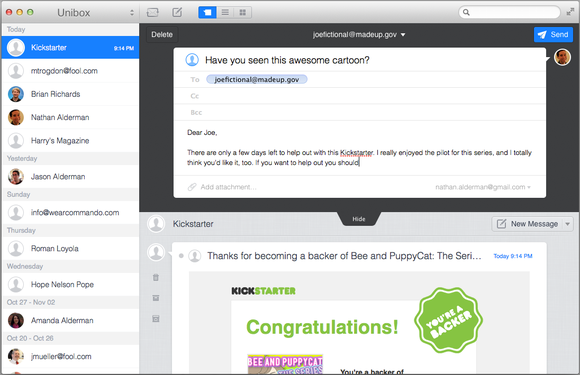 When you compose a new message, the window pops down from the top of the screen, letting you see what you're responding to without cluttering your interface with multiple windows. Again, To:, Cc:, and Bcc: fields appear only if you want them to, by clicking on an icon to the left of the Subject field.
A few notes for the next version
For all its wise and worthy interface feats, Unibox still has room for improvement. Searching is, well, kind of a mess. Searching didn't work well at first, seemingly only letting me search for contact names, not key words or attachment names. Following advice from the developer, I updated Unibox's message search index via the program's Preferences, after which I was able to get fast, accurate results when searching attached files and messages alike.
Also, Unibox's zeal for truncation occasionally goes too far. It'll inexplicably cut off the bottom of longer messages, and make you click a More button to read the rest. Trust me, Unibox: if I've chosen a particular message, I want to read all of it.
And alongside a few other sporadic graphical glitches and other quirks, I've noticed that every time I launch Unibox, it sits there showing me a blank screen, and doesn't bother to display my mail until I tell it to refresh. Unibox's bare-bones online help FAQs doesn't address that particular issue, nor anything more than the very basics of running the program.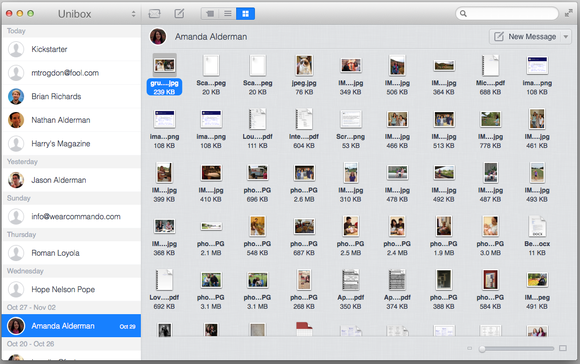 Bottom line
Ultimately, I'm more excited about what Unibox could be a few versions from now than what it is today. But especially in light of Apple's tepid, play-it-safe attitude with its own Mail, I have to salute Unibox's big, bold gamble on trying new things. Even with its problems, Unibox is a great app at a fair price.
Editor's note: Updated 11/19/13 with a revision regarding the search issue and the developer's fix.