There's little doubt that the iPad has revolutionized the PC industry, ushering us into a "post-PC" era. But while sales of Apple's iconic tablet are still robust, there are signs that they may be softening. If you dig into the sales numbers Apple issues every quarter and look at them over a longer time-frame, you have to wonder what slowing iPad sales could mean for the company moving forward.
Good news, bad news
When Apple introduced the iPad in January 2010, the rest of the tablet industry was miles behind. Despite months of rumors about the forthcoming product, no other tech company was prepared to match Apple's sleek, $500 creation when it launched. Early Android tablets like Samsung's Galaxy Tab and Motorola's Xoom were critical disappointments and commercial flops. When Google finally released a version of Android designed for tablets, it was buggy and slow, with hardly any tablet-optimized apps. Apple's iPad wasn't just the best tablet on the market: it was the only tablet worth considering.
Apple reaped the rewards. In its 2010 fiscal year, the first year the iPad was on sale, Apple sold 7.5 million of the things; in 2011, sales more than quadrupled to 32.4 million. With every passing quarter, year-over-year unit sales doubled or sometimes tripled. In the 2013 fiscal year (which ended this past September), Apple sold 58.3 million iPads.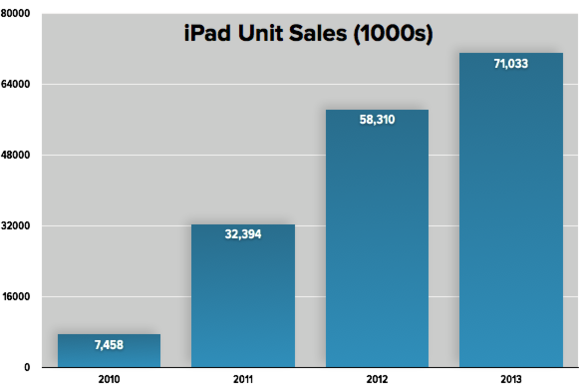 Even better for Apple, the iPad was slowly representing a bigger slice of the company's revenues, reaching 26.2 percent of net sales revenue in Q3 2012. When iPad sales doubled or tripled, iPad revenues doubled or tripled nearly in lockstep.
But if you look more closely, that growth hasn't been so robust recently. Look particularly at the quarterly earnings statements for the fourth quarter of its 2012 fiscal year (which covers July through September 2012), and you'd see that while year-over-year unit sales increased by 26.2 percent, revenue rose only 9.3 percent. The next two quarters were better, with unit sales up by 48.1 percent and 65.1 percent year-over-year, but average selling prices continued to fall. In 2010, the average selling price of an iPad was $665; in 2013, it was $450.
Then came the first sales decline in iPad history: In the third quarter of 2013, unit sales fell from 17 million units to 14.6 million units year-over-year, and revenues dropped by 30.5 percent. In the fourth quarter, unit sales were basically flat compared to the year before. Sales for the year were still up from the year before, but the pattern of constant year-over-year quarterly growth that once mirrored the iPhone's has clearly come to an abrupt end.To UBS analyst Steven Milunovich, that makes sense. ""Our view is that the iPad is being accepted faster but likely will not be as important as the iPhone over time," he wrote in a research note shared with Macworld.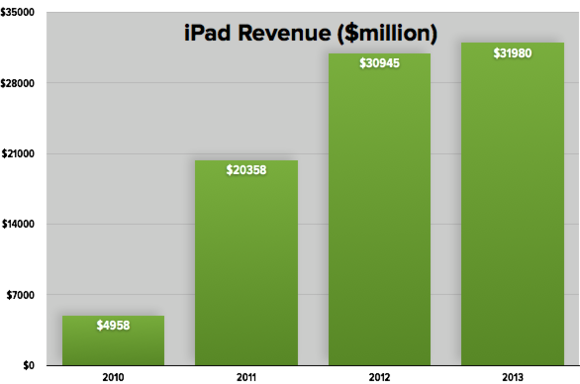 What's behind the sudden sales softening? Partly, it's just a matter of timing, as Apple is shifting its new iPad launch from spring to fall and didn't benefit from the usual new hardware sales spike. Milunovich, in his research note, offered a few other theories, such as longer upgrade cycles for tablets compared to smartphones, faster market penetration and narrower appeal than smartphones in general.
The drop in average selling prices would seem to be easier to explain. When Apple began selling the $399 iPad 2 in the spring of 2012, it provided a lower entry level for new customers, and is still the most widely-used iPad according to a recent study by Localytics. The $329 iPad mini brought the entry level even lower, at the expense of Apple's profit margins.
According to analyst Sameer Singh, "Early iPad buyers may have opted for models with higher storage, but the market began moving to consumers looking for a 'good enough' tablet."
A more competitive landscape
It's worth noting that Apple didn't permanently offer a $400 iPad in 2011, when the iPad 2 debuted and Apple still didn't have any noteworthy competition. Everything changed when small, cheap tablets began to flood the market. To blame slower iPad sales solely on hardware cycles and late adopters would be to understate the profound impact that cheaper tablets are having on Apple's business.
After more than a year of futile attempts to mimic the full-sized iPad, Android tablet makers had found a better angle: 7-inch slates like the Samsung Galaxy Tab II and Amazon Kindle Fire undercut Apple on price and were more portable than the full-sized iPad. They didn't receive the same critical praise as Apple's iPad, but their $200-or-so price tags were an effective lure.
These iPad alternatives started getting traction in late 2011, when Amazon debuted the Kindle Fire and Barnes & Noble launched the Nook Tablet. According to IDC, Apple's rivals grabbed 48.3 percent of the market during that holiday quarter. From there, Apple's rivals began experiencing the kind of leaps and bounds that the iPad had enjoyed in its early days, with year-over-year shipments increasing by at least 100 percent in nearly every quarter. In the last quarter of 2012, iPad alternatives were finally on top, with 29.6 million units shipped, compared to 22.9 million iPads sold.
There was a theory, shortly after Amazon's Kindle Fire launched, that these cheap tablets are like fruitcakes. Because Kindle Fire shipments tended to crater after the holiday season, pundits wondered whether these were the kind of tablets you bought as a gift, but that you'd never use yourself.
This theory isn't holding up as strongly anymore, as Android has matured and tablets like Google's Nexus 7 have launched to critical acclaim. According to IDC, Apple's rivals shipped 29.7 million units in the first quarter of 2013—a narrow gain over the previous quarter. The post-holiday cratering of Android tablet shipments has ceased, and in the third quarter, while iPad sales were falling, Apple's rivals shipped 30.5 million units—a gain of 169.9 percent year-over-year.
The savvy mini
If there's a positive spin to put on it for Apple, it's that the new iPad mini now looks like a brilliant defensive move. Rhoda Alexander, Senior Manager of Monitors and Tablets for IHS iSuppli, said that the mini represented 60 percent of iPad sales in the third quarter. IHS projects that it will represent 61 percent of iPad sales in all of 2013. The market has shifted toward smaller, cheaper tablets; it's a good thing Apple was ready.
Sameer Singh says that if Apple hadn't introduced the mini, its sales probably would have been far worse than they are now. "I think it's now clear that the full-size iPad's market position wasn't sustainable given the influx of low-cost devices," he wrote in an email.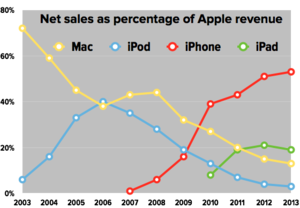 The other upside for the iPad is that it continues to outshine its rivals in usage share. A recent report by Chitika Insights claimed that 81 percent of tablet Web traffic in the United States and Canada comes from the iPad. Despite Android's market share gains, people don't seem to be using those iPad alternatives as much.
"Research suggests a substantial buyer remorse for low-cost tablets," UBS's Steven Milunovich wrote in his research report. "Apple might be right about its superior user experience luring Android customers to switch over time, and growth will reaccelerate."
Rhoda Alexander of IHS iSuppli believes that the market will swing back to larger tablets—perhaps even larger than 10 inches—in 2015 and 2016, as people seek more productivity from their tablets. "If you want to move this product to a larger screen size, you have got to make a use case that makes it compelling for users," Alexander said in an interview. Content creation was a major focus during Apple's latest iPad announcements, underscored by the offer of free iWork and iLife suites with the purchase of new hardware.
For now, look for Apple to recalibrate. The new full-sized iPad Air has a fresh design, resembling the iPad mini's narrowly-bezeled chassis, and weighs just a pound. The mini, meanwhile, is getting a Retina display and the same A7 chip as its larger sibling. And while the new mini's price is rising to $399, Apple's keeping the old one around for $299, bringing the iPad even closer in price to its Android rivals. Both devices, along with the overhauled iOS 7, will likely give Apple a much-needed boost. Gone are the days of magic and revolution—and the unbelievable sales growth that came with it. But there's still head-room for the iPad.