Pixelmator 3.1 Marble ( Mac App Store link) is the latest iteration of an image-editing app that's often viewed as the hobbyist photographer's alternative to Adobe Photoshop. Much attention has been focused on Pixelmator as enthusiasts seek to escape the confines of Photoshop CC subscriptions. Recently, Apple featured Pixelmator as part of its performance demos of the new Mac Pro, so it's no accident that the Pixelmator Team has now released a fresh update of the program roughly in tandem with Apple's new flagship desktop Mac. That said, version 3.1 follows closely on the heels of Pixelmator 3.0 FX, whose new features are included in this review.

Pixelmator shares some basic features in common with Photoshop. As a full-service image editor, it has an extensive, Photoshop-like toolbar that offers a slate of traditional, recognizable controls that most photographers need for editing, compositing, and enhancing images, as well as for drawing and painting. The program also offers a wide range of special effects in categories such as Blur, Distortion, Sharpen, Color Adjustments, Tile, Stylize, Halftone, Generator, and more.
Layer styles, liquify tools, and a new image-editing engine highlighted the new features introduced in October 2013's Pixelmator 3.0 FX version, which was tailored to the release of Apple's Mavericks operating system. That version made creating polished compositions with nondestructive editing tools an easy and smooth experience.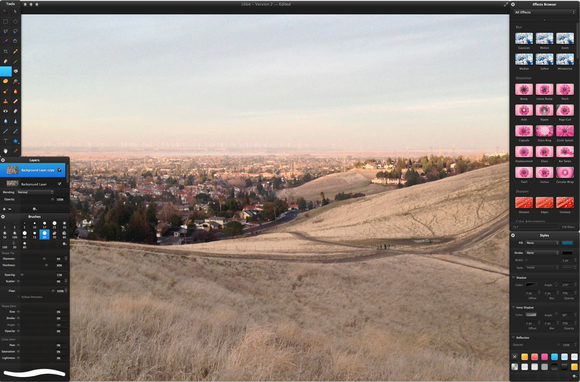 With its enhanced, multiple-display support, Pixelmator offers even more flexibility to open window palettes wherever you want to, and on any display you choose.
The new Liquify tool lets you twist parts of an image, add whimsical artistic detail, or distort images in whole or part with the Warp, Bump, Pinch, and Twirl commands. Click or drag to enlarge, pinch, squeeze, or stretch parts of your images for a grotesque look or to create and enhance unusual details. I found these tools to be fluid with excellent performance, both on an old Mac Pro, and on a newer iMac and a MacBook Air. The program's support for both iPhoto and Aperture in accessing libraries, events, and albums within its browser palette is an added convenience.
Pixelmator offers a slate of useful consumer features that Photoshop added over time, such as the healing tool and red-eye removal. It even has a full complement of vector tools, which work well, though their capabilities are restricted.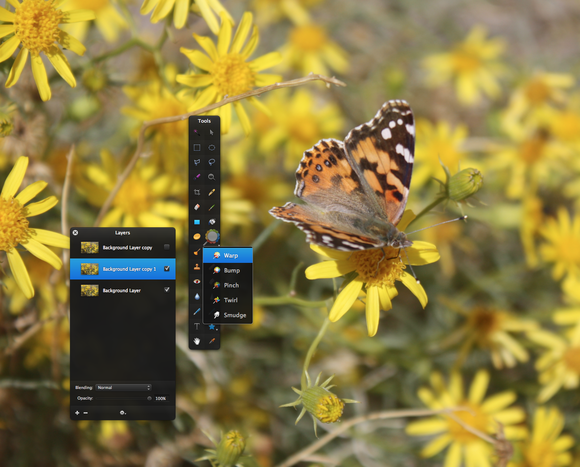 With version 3.1, Pixelmator adds 16-bit performance, which means that you can open and edit high-bit-depth files in this version of the program—but saving and converting to 16-bit is reserved for the Mac Pro.
Another new feature introduced in version 3.1 lets you print cards, posters, gallery frames, and postcards, from within the app, via the MILK Print on Demand service. The ordering process is easy, with step-by-step instructions.
Overall, the program was smooth and stable, and it operated as I expected in most instances on a selection of Macs that most users would likely own. The layers palette provided the flexibility to experiment nondestructively with multiple effects and edits simultaneously. The challenges that I encountered involved the program's interface and the effect it has on general usability.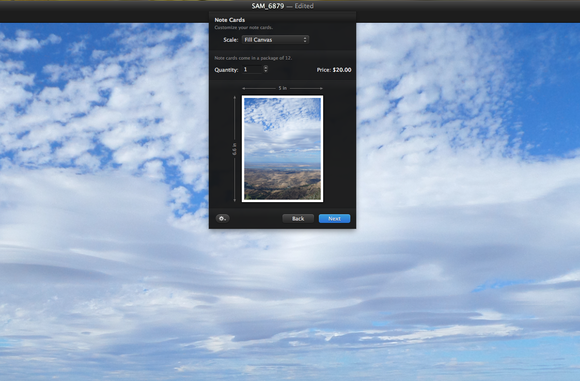 Interface dilemmas
Despite Pixelmator's many fine qualities, the interface still presents challenges.
Pixelmator has torn a page from its Adobe counterparts with a dark—in this case stark black—background. Some people like this, but I find it a bit much. It's hard to read tiny type of any kind, and even harder if that type is white on a black background. Adobe offers some limited color scheme choices; Pixelmator should do the same. That said, the colorful, consumer-friendly toolbar icons are a relief compared with the monochromatic, beveled look of iPhoto and Photoshop.
For years Adobe has offered a choice in how to group Photoshop panels together, and Pixelmator's independent palettes may well appeal to some users. But for Mac artists who finally reconciled with the all-in-one application frame, reverting to mandatory independent windows may be an unpleasant adjustment. Then, too, Pixelmator's floating palettes are not dockable, which tends to introduce even more chaos on your desktop.
The lack of a tabbed interface in the main window makes it harder to switch between separate images for compositing. Details like the program's inability to lock a layer can result in some frustrating keyboard-mouse acrobatics.
And while there can be no complaints about 16-bit capability—users have been clamoring for this feature—it seems silly not to have extended that capability to all Macs capable of handling it, not just the Mac Pro. Pixelmator says it is working to implement 16-bit support for other Mac models.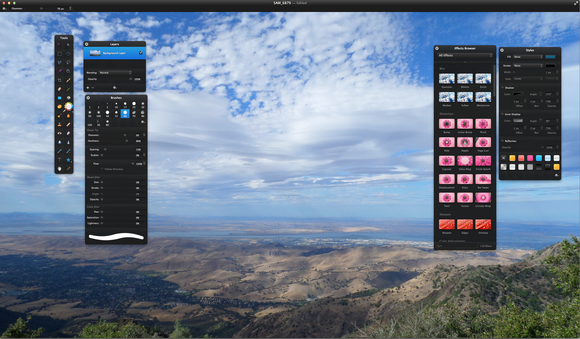 Bottom line
Photo-editing enthusiasts who seek to replace Photoshop with Pixelmator have to accept Pixelmator on its own terms. It's an advanced consumer app that, with version 3.1, gains additional flexibility and features for both consumers and prosumers.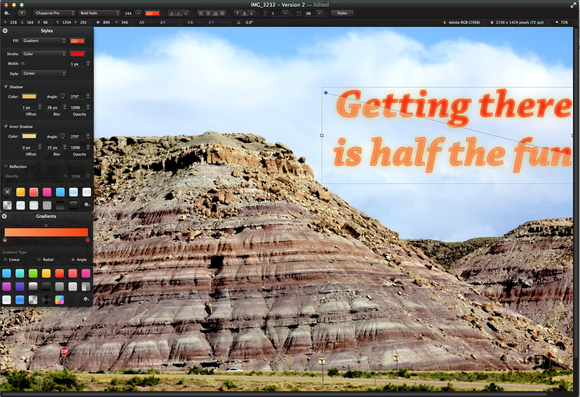 Despite the fact that certain Pixelmator features resemble those found in Photoshop, Pixelmator is not Photoshop, and it does not pretend to be. Still, it will likely please many photography enthusiasts who do not have to work in CMYK or other color spaces or modes, and who don't need video capability or sophisticated Photoshop-style nondestructive adjustment layers. Moreover, while photo pros who collaborate in groups or work in standardized environments still need Photoshop, most hobbyists probably do not.
Pixelmator 3.1 is a fine upgrade, on top of a recent major upgrade, so if you're running an earlier version of Pixelmator, it's worth installing the new version now. If you're running Mavericks or working on a Mac Pro, you'll get a special speed advantage, but most new features in versions 3.0 and 3.1 will benefit all users.
Use your iPhone or iPad for photography? Get pro tips for taking better images at our photography session at Macworld/iWorld in San Francisco March 27-29.