At a Glance
Expert's Rating
Pros
Impressively thin
Multi-Touch surface with a good assortment of supported gestures
Pairs with two Macs simultaneously
Feels solid and sturdy, despite its size
Cons
Thin profile makes it less ergonomic than a full-size mouse
Can't assign custom gestures and actions
Our Verdict
Logitech's Ultrathin Touch Mouse T631 sacrifices some ergonomics for portability, but the result is an impressively travel-friendly mouse that gives you much of the Multi-Touch functionality of a trackpad.
The trackpad on Apple's MacBook models is pretty great, but trackpads aren't ideal when it comes to ergonomics—a separate mouse or trackpad, off to the side, is better for your fingers, hands, and wrists. So except for those times when I'm actually using my laptop on my lap—and, thus, don't have a flat surface to host a mouse or Magic Trackpad—I always have an external pointing device handy.
If you mainly use your MacBook at a desk, you can use any full-size, ergonomic pointing device. But when it comes to travel, a mouse presents a couple challenges. First, few travel-friendly mice support the kinds of Multi-Touch gestures Mac users have become accustomed to. Second, those that do—such as Apple's own Magic Mouse—are large and heavy enough that you definitely notice them in your bag. (Apple's Magic Trackpad is thin enough to slip into most laptop bags, but it's heavy.)
Logitech's $70 Bluetooth Ultrathin Touch Mouse T631 for Mac aims to solve those challenges by offering Multi-Touch features in a tiny, lightweight design that's stylish and sturdy enough to earn a spot next to your MacBook. (Though designed for portable use, the T631 works fine with any desktop Mac.)
Thin is in
The first thing you notice about the T631 is that the word Ultrathin in its name is an apt descriptor: The mouse is roughly 3.4 inches long and 2.3 inches wide at its widest point—already small for a mouse—but it's just 0.7 inches thick at its thickest point. That's about a third of the height of my current travel mouse, Logitech's Anywhere MX (see the image below). And at just 2.4 ounces, the extra weight in your bag is barely noticeable. It slips into a pocket of your laptop bag—or even your jeans—without adding bulk or bulge.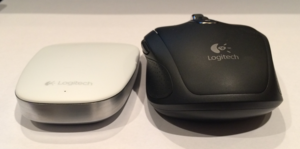 What I've always liked about the Anywhere MX is that despite being a compact mouse, it's thick and large enough to still be ergonomic and comfortable. The T631 doesn't provide the same hand-filling comfort, but it's not uncomfortable, either. You'll need to learn to hold the T631 a bit differently than a traditional mouse, but it's comfortable for such a small device. One minor complaint I have here is that the T631's slightly trapezoidal shape meant that it always sat slightly crooked in my hand, though not enough to make accurate mousing difficult.
Like Apple's Magic Mouse, the T631 has no dedicated mouse buttons. Instead, the entire surface of the mouse acts as a button: Press down on the left side, near the top, for a standard click; press on the right side for a right-click. (Lefties, you can swap these actions using Logitech's software.) The mouse requires enough of a firm press to avoid accidental clicks, and the tactile "click" you feel is satisfyingly obvious.
The T631 uses a 1000-dpi optical sensor. In my testing, the mouse was plenty accurate—noticeably more precise than my MacBook's trackpad—though it didn't feel quite as precise as the Anywhere MX.
Bluetooth, two
The sides and part of the bottom of the T631 are made of brushed metal, with a black-plastic base hosting a Micro-USB port for charging the internal lithium-polymer battery. (Logitech includes a USB-to-Micro-USB cable in the box.) The company says you should get about 10 days of use from a 1.5-hour full charge. That seems about right based on a few weeks of testing, though the fact that the charging port is on the bottom means you can't use the mouse while it's charging. However, you can get about an hour of use from a one-minute quick charge, so this ends up not being too much of a hassle. On that bottom plate you'll also find an On/Off switch, a Bluetooth-pairing button, and a switch for toggling between two paired Macs.
Two? Yep, just like Logitech's Easy-Switch Keyboard, the T631 lets you pair with multiple Macs. You can use the mouse with your MacBook on the go, and when you get home, you just flip the switch to use the T631 with your desktop Mac—you don't have to go through the hassle of re-pairing each time.
A tiny LED next to the Logitech logo on top of the T631 uses colors and blinking to indicate battery status (low, charging, charged) and Bluetooth status (discoverable, pairing, paired, reconnecting).
Nice touches
What makes the T631 unique—apart from low profile—is that its entire top, which is slightly rounded but feels nearly flat, is made of matte-white plastic and acts as a Multi-Touch surface. By installing Logitech's Preference Manager software (compatible with OS X 10.6.8 or later), you can customize the available multi-touch options. (Despite the T631's compact size, it's actually slightly wider than Apple's Magic Mouse, and it gives you roughly the same Multi-Touch area.)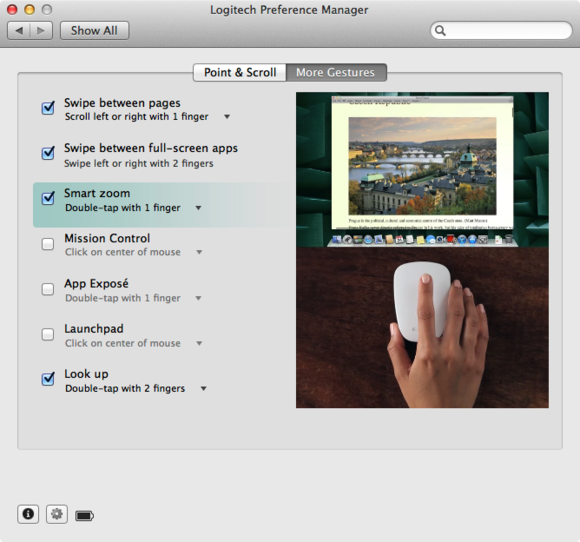 You of course get the basic scroll gesture: Slide a finger up or down to scroll within the current window. But Logitech's software offers seven other possible actions:
Back and Forward in a Web browser using right and left gestures, respectively (you choose the gesture: one- or two-finger swipes, or one-finger scroll)
Switch between Mission Control workspaces using two-finger left/right swipes
Zoom in and out on Web pages, iOS-style (choose between 1-finger double-tap, 2-finger double-tap, or clicking the center of the mouse)
Toggle Mission Control (choose between 1-finger double-tap, 2-finger double-tap, or clicking the center of the mouse)
Toggle App Exposé (choose between 1-finger double-tap, 2-finger double-tap, or clicking the center of the mouse)
Toggle Launchpad (choose between 1-finger double-tap, 2-finger double-tap, or clicking the center of the mouse)
Look up definition or thesaurus entry for selected word (choose between 1-finger double-tap, 2-finger double-tap, or clicking the center of the mouse)
The fact that the final five of these actions share three possible gestures means that you really get just five usable actions in total—you pick which of those final five you're most likely to use. That said, five is already a good number to remember in addition to the usual mouse movements and actions—I'm not sure I'd actually use seven additional gestures. I do wish, however, that you could assign other custom gestures and actions without resorting to a third-party app such as BetterTouchTool.
In my testing, most of these gestures worked well, and once I memorized them, I found myself using them frequently—especially zoom, define, and workspace switching. The pads on the bottom of the T631 provide just enough friction to let you perform most gestures without having to hold the mouse stationary. However, the Back/Forward gestures for webpages didn't always work for me. I had these actions assigned to one-finger swipes, and when I would try to go back to the previous webpage, I would sometimes instead scroll the page horizontally.
Logitech's software also lets you tweak traditional mouse actions. As I mentioned, you can swap left and right clicks, but you can also add a middle click for software that supports it, and you can adjust the tracking and scrolling speed. (Unlike with Apple's trackpads, you can't configure the T631 to let you tap the Multi-Touch surface to "click"—mouse clicks always require that you actually press the mouse.) You can also disable the default inertial scrolling feature, so that scrolling stops immediately if you stop swiping, and if you don't like OS X's default scroll direction, there's a checkbox here to invert it. The preference pane also displays the mouse's battery level.
Bottom line
The Ultrathin Touch Mouse T631 isn't the most comfortable travel mouse I've used—for me, several of Logitech's larger travel offerings would compete for that title—but it's comfortable enough, and it's one of the most portable and functional mice I've tested. Its low profile makes it easy to slip into the slimmest of laptop bags; its Multi-Touch gestures give you much of the functionality of a MacBook's trackpad with the ergonomic advantages of a mouse; and the fact that you can quickly switch between two Bluetooth-paired Macs makes the T631 more versatile than a single-device mouse.