Apple's recent revamp of the iLife suite has added great new features to each of its Mac and mobile apps, and iMovie for iOS is no exception. The mobile app feels faster and more fluid on both the iPhone and iPad; it offers new quick ways to slow down and share your videos; and provides more audio options for those interested in changing the soundscape of their clips.
iMovie's new design
The iOS version of iMovie gets a slightly less radical redesign than its Mac counterpart, since the mobile app is, by its nature, more streamlined. But it's well done nonetheless: Gone are curtains and any skeuomorphic remnants of theaters and filmmaking, replaced by a beautifully simplistic iOS 7 overhaul that splits the app into three main categories: Video, Projects, and Theater.
One of the big changes in this version is the focus on easy clip viewing and sharing; it makes the app feel more library-friendly, like iPhoto, and less like a stand-alone video editor. The Video screen is your Library equivalent, showing you mini timelines of the clips in your Camera Roll. The Favorites feature makes its first appearance on iOS with this update, allowing you to organize your clips by tapping the Favorite button, which is shaped like a heart; after you've tagged clips, you can tap the drop-down arrow to change the view from all your clips to just your favorites. (You can also organize these by Oldest or Newest.)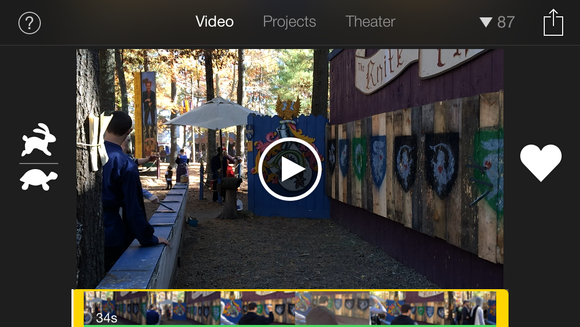 You can tap any filmstrip in Video mode to make it larger, as well as instantly slow down or speed up the clip (though on the iPhone, you'll need to switch to landscape mode to use those controls). You can even share clips on the spot, sending them to iMovie Theater or choosing another sharing option.
If you're looking for a quick way to send slo-mo clips to Instagram, you can do so by selecting the speed you want for your video, sharing it to iMovie Theater, and then visiting the Theater tab. From there, tap the video, tap the Share button, then select Save Video to send the speed-adjusted clip to your Camera Roll. Then you upload to any third-party service you desire.
Of course, iMovie is an editing program first and foremost. If you want to share more than simple clips from the Video tab, tap the Create Movie option from the Share button. This sends your currently selected clip to the Projects screen, though first you must decide if you want to create a new project with it or add it to an older project in iMovie. After you do that, the editing fun begins in the Projects tab. (You can also always start or enter a project by tapping on the Projects tab, then selecting your project or tapping the plus button (+) to create a new movie.)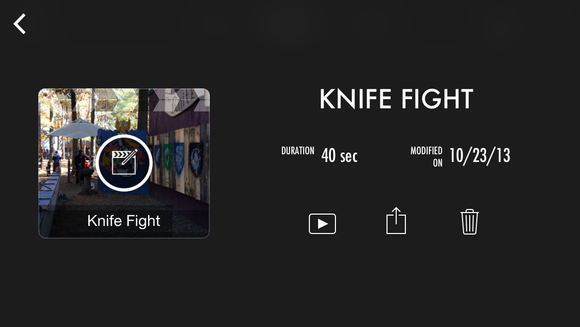 The Projects tab looks much like an Events view at first; tap a project to get a brief informational overview, options to share or export it, and a button to enter editing mode. Note that you can share a project only via AirDrop or iTunes; the other sharing options actually export a static version of your film, rather than the project and its metadata. AirDrop sharing is pretty neat, plus it's the sole option for sending projects wirelessly from one iOS device to another. It works so perfectly that it almost makes me mad that there's no way to similarly send projects to the Mac; I'm hoping this capability appears in a later update, because such a feature would be wonderfully useful.
The Theater tab, as mentioned above, displays any exported videos in a movie-poster gallery; and thanks to iCloud, these videos also show up on any other Mac or iOS device that has iMovie installed and is linked to your Apple ID. Think of it sort of like Photo Stream for your edited videos.
As a quick way to share video on your TV or other devices, iMovie Theater is stellar: You can cut something on your Mac and push it to your iOS device, which you can then take with you and show off wherever you want. You don't even have to download it to your device—iMovie Theater stores everything on its server by default, so you can stream it if you have a data connection or download it ahead of time—your choice.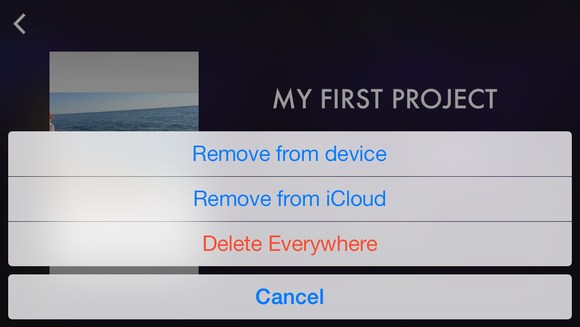 iMovie Theater does have a few limitations, unfortunately. Unlike Photo Stream, any video you share counts toward your iCloud storage limit; people with the default 5GB of storage may find themselves quickly running out of room. If you re-export a project video, it appears as a duplicate, rather than replacing the old version. And perhaps most annoyingly, you can't share projects—only final videos. Project sharing can still be done from iOS device to iOS device, but you currently can't transfer projects to the Mac.
New effects and advancements
It would be wrong to review iMovie without spending some time talking about its new editing features, and though the changes aren't as plentiful as they are in iMovie for OS X, they're still impressive, adding more pizzazz to an already easy editing experience.
Hello, Undo button: Undo is hyper-prominent in iMovie for iOS—it's shaped like a small U-turn arrow on iOS devices, and appears right next to your timeline. It's exceedingly useful, especially when it comes to removing whatever multitouch-gesture mistake you may have made. (My favorite: Swiping up on a clip cuts it and creates a freeze frame. Swiping down creates a standard cut. Remembering which one is which is a super-fun game.)
Multilayer editing: Though you can't drag clips on top of each other to create an overlay in iOS (as you can on the Mac), you still get access to the OS X version's picture-in-picture and overlay options for clips. On the iPad, you position your timeline cursor, select the clip you want from the media library (shown outright on the iPad, but hidden behind a strip-and-note icon on the iPhone), and tap the ellipses button. From there, it's up to you whether you want an overlay, picture-in-picture, or side-by-side clip.
Once you import that clip, you can move it anywhere on a newly created second video line—but, sadly, there's no way currently to drop it back into the main timeline. That's something for Apple to improve on in its next update, with any luck.
Effects changes: Whether you want to speed up or slow down a clip, duplicate it, add a title, or split/freeze a clip, you can do so from iMovie's redesigned Effects menu. Tap a clip, and the menu appears at the bottom of the screen; you can view each screen's set of items by tapping on the ellipses to the right of the buttons, or you can tap on a button to add the effect. (Weirdly, you can't swipe on the Effects menu, as the ellipses suggest.)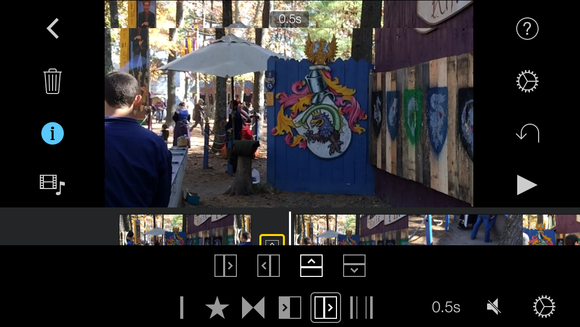 Bullet time: If you want to go for the more-nuanced speed variations found in the iPhone 5s Camera Roll, you'll need to use the speed controls in editing mode. The best way to do this is to split up a single clip into multiple sections and decrease the speed for the middle clip; however, if you prefer, you can just do a straight speed adjustment. iMovie's adjustments range from one-quarter to two times the normal speed of the clip.
New audio advancements: The first version of iMovie for iOS lacked any sort of major audio adjustments beyond the ability to set a background track; this version acknowledges that shortcoming and adds a whole host of options, including detaching audio, splitting audio clips, changing the speed and pitch, fading and duplicating clips, and sending them to the background. Though working with audio can be a little tricky on the iPhone, it's still surprisingly doable.
Slo-mo recording in-app: If your device supports 120-fps video, iMovie has an in-app camera available that lets you toggle between 1080p at 30-fps video and 720p at 120-fps (or 60-fps, if you're on an older device like a non-Retina iPad mini or an iPhone 5). It's a nice option for inserting clips into trailers or other places in your timeline.
New gesture—pinch to crop: The iMovie app for iOS gets another great multitouch gesture in this update: You pinch to crop video. Tap on a clip, and a magnifying glass appears; tap the magnifying glass to pinch and pan around the clip until you have it framed the way you want.
Bottom line
iMovie for iOS remains as easy as ever for cutting together quick films, and now Apple has also simplified both the organization and the sharing of stand-alone clips. I do wish there were more video effects options beyond slow-motion and picture-in-picture, but I suppose Apple has to save something for version 3.0. Project sharing, too, could use some work; and while using AirDrop is great, it seems crazy not to also offer iCloud uploading and sharing via iMovie Theater. These nitpicks aside, however, the software is a must-have for anyone who wants to shoot video on their iOS device.