Twitter follower Ben Collins ( @shaolin108) has a question about Mavericks' Finder Tags. He tweets:
Can you add Finder Tags to Mac App Store purchases in Mavericks? I'm making app categories (photos, utils, etc) and can't get it working.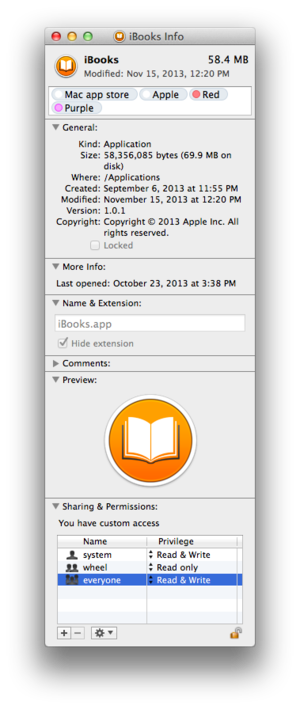 This doesn't work because you don't have the correct file permissions to add tags to these applications. Go ahead and select an application that you've obtained from the Mac App Store and press Command-I. In the Info window that appears take a gander at the Sharing & Permissions area. You'll see three owners and permissions listed—system (Read & Write), wheel (Read only), and everyone (Read only). Only the root user (system) has the ability to write to these applications and writing is exactly what's entailed when you attempt to apply a tag.
There's a way around it, however. Simply click on the Lock icon at the bottom of the Info window and enter your Administrator's name and password to unlock the application. Now click on the Read only entry that appears next to everyone and change it to Read & Write. Close the Info window and you'll discover that when you select this application, the Tags menu becomes active, indicating that you can tag the thing to your heart's content. Add the tags you like and they become as searchable as any other tagged item.
If you're concerned about leaving that everyone permission set to Read & Write, after you finish your tagging you can change it back to Read only in the Info window. Your tags will remain.