I always liked the sleek, useful Mail component of Opera, back when the iconoclastic browser was trying to be all things for all people. Now that Opera's dramatically slimmed down its browser, it's turned Opera Mail into a standalone program. Though Opera Mail made a bad first impression in my testing, it eventually won me over with its intelligent features and dogged competence.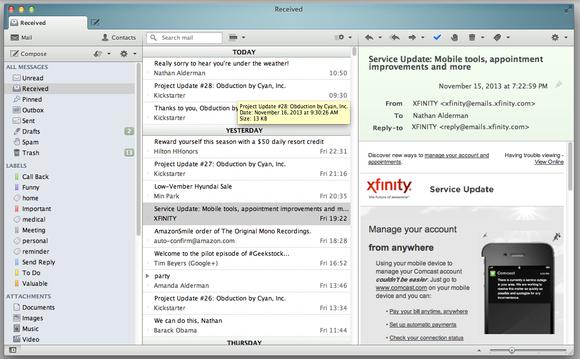 Greetings from 10 years ago!
Opera Mail reminds me of Mozilla's open-source Thunderbird—with a similar rickety, aging substructure that particularly shows in its initial setup. (Opera Mail does use Mozilla source code.) Modern email clients often make importing or creating accounts a snap, but Opera's import features didn't really work at all.
When I selected the Import from Apple Mail option, Opera couldn't find the files it needed; they may have been revised out of existence by newer versions of Mail.app. The only other import options, besides the equally unhelpful "generic mbox," were Opera, Eudora, or Netscape.
After I shrugged and set up a new account manually, things started looking up. I was able to add a Gmail account via IMAP with very little trouble. And while it doesn't work with Microsoft Exchange, Opera Mail is one of the rare modern clients to still support POP mail. It also builds in support for RSS feeds and Usenet newsgroups, a nice feature in an age when most other clients no longer incorporate those services.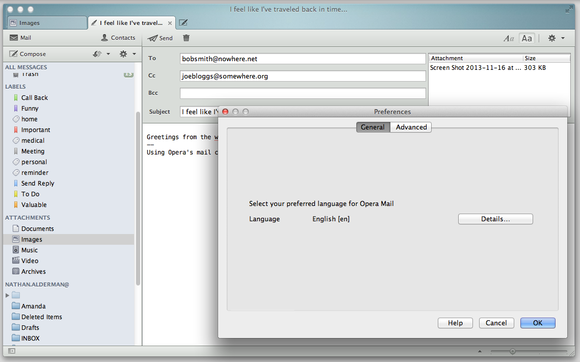 A marked improvement
With an account set up, Opera Mail took a swift turn for the better. Its coherent but bland interface won't win any prizes, but it works well. The program downloaded a ton of Gmail messages quickly, and displayed numbers and a progress bar on how the initial setup was going—a much better alternative to many other clients, which keep you in the dark as they populate your mailbox. I was also glad that Opera Mail didn't make me struggle to see all my messages; with separate categories for Unread and Received mail, I could easily browse the entirety of my inbox and archives.
Once my mail had arrived, Opera Mail automatically sorted it into a variety of categories. I found the "mailing lists" feature unhelpful (but easily hidden), but I really liked its categories for photos, videos, and other attachments. You can swiftly and accurately search message text within these categories, though Opera Mail can't search by the actual names of attached files.
By default, Opera Mail won't display images in messages, but it does a good job rendering HTML mail once you tell it to. The default three-column view—mailboxes, message list, and individual message—leaves most mail squeezed into a narrow frame, but a bit of searching reveals a settings menu where you can switch to a different layout that makes messages larger and more prominent.
Opera's tabbed interface lets you keep multiple messages open simultaneously, though it won't let you browse the contents of multiple mailboxes. When you compose a new message, it opens in a new tab, a handy clutter-cutting touch.
Opera's preferences are unfortunately sparse, Spartan, and unappealing, and there doesn't appear to be a Mac-specific section in its online help files. Luckily, the program's easy enough to figure out with a little practice.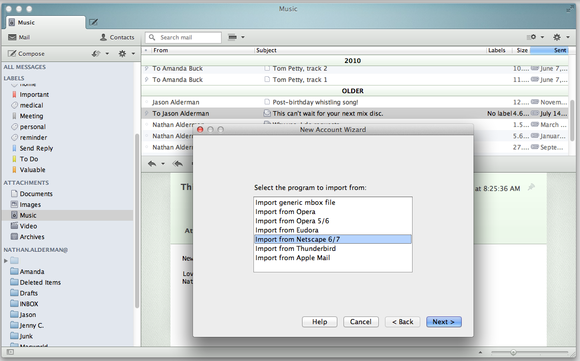 Bottom line
For a free mail client, Opera Mail isn't bad. Its archaic roots help it as often as they hinder it, and while it may not be pretty, it works impressively well. If you need POP, RSS, and/or newsgroup support, it's definitely one of your better options.