Bid adios to stitched leather, friends who like to find other friends. Apple's released an update for its Find My Friends application, giving it an iOS 7-style makeover that brings it up to par with the company's other apps, including Remote, Podcasts, Find My iPhone, and iBooks.
The origins of Find My Friends's bizarre fascination with stitched leather are lost in the mists of Ricardo Montalban's smoky 1988 voiceover, but it's rumored that no less than Steve Jobs himself was a fan of the skeuomorphic texturing.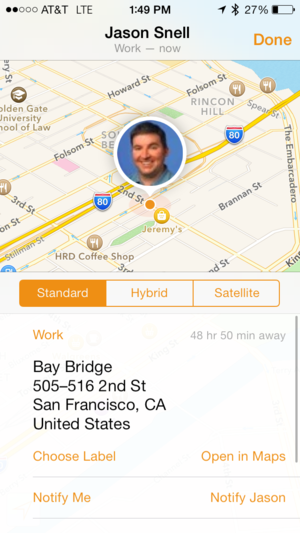 The new version abandons such fanciful flourishes for a more straightforward design, that—like much of iOS 7—has a largely white interface, with sparse color highlights. (In the case of Find My Friends, that accent color appears to be orange.)
Upon launch, a map takes up most of the screen, displaying your friends' location. Also gone in this update are the dots representing your friends; now you'll actually see their circular contact pictures on the map. Tap on any of those pictures and the circle will expand, showing you a larger image of your friend. In addition, a toolbar slides down from the top, showing you their location's label and when they were last pinged, as well as options to display their contact information, set up geofencing notifications, and more.
All of the features of Find My Friends you know and love remain intact in this update, which is largely an aesthetic revamp, though you may find some features in different areas than in iOS 6.