I'll be very upfront about this: I have invested more time than is probably healthy playing mobile games from NimbleBit.
Tiny Tower? I've built a virtual skyscraper that scratches the upper limits of the stratosphere. Pocket Planes? I'm less enamored with that one, but I did spend some time building a fleet of 8-bit planes to master the friendly skies.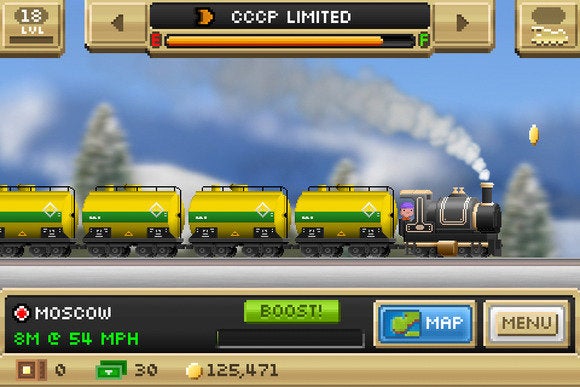 NimbleBit is back in the world-building business with Pocket Trains, available for both iOS and Android. It's a similar concept to Pocket Planes—you move people and cargo from Point A to Point B, earning virtual currency you then use to expand your transit empire—only the action has moved to the rails instead of the skies. I also happen to find Pocket Trains a more enjoyable causal game than Pocket Planes, for whatever reason. Maybe I'm just a train kind of a guy.
(On a related note, after creating games centering around planes and trains, all NimbleBit has to do is roll out one involving automobiles and John Hughes's chilling prophecy will finally come to pass.)
Pocket Trains is the kind of game you can pick up, play for a few spare minutes, and put right back down—exactly the sort of thing I look for in a casual mobile game. And it's got a fun daily challenge feature—move a certain amount of freight to a particular city, for example—that keeps the gameplay fresh.
That said, my colleague Nate Ralph hit upon the limitation of games like this in his review of Tiny Death Star, another NimbleBit offering. And that is, these kind of world-building games are pretty fun, right up until the moment that they aren't—when you've built all that you can build and the act of maintaining your railway empire (or your tower or your Death Star) becomes more of a bother than a joy.
Pocket Trains is a free-to-play game, meaning you can download it and start on the path to becoming a railroad tycoon without paying a single dime. That said, gamers who demand instant gratification will feel the urge to use in-app purchases to build-up their bankroll. Me, I'm more of the patient sort, and I've managed to amass a railway system spanning four continents in just a few weeks without going the in-app purchase route.
If you like the idea of building a vast network of railroads but at your own pace and without any real-world expense, then Tiny Trains is a worthwhile ride.