As a Web developer and project manager, I maintain lots of notes that I edit, not only on my Mac, but also on my iPhone and iPad. I prefer to keep my notes in plain text format partly for philosophical reasons, but mainly for the sake of simplicity and flexibility. My formatting needs are pretty simple and Markdown works great for me; typical word processing apps, like Microsoft Word and Pages are simply overkill. Likewise, by working with plain text, I have a wide array of apps to choose from on my Mac and iOS devices, while my choice of word processing apps is severely limited in comparison. Additionally, since plain text is a universal file format, I have no need to worry about whether or not my colleagues can open the documents I send them.
Only one thing, though: while this works great for regular text-oriented documents, I tend to do quite a bit of estimating, which also requires performing some calculations. That's traditionally been the role of spreadsheet apps, like Excel or Numbers. (I'm no stranger to spreadsheets as I started my computer career back in the Dark Ages as an analyst, peering endlessly into the glowing green screen of an IBM-PC running Lotus 1-2-3.) So now we're back to the plain text versus binary format quandary. How can I crunch numbers but stay within the comfort of plain text and Markdown? Luckily, Krueger Systems, Inc. has come to the rescue with Calca for Mac and iOS.
In essence, Calca is a Markdown-powered text editor that also understands math and performs calculations. This allows you to mix calculated results with regular text within the same document. For example, a Calca document can contain variables, such as "length = 5" and "width = 10", perform calculations on them, such "area = length * width" and then produce the result thusly: "area => 50". As you might have already guessed, as soon as you type the "=>" symbol, Calca inserts the calculated result (50). Of course, as any spreadsheet jockey would expect, when you change the values of the variables, the results will change automatically in the document as well.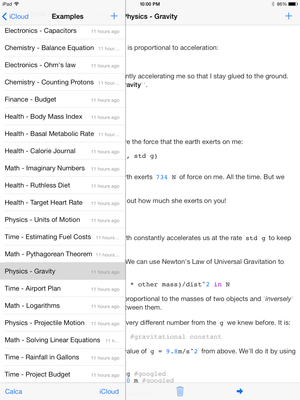 Calca isn't limited to just performing simple arithmetic. You can build functions which can be reused multiple times within a document. You can solve algebraic equations, sum ranges of numbers perform logical functions, and so on. Lots of examples are provided at the developer's website as well as within the wide variety of sample documents included with the app.
Since Calca is very mathematically-focused, the iOS app's keyboard provides two extra rows of keys to help with entering numbers and mathematical symbols. On the iPad, this works fine when you're working in portrait mode, but the enhanced keyboard uses up too much valuable screen space in landscape orientation, leaving room for only a few lines of text to appear on the screen. The enhanced keyboard would easily take up the entire screen on an iPhone or iPod touch in landscape mode so this is likely the reason why the app works only in portrait mode on those devices.
The iOS version of Calca also provides some nice editing touches. For example, you can move the cursor within the current line by dragging your finger anywhere on the screen, similar to the method proposed in Daniel Hooper's popular concept video. Also, considering that you'll likely be changing numbers stored in variables, you can easily select those numbers with a single tap rather than the usual double-tap or tap+drag gestures. Then, with the number selected, you can either type over it or drag your finger left/right or up/down anywhere on the screen to increase or decrease the value incrementally.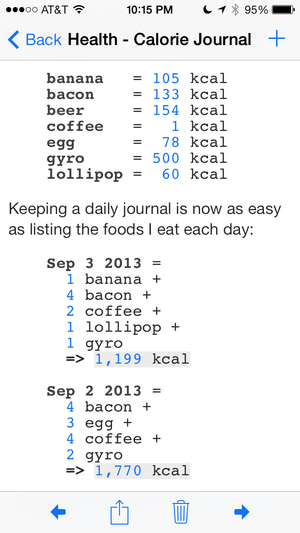 Since Calca is available for both the Mac and iOS, you can share your documents on all your devices via iCloud or Dropbox. While iCloud access works just fine, if you plan on using Calca in conjunction with other text editing apps among your Mac and iOS devices, then you'll likely want to use Dropbox as your syncing method. However, it's entirely possible to use both services at once. For example, because Calca doesn't provide a Markdown preview mode, I don't rely on it as my sole text editor. So, I store all my Calca numbers-oriented documents in iCloud then incorporate selected bits into Dropbox-hosted documents that I finish using either nvALT or Markdown Pro on my Mac, or Nebulous Notes on my iPad and iPhone.
While some Dropbox-powered text editors restrict themselves to working only within a specific directory within your Dropbox folder, Calca can access your entire Dropbox repository. Another welcome perk is that Calca hides all the non-plain-text documents, which is handy if you've ever accidentally tried to open a non-text document using a plain-text editor.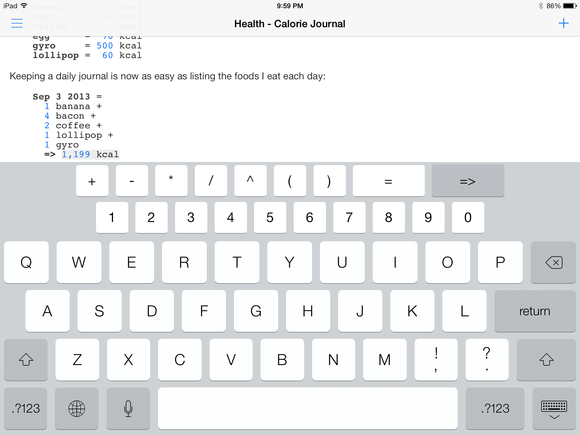 Bottom line
As a developer, I'm fascinated by Calca's ability to evaluate natural-language-like formulas in a plain-text document and perform mathematics on them. The app reminds me of Soulver, which also performs text-based calculations, although in a slightly different way, and TaskPaper which can generate dynamic outlines from plain-text documents. However, impressed as I am with Calca, I've found that it can't completely replace my need for a traditional spreadsheet app. But for certain types of calculations—and perhaps also for users whose brains are not as deeply spreadsheet-oriented as mine—Calca does seemingly magical things with plain text and numbers.