Following my last column, which focused on the new iBooks app, I've gotten several more questions about iBooks, and I answer two of them here. I also look at a tricky question about moving the contents of an iTunes library back and forth between two Macs, and answer a question about a smart playlist with nested conditions.
Q: When I updated to Mavericks and my books were transferred out of iTunes, some of my digital booklets (album liner notes) made the trip to iBooks and some didn't. I was able to drag them out of iTunes to iBooks, but not vice-versa. Newly purchased digital booklets stay in iTunes unless I move them. Is there any rhyme or reason to this behavior? Is there a way to get them back into iTunes if I want them there?
It should depend on whether they were in your Books library or your Music library. In my case, those in the Music library—which is where they go when you buy them through iTunes—stayed in iTunes.
You can add yours back to iTunes. Drag them from iBooks to a folder, or to your desktop, then drag them to iTunes. After you do this, select them all, press Command-I, click the Options tab, and make sure the Media Kind is Music.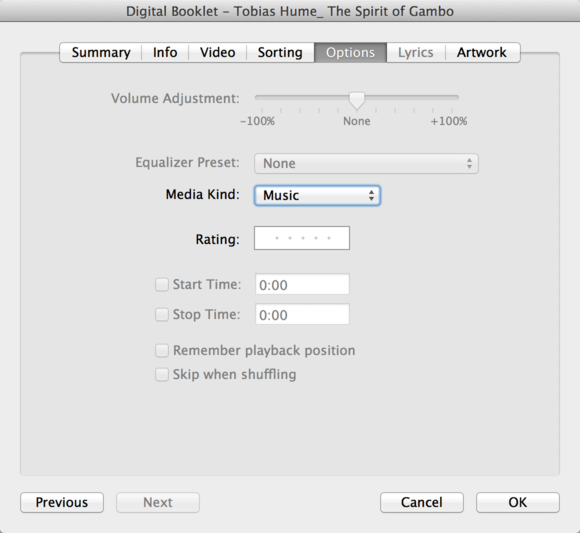 You may also need to edit their metadata so that they stay with their respective albums: On the Info tab, enter the correct artist and album names.
Keep in mind that setting Media Kind to Music will also mean that if you ever rerun iBooks' import routine, these books won't get moved.
Q: Is there a way to edit the metadata of a book in iBooks? Previously, in iTunes, I could right-click an item, choose Get Info, and modify it. I don't see any way to do this in iBooks.
You're right, Apple hasn't (yet?) provided a way to edit the metadata of books in iBooks. I find this irksome, because I like to arrange my books by genre, and the genres—or categories—that the iBookstore imposes are often incorrect. Also, I download a lot of public-domain ebooks, and they don't have genre information.
For now, there is a way to do so, but it's a bit complex. Michael Cohen wrote an article for TidBits explaining how to do it, but the process involves messing with a number of .plist files.
Q: I store my iTunes library on an external hard drive, and I sometimes take it with me to my office. Whenever I connect it to my office Mac, the iTunes library is empty, and I have to re-add all the music from the drive. What am I doing wrong?
When you store your media files on an external hard drive, that's only part of what you need to make your iTunes library portable. You also need certain library files; these are what iTunes uses to store the information (or metadata) about your media files, as well as your playlists.
First, to store media files on an external drive, you need to change the location of the iTunes Media folder. You do that from iTunes' Advanced preferences. Click the Change button on that preference pane, then select the location for the folder. As you can see here, my iTunes Media folder is on an external volume named Music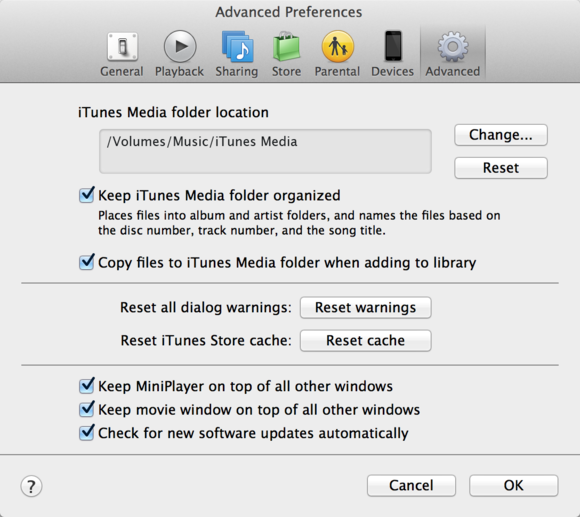 But if you want that drive to be portable, you need to move certain files that it doesn't contain. Go to your home folder—the one with the house icon and your name—and then to the Music folder. You'll see an iTunes folder and, in it, a number of files.
The easiest thing to do would be to simply copy this entire folder to the external drive, then copy it to the other Mac, replacing the folder it contains. But this may contain a lot of files; if you have a large library, the Album Artwork folder can be very large (mine is more than 4GB). If so, you can can simply copy the iTunes Library.itl, iTunes Library Extras.itdb, and iTunes Library Genius.itdb files. (You don't need to copy iTunes Music Library.xml; iTunes will create that itself from the iTunes Library file.)
If you want to keep play counts and last-played dates in sync, you'll need to copy those files from each Mac to the other, each time you move the drive containing the media files. Also, if you add any music to either Mac, you'll need to keep the latest version of those files so the other Mac will see them in your iTunes library.
Q: I have a number of playlists, and I want to burn an MP3 disk from those playlists, so I need to select only MP3 files. I would like to create a smart playlist that says: All music in playlist 1; All music in playlist 2; but ONLY those that are mp3. Can you tell me how to do this?
Start by creating a condition where Kind is MPEG audio file. Next, press the Option (Alt) key and click the ellipses (…) button (it's the plus button before you press Option) next to the rule you just created; this creates a nested condition. Add a first condition, where Playlist is name of playlist, then click the plus (+) button and add another one with the name of the second playlist. Make sure you've chosen Any of the following are true for the nested playlist condition.
Here's what the smart playlist should look like: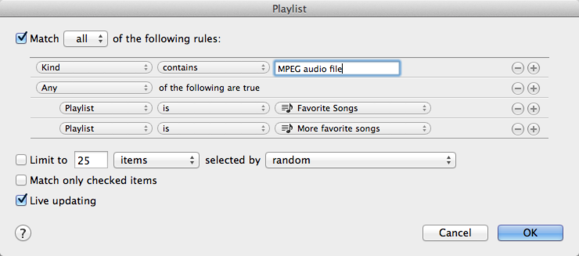 [Ask the iTunes Guy is a regular column in which we answer your questions on everything iTunes related. If there's something you'd like to know, send an email to the iTunes Guy for consideration.]