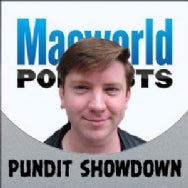 Normally the Macworld Podcast is a sober, carefully constructed affair. But apparently, it's fallen off the wagon. With "unfunny!" (—iTunes review) Macworld Podcast host Christopher Breen indisposed, his "obnoxious!" (—iTunes review) replacement takes the wheel for a game-show podcast that's full of sound effects. You heard us right. It's time for a fourth edition of Macworld's Mac Pundit Showdown, our blatant rip-o… er… homage to the excellent BBC radio program Fighting Talk.
In this edition, Macworld's Roman Loyola, along with PC World's Nick Mediati and Wired's Mathew Honan match wits as they field questions from their cruel quizmaster. Plus Editorial Director Jason Snell grabs Roman's microphone and makes him cry like Taylor Swift.
Listen to episode 171
Show notes
If you're wondering exactly what's going on here, we explain it all in the show notes to our original Macworld Fighting Talk podcast. Fearing wrath of BBC lawyers, we soldiered on when we did our second installment, re-dubbed Mac Pundit Showdown. Macworld Editorial Director Jason Snell won both contests, proving that it's good to be the boss.
Mat would like it very much if you bought his book—also available for the Kindle!—especially since we dock him points for shameless self-promotion.
You can find previous episodes of our audio podcasts at Macworld's podcasting page.
To subscribe to the Macworld Podcast via iTunes 4.9 or later, simply click here. Or you can point your favorite podcast-savvy RSS reader at: http://rss.macworld.com/macworld/weblogs/mwpodcast/