Walk into an Apple Store from now on, and your phone might start trying to sell you those sweet earphones you've been looking at for awhile. Apple on Friday morning activated its new iBeacons system at all 254 stores in the United States, part of an apparent attempt to expand in-store sales.
The system— new in iOS 7—is designed to work with Apple's official Apple Store app. It detects that you're in the store, and your location therein. Walk near the accessories, for example, and your phone will send you a push notification inviting you to take a closer look at the merchandise.
But iBeacons isn't quite as frictionless for the consumer as that scenario sounds.
I attempted to test iBeacons when the Apple Store in Center City Philadelphia opened on Friday morning. Employees there let me know there were three iBeacon locations in the store, but I never quite made it work. (It did work, however, on the phones of employees, who had just received training about the new system that morning.)
What went wrong?
Mostly, my iPhone was out-of-date. You'll need an iPhone 4s or later to be compatible with iBeacons; sadly, I'm still carrying an old iPhone 4. Employees told me that iBeacons are also designed to work with third-generation iPads or later, but attempts to make the system work on my iPad mini failed, suggesting that the feature might not be quite ready for prime time.
As we were troubleshooting, though, it became clear that many users will have to actively desire iBeacons notifications to use them—enabling the the system requires you to jump through a series of hoops in the phone's settings.
When you download the Apple Store app, you'll want to make sure that push notifications and location services are enabled, both for the app and for iOS as a whole. Then you'll want to go to the phone's General settings and make sure the "Background App Refresh" is on for the Apple Store app.
When you walk into the store, you'll want to make sure your phone's Wi-Fi is on—I turn the wifi off when I leave the house usually—and connect to the Apple Store's in-store Wi-Fi network; you'll also want to turn on the phone's Bluetooth, because iBeacons rely on low-energy Bluetooth 4.0 technology to sense your proximity to the wares they want to sell you.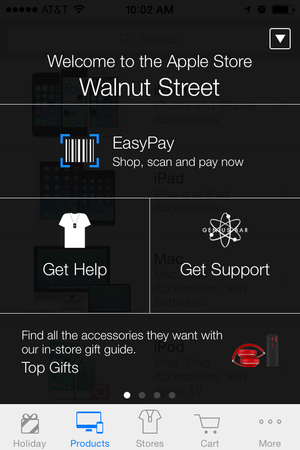 If it works, though, Apple stands to gain from implementation of the service, both in terms of manpower and customer data. As TechCrunch noted in its coverage of iBeacons launch, the system could help cut down on minor requests to staff, freeing them up to assist customers with bigger challenges. The system will also be able to provide Apple with "hyper-local" information about customer movement in the company's stores. "That kind of granular look at shopper behaviour could pay huge dividends in terms of helping formulate evolving retail strategy," TechCrunch noted. Add it all up, and that's quite a series of steps to take just to let Apple broadcast what is essentially location-aware advertising at you; security-conscious iPhone users, in particular, might balk at the number of ways they have to open their phone to detection—the same goes for those who try to conserve their phones' battery life by shutting off features when not in use.
Friday's launch apparently is the first widespread use of iBeacons in a public setting; Major League Baseball announced plans to use the system to improve in-stadium fan service at games, but that won't be implemented until the new season starts in spring.