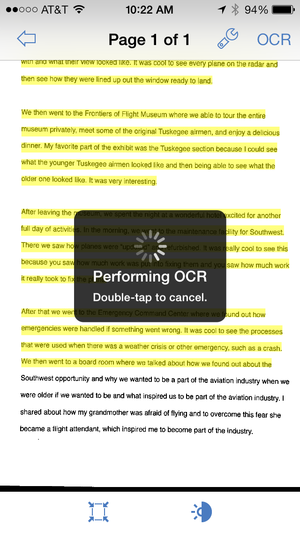 PDFpen Scan+ is a document scanning and optical character recognition (OCR) tool for your iOS devices that lets you scan documents, import images, and PDF files and perform OCR on those documents.
PDFpen Scan+ offers three ways of capturing images: You can use your iOS device's built-in camera to take a picture of a document, you can import a PDF or image file from your photo library, or you can import an image from a WebDAV enabled file server or services such as Dropbox, Evernote, or Box.
When you import a document PDFpen Scan+ attempts to detect the document's edges so that it can be cropped appropriately. I found the app's edge detecting capabilities to be extremely inaccurate, almost always capturing an area inside the actual text of the document.
You can adjust the selection area by dragging one of the four corners to more appropriately surround the text, but the selection tool was challenging to work with. There is no obvious way to create a perfectly rectangular or square selection that isn't the full size of the scanned document—there's a button for that. Also, text from the scanned page often appeared below a toolbar at the bottom of the screen, which made it hard to know whether or not the selection tool had completely surrounded the text.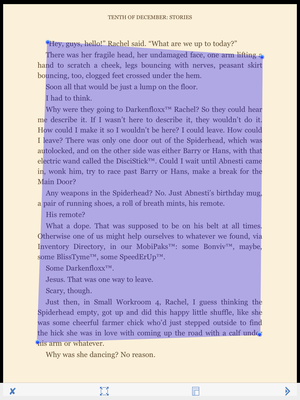 Once you've found the edges and have properly cropped the page, PDFpen Scan+ saves the file in its own image library or iCloud. Once saved, a single tap on an OCR button performs OCR either on a single page or the entire document. PDFpen Scan+'s OCR engine is excellent and super fast on the iPhone 5s. The app supports 18 different languages that can be added for free using the Settings button. Once the OCR process is complete you can save your text to any of a number of the previously mentioned services as well as Smile Software's PDFPen products. OCR'd text can also be emailed from within the app.
As is the case with all OCR products, while word recognition is excellent in PDFpenScan+, the end of every line of text is recorded by the OCR engine as a new paragraph. So you'll always have to make some text adjustments once your text has been added to your favorite editing tool.
Bottom line
While text text selection is a bit dodgy in PDFpen Scan+ and the app's text selection tools are not quite what I'd like them to be, PDFpen Scan+ offers very good OCR tools for all your iOS devices.