It's time for another grab-bag column, with a number of interesting questions I've gotten from readers recently. I look at whether or not you can get around Apple's limit of 25,000 songs with iTunes Match, I discuss some ways to search the iTunes Store more efficiently, and I look at a question whose answer requires a smart playlist.
Q: I am currently using iTunes Match, and am maxed out on songs. Is it possible to add music to my iTunes library without it being added to iTunes Match? I would like to keep iTunes Match active but would also like to add more music to my library.
The short answer is no. iTunes Match's 25,000 song limit is an issue for many users, myself included. I discussed this in an article last year, iTunes Match: One year in.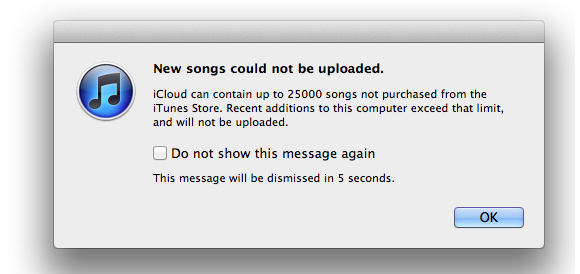 There are workarounds, but you'll find them to be problematic. For example, you can select some music files and change their media kind to Podcast—iTunes Match doesn't work with podcasts—but they'll move to your Podcasts library. And with the way iTunes now handles podcasts, this can get confusing. You could also change them to audiobooks (another type iTunes Match ignores) storing them in your Audiobooks library. To change the type, select a group of files, press Command-I, click the Options tab, then make the change the Media Kind pop-up menu. Neither solution is optimal.
We just have to wait for Apple to raise the limit in the number of tracks to match Amazon, which allows you to store 250,000 tracks.
Q: Do you know of any applications that help make shopping for music on iTunes a more productive experience? With the recent removal of the Power Search tool, there is, as far as I know, no way to conduct a detailed or efficient search of the store's catalog. For example, what if I wanted to buy every available instrumental version of a track released by Def Jam between 1985 and 1995?
I agree: It's unfortunate that iTunes Store searches are so limited. What I do is use Google to search instead. Type site:itunes.apple.com, and then enter a couple of search terms—say, the name of an artist and an album or song—after a space.
Press enter and Google will return search results for the iTunes Store. (The iTunes Store is actually just made up of webpages accessible from a browser.) Click a link to open it in iTunes.
Unfortunately, due to the nature of Google searches, you can't get too specific. Any given iTunes Store page has a lot of content, including related content, so you might find that you get more search results than you want.
As for finding the complete discography from an artist or label, you can try each artist's or label's website, or sites like AllMusic or Discogs, or even Wikipedia.
iTunes should offer better searching. Apple has the metadata for its content, and it wouldn't be too hard to bring back the Power Search that used to be available.
Q: I plan to give my Mac to my mom, but want to keep my account as an administrator. Therefore I plan to create an account for her. After doing so, I'd like to move both my iTunes library and iPhoto library to her account so she can access them. What is the most efficient way of doing this?
The easiest way is to use an external hard drive, assuming you have one big enough to copy all your iTunes and iPhoto content to.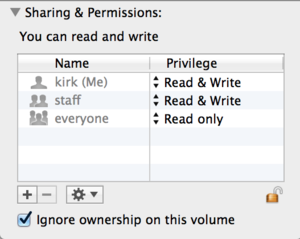 First, select the hard drive in the Finder, then press Command-I. Click the padlock icon, and check the box next to Ignore ownership on this volume at the bottom.
Next, copy the iTunes folder from your Music folder to the hard drive, then the iPhoto Library from your Pictures folder. Log out of your account and log into your mother's account. Copy these two items to the same locations in her account, and she'll be up and running.
Note that to play any purchased content other than music, you'll need to make sure you sign in to your iTunes Store account in your mother's account.
Q: Is there a way to play songs that have been played the least using shuffle? I have over 1200 songs but shuffle seems to play the same songs. I like the randomness but I want to hear different songs.
You can't do this using the basic shuffle mode in iTunes, or on an iOS device, but you can with a smart playlist.
Let's say all your songs have at least three plays, but some have dozens, or even hundreds. You might want to listen to those with, say, fewer than twenty plays. To do this, make a smart playlist with the following conditions: Media Kind is Music and Plays is Less Than 20. Also, you want to limit it to a certain number of items selected by random, so these songs shuffle, and iTunes doesn't just pick songs in order by the lowest number of plays.
If your songs have fewer plays, you can change the number to 10, 5, or even less. You can also refine this by adding another condition for songs that aren't rated, or are rated above a certain number of stars, and so on.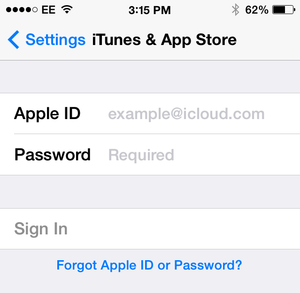 Q: I just purchased iTunes Match on my computer, and went to use it on my iPhone, but the phone told me I hadn't bought it. Then I realized the likely problem was that my computer's Apple ID was different from the Apple ID on my phone. How can I fix this?
On your iPhone, go to Settings > iTunes & App Store. You'll see an Apple ID at the top of the screen. Tap it, then tap Sign Out. Enter the correct Apple ID and password, then tap Sign In, and everything should be fine.
[Ask the iTunes Guy is a regular column in which we answer your questions on everything iTunes related. If there's something you'd like to know, send an email to the iTunes Guy for consideration.]