San Francisco-based software developer Syntellia announced on Thursday that its Fleksy on-screen predictive text input technology is being added to several popular iOS apps, including utilities like Launch Center Pro 2 and text editors like Wordbox.
More than probably any other technology in Apple's mobile operating system, the software keyboard is the one feature that helped Apple redefine the concept of smartphones, freeing handsets from hardware buttons that used to take up half (or more) of a device's real estate.
Still, the default keyboard isn't for everyone, which is why iOS has provided a little-known iOS programming interface that allows developers to create their own input methods—and that's where Fleksy comes in.
Distributed as a special kit that third-party developers can integrate into their own apps, Fleksy replaces the default iOS keyboard with Syntellia's own, which uses a subtly different input method and a unique predictive algorithm that, according to the company, recognizes most words, even if all their letters are typed incorrectly.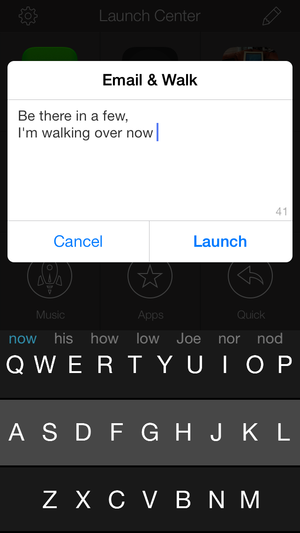 Even though it occupies the same amount of screen real estate and incorporates the familiar QWERTY layout, the keys on the Fleksy keyboard are spaced a little farther apart, making it easier to type (particularly if you have big fingers); it also supports a number of gestures that allow you to perform common operations, such as moving the cursor backwards and forwards without having to resort to time-consuming operations that require your full attention. (Yes, magnifying loupe, that means you.)
Based on my brief tests, the results are actually quite good, as long as you're familiar enough with QWERTY keyboards that you can aim your fingers in the general direction of the keys you want to hit. Fleksy has a pretty good recognition rate—so good, in fact, that you can actually hide the keyboard altogether using its "ghost" mode and still continue typing while having access to your entire screen.
In addition to Launch Center Pro 2 and Wordbox, Fleksy is making its debut in SMS app GV Connect and geolocation software BlindSquare. If you want to give the technology a go for free, you can download a copy of the company's own demo, which requires iOS 7 and works on both iPhones and iPads, directly from the App Store.