Developer MacPhun focuses on photo-editing apps, including previous Mac Gems Snapheal and FX Photo Studio, as well as the recently released Intensify. The company has just expanded its image-enhancing portfolio by acquiring the app Focus and updating it to Focus 2, an image-editing program with a specialized and dedicated workflow.
Like MacPhun's other apps, Focus 2 is part of the company's strategy of providing refined tools that accomplish discrete goals, rather than building vast functionality into a single, enormous, complex package. Specifically, Focus 2 covers specialty edits such as selective focus, lens blurring, and tilt-shift effects, including depth of field and vignetting. (Focus 2 is an upgrade to the original Focus app from the developer Coppertino. If you own the original version of Focus, Focus 2 is a paid upgrade.)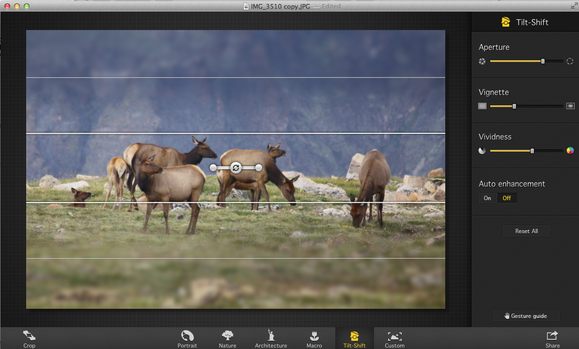 Focus 2's primary objective is to direct the viewer's eye to the part of your photo that you want to emphasize. The app is aimed at making such professional effects more accessible to hobbyists and shooters who don't have advanced image-editing skills (and apps). Focus 2 is also designed to be easy to use for both people using a trackpad and those using a mouse or other pointing device by supporting both traditional pointer actions and Multi-Touch gestures. The program even lets you use gestures such as rotate, pinch, zoom, and move when editing and adjusting selection size, brush size, blur strength, and other parameters. Focus works with 8- or 16-bit Raw and TIFF formats, as well as JPEG and PNG.
With five different presets fine-tuned for specific types of photography, Focus 2 allows you to simulate depth-of-field and tilt-shift effects, as well as perform crop, zoom, straighten, and aspect-ratio adjustments; it also includes a host of effects traditionally accomplished using expensive camera lenses and complicated software.
Each preset works the same way. There's a pre-defined primary focus and a gradual-falloff focus, though both are adjustable. The Custom setting works the opposite of the other presets: Choosing it applies a blur to your entire photo, and you then selectively paint a mask over the areas where you don't want the blur to appear. I was especially impressed with how well the app fixed an otherwise flawed attempt at a macro shot.
Even on older Macs, Focus 2's performance is excellent, without any noticeable lag as effects are applied, and full-screen mode enhances the workflow nicely. A built-in social networking component lets you automatically save and share your image to Facebook, Twitter, or Flickr, or email it; these features worked without a hitch.
While Focus 2's presets have names such as Portrait, Nature, Architecture, Macro, and Tilt-shift that give hints as to the best applications for each, you should take these designations as advisements—I recommend cycling through the settings, regardless of your photo's subject(s), to see which preset you prefer. For example, my low-contrast, wide-angle shot of an elk herd in Rocky Mountain National Park benefited from the Vividness and Aperture settings of the Portrait preset, as well as the Landscape preset.
I do have a few interface complaints. First, when cropping an image, you can select the desired aspect ratio, use the crop slider, or reposition the image in the crop grid, but pressing Enter doesn't automatically enlarge the image to fit the canvas, as you might expect. The app lets you view the crop grid, but you don't see a preview of the final crop as it actually would look; you must choose an effect first.
In my testing, the Custom preset was a little confusing, as the Reset All command did not actually remove a mask I had applied. You can toggle the mask preview on and off (by pressing Spacebar), but the mask itself remains. I had to go to the Tools menu to actually remove the mask.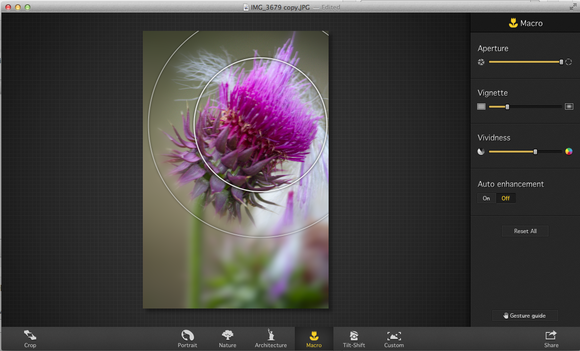 Finally, each module provides an Auto Enhancement option designed to fix contrast, color, and brightness, but I found the effect of this setting to be much too extreme—I wish there was a slider to adjust the degree of auto enhancement.
Focus 2 saves, by default, to a special Focus file format, though you can use the Export command to save in a universal format such as JPEG or PNG. (If you plan on making further edits, you should save in Focus format.) An Export To command lets you quickly open your edited photo in popular image-editing programs such as iPhoto, Aperture, Adobe Photoshop, Lightroom, Elements, or one of MacPhun's other offerings for additional tweaking.
Focus 2 is a great app for photographers who want to easily add bokeh (depth of field), tilt-shift effects, or vignette to their images. It's also great for enhancing macro images and portraits. For $15 you can't go wrong.
(Focus 2 is currently on sale for $10, but it will revert to its regular price of $15 in January.)